Stacey Abrams: Georgia Governor Election Is 'Tainted' After Kemp's Success in Suppressing Votes
Georgia's defeated Democratic governor candidate Stacey Abrams blasted her opponent, Republican Governor-elect Brian Kemp for intentionally interfering in the vote to beat her by a narrow margin.
Speaking on CNN's "State of the Union" on Sunday, Abrams, who would have been the first black female governor in U.S. history, accused her GOP competitor of undermining democracy through his controversial efforts that were widely criticized, by members of both parties, as voter suppression.
"He removed voters who were eligible. He also denied access to more than 3,000 new citizens who should've been added to the rolls, but he prevented them from being able to vote," she pointed out, calling the election "tainted."
Kemp, a close ally of President Donald Trump and a hardline conservative, chose to remain as Georgia's secretary of state, meaning he personally oversaw the election throughout his own campaign for governor. His actions prompted state-level and national criticism, pointing out the conflict of interest. Throughout his tenure as secretary of state, Kemp also supported numerous policy changes that critics said negatively and disproportionately impacted black voters.
Abrams, who lead a grassroots and progressive campaign, publicly acknowledged on Friday that the election would inevitably be called in favor of her opponent, despite significant concerns about voter suppression from Democrats and minority voters.
"Let's be clear, this is not a speech of concession. Because concession means to acknowledge an action is right, true or proper," she said in her speech. "As a woman of conscience and faith I cannot concede that. But my assessment is the law currently allows no further viable remedy."
Her criticism of Kemp continued in her Sunday remarks, as she pointed to numerous examples of how the candidate had worked to block the electorate from voting.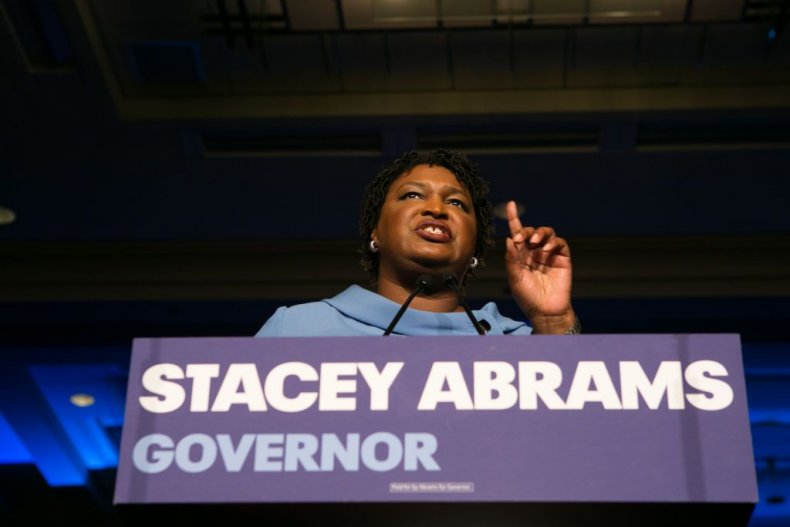 "Trust in our democracy relies on believing that there are good actors who are making this happen," Abrams said. "He was a horrible actor who benefited from his perfidy. That's problematic."
Refusing to accept Kemp's victory as "legitimate," Abrams said she would still "pray" for the Republican's success. "Will I say this election was not tainted, was not a disinvestment and a disenfranchisement of thousands of voters? I will not say that," she added.
On Saturday, Georgia officially certified the election results, announcing that Kemp had beaten Abrams by just 1.4 percentage points. Kemp had previously declared himself the winner, despite an ongoing legal battle surrounding the contentious race. Trump and other leading Republicans had also pressured Abrams to concede.