Stacey Abrams, Karen Bass, Susan Rice And Other Biden VP Contenders Congratulate Kamala Harris
Several of presumptive Democratic nominee Joe Biden's vice president contenders praised his decision Tuesday after the presidential candidate chose California Senator Kamala Harris as his vice president.
"I have the great honor to announce that I've picked @KamalaHarris – a fearless fighter for the little guy, and one of the country's finest public servants – as my running mate," Biden wrote in a tweet.
In a subsequent tweet, Biden wrote, "back when Kamala was [California] Attorney General, she worked closely with Beau [Biden]. I watched as they took on the big banks, lifted up working people, and protected women and kids from abuse. I was proud then, and I'm proud now to have her as my partner in this campaign."
In March, Biden first pledged that he would pick a woman as his running mate during a Democratic debate.
"I commit that I will in fact pick a woman to be vice president," Biden said during the debate. The former vice president later reiterated that announcement in a tweet.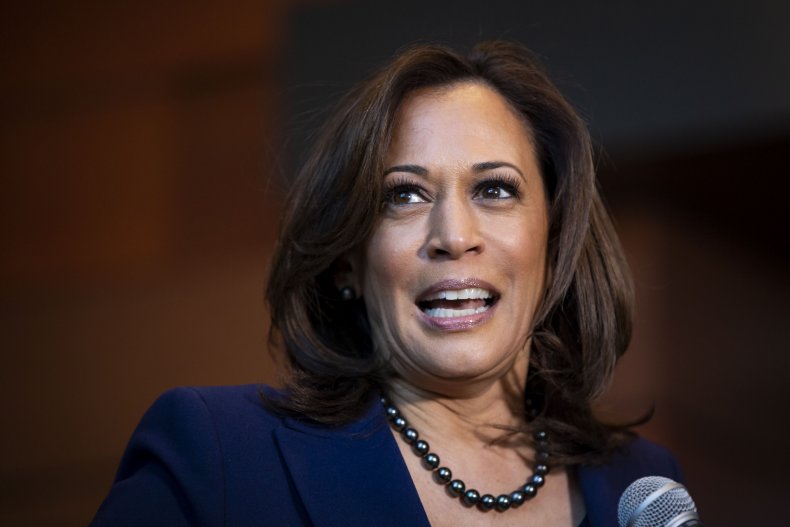 Prior to his decision, many speculated a number of potential candidates could be selected, including Harris, Massachusetts Senator Elizabeth Warren, Illinois Senator Tammy Duckworth, Michigan Governor Gretchen Whitmer and former national security adviser Susan Rice.
The graphic below, provided by Statista, highlights Harris' popularity among Democratic voters.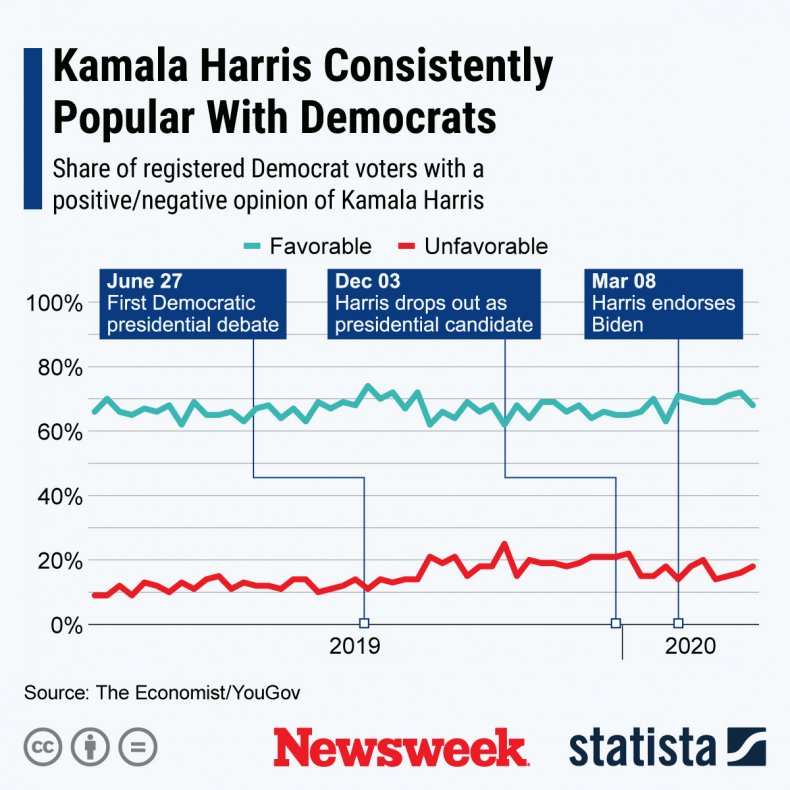 Following his decision, several of those candidates used Twitter to congratulate Harris and Biden.
In a statement, Rice said she was "confident Biden-Harris will prove to be a winning ticket."
"I warmly congratulate Senator Kamala Harris on her selection as Joe Biden's Vice Presidential running mate. Senator Harris is a tenacious and trailblazing leader who will make a great partner on the campaign trail," Rice wrote. "As I have said from the outset, I will do my utmost to assist Joe Biden to become the next president of the United States and to help him govern successfully."
Georgia Representative Stacey Abrams issued a similar statement, writing that she was "thrilled to support Senator Kamala Harris as the next Vice President of the United States."
"I look forward to doing all I can for Team Biden-Harris to deliver Georgia's 16 electoral votes and a Senate majority, and to fight voter suppression across the country," Abrams added in her statement.
In addition to Abrams and Rice, Whitmer and California Representative Karen Bass made similar comments.
"I am extraordinarily proud to support @KamalaHarris and @JoeBiden," Whitmer wrote in a tweet. "They will be a fierce team to Build America Back Better."
Bass wrote in a tweet that Harris "is a great choice for Vice President."
"Her tenacious pursuit of justice and relentless advocacy for the people is what is needed right now," Bass added. "Now all Americans will benefit from her work as Vice President. I will do everything I can to help her and @JoeBiden win in November."
Rep. Val Demings of Florida chimed in to say that Harris "is a fearless and proven champion for American families and the rule of law. Excited about this team and America's future."
Demings also wrote about how honored she was to be considered.
"For a little girl who grew up poor, Black and female in the South to be considered during this process has been an incredible honor. I feel so blessed. To see a Black woman nominated for the first time reaffirms my faith that in America, there is a place for every person to succeed no matter who they are or where they come from," she wrote.
"In this time of crises, we deserve leadership that will not only put America back on track, but #BuildBackBetter. The #BidenHarris2020 ticket promises to restore America's faith that we can defeat covid-19, save our crippled economy, restore honor and integrity to the WH, protect the rights, liberty, and safety of the American people, and expand access to health care and opportunity for all," Demings added. "I will continue to work to make the American Dream an attainable reality for every person in our country, and continue the struggle for a more perfect union."
Newsweek reached out to Biden's campaign for comment but did not receive a response in time for publication.
Update (8/11/2020, 5:40 p.m.): This article has been updated to include comment from Rep. Val Demings.
Update (8/11/2020): This article was updated to include an infographic.