Stacey Abrams Says 2020 Presidential Bid 'Definitely on the Table': 'Life Comes at You Fast'
Georgia's Stacey Abrams, a rising star in the Democratic Party, has left open the possibility of a run for president in 2020 after outlining her future plans for office at SXSW.
"It will be the year 2020, I will be 46, and the job I want will be one that pays," Abrams joked during her appearance at SXSW on Monday. She then took a turn for the serious, saying her goal will be to help Democrats dominate Washington in the next few election cycles.
"My task—no matter what my job is—my task is to make certain that a Democrat is elected not only to the White House but that we have a Democratic majority in the Senate and a Democratic majority in Congress," Abrams said.
She then addressed the rumors surrounding her potential run for the presidency, telling the crowd that 2028 would be the earliest year she would consider launching a campaign for the White House. There are many jobs she would like to have before then, such as senator or vice president.
"2028 would be the earliest I would be ready to stand for president, because I would have done the work that I thought necessary to be effective in that job," she said.
But Abrams later clarified on Twitter that 2028 was a goal she set for herself years ago, and that she has not necessarily ruled out a run in 2020.
Her former campaign manager, Lauren Groh-Wargo, also wrote on Twitter that Abrams is not ruling anything out and "she is taking a look at all options on the table in 2020 and beyond."
Abrams made headlines during her run for governor last year, with her face-off against Republican Brian Kemp becoming one of the most closely watched races of the 2018 midterm election cycle. Her campaign attracted the support of top Democrats including former President Barack Obama and former Vice President Joe Biden.
Abrams was defeated by Kemp by fewer than 60,000 votes, and initially refused to concede amid allegations of widespread voter suppression. When she did formally exit the race, more than a week after Election Day, she slammed Kemp and the state for "gross mismanagement" of the election and filed a federal lawsuit against the state of Georgia.
During her appearance at SXSW, Abrams said it had been difficult to move on from her election loss because there was no closure.
"Usually in an election, people just tell you 'we don't like you,' and you know it and you move on with your life. But in this case, I don't know if they didn't like me, because we didn't get a fair election," she said, prompting applause from the crowd.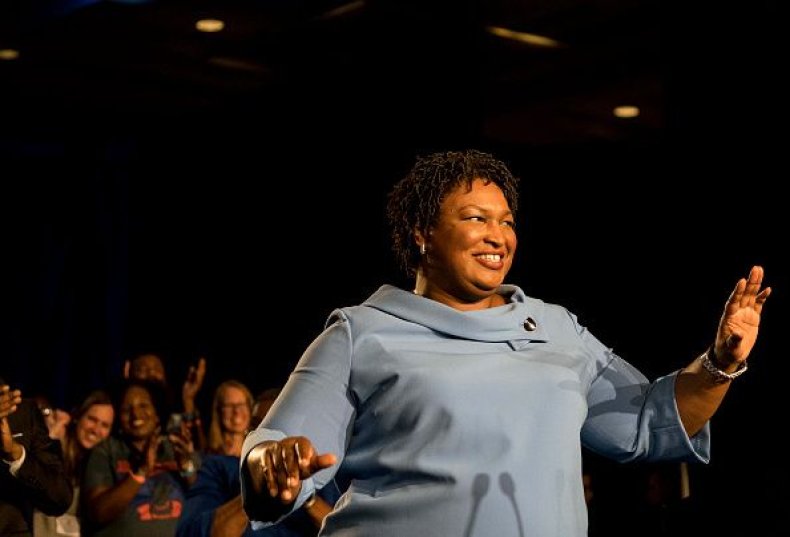 After her gubernatorial defeat, Abrams was tapped by the Democratic Party to give the rebuttal to Donald Trump's State of the Union address. During her speech, Abrams criticized the president for his tireless calls for a border wall between the United States and Mexico, and for the administration's "zero tolerance" immigration practice.
"Compassionate treatment at the border is not the same as open borders," she said. "America is made stronger by the presence of immigrants, not walls."
Just hours after her speech, Trump said he did not believe Abrams could win a Senate seat in Georgia in 2020 but would "love" for her to challenge him for the presidency.
"Why? Because so far I'm liking the candidates, and she'd be another one I'd like. To run for president you're supposed to have won, unless you're a nonpolitician like me. I'd never ran. I'm one for one," he told the Atlanta Journal-Constitution in an exclusive interview. (His statement was misleading, as he formed an exploratory committee to run for president in 2000, contesting the Reform Party nomination before bowing out of the race.)
Abrams did not hold back in her criticism of the president during her appearance on Monday, but ultimately said that Democrats who were trying to "out-Trump Trump" were taking the wrong approach heading into the 2020 election.
"I don't want us to elect the best bully. I want us to elect the best person," she said.
Update (03/11/19, 3:30 p.m. ET): This story has been updated to include new tweets from Stacey Abrams and her former campaign manager Lauren Groh-Wargo clarifying her position on 2020.