Stacey Abrams Is Polling Worse Against Brian Kemp Than in 2018 Race
It's nowhere close to over yet, but the magic that brought Stacey Abrams within 55,000 votes of becoming Georgia's first Democratic governor in decades appears to be fading.
Entering the final months of the campaign, the Democrat who built the coalition that almost completely toppled the GOP's grip on the state's politics four years ago, finds herself trailing Republican Governor Brian Kemp by near double digits in a new poll by the University of Georgia School of Public Affairs and the Atlanta Journal-Constitution.
The 8 percent margin between the two candidates matches a low mark in polling for Abrams, whom most polls show remains close behind Kemp in one of the most competitive states in the nation. However, the source of the poll bodes potential problems in a national political environment that, over the summer, began tilting in Democrats' favor.
Polls aggregated by FiveThirtyEight show that the University of Georgia School of Public Affairs has tended to overestimate Democrats in its polling by slight margins. And Abrams is significantly underperforming from 2018, when the university's polling showed her trailing Kemp by less than half a percentage point in a race that was decided by a single point.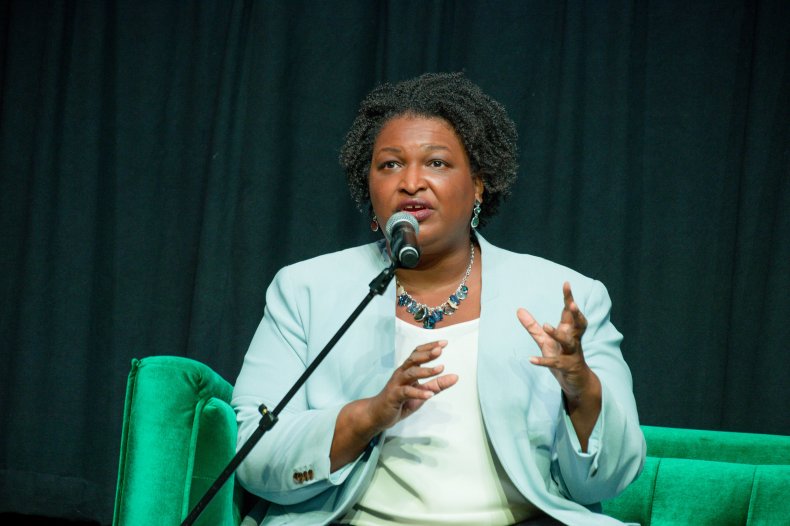 Kemp, who faced a barrage of attacks in a wave election year for Democrats, has moderated his reputation over the last four years, scoring significant economic successes and defeating a Donald Trump-backed challenger in a race defined by Kemp's resistance to efforts to overturn the results of the 2020 presidential election.
And while a powerful motivating force for Democrats, Abrams has also become a polarizing figure in the state's politics. A Quinnipiac University poll this month, while favorable to Abrams, showed her favorable and unfavorable numbers almost evenly split among likely voters in the state, with final poll numbers underperforming those exhibited by Democratic Senator Raphael Warnock in the race to defend his seat.
"It's not the same race," Trey Hood III, a University of Georgia political science professor who oversaw the poll, told Newsweek. "It's the same people, but the circumstances have changed over the last four years."
While the UGA/AJC poll is one of the most pessimistic assessments of the race to date, polls from outside and inside both campaigns have suggested the race is in a dead heat, with abortion—per Abrams internals released this month—a likely inflection point.
Other polls showing similar margins to the UGA/AJC poll have drawn criticism, with one local news outlet's polling lambasted as a "dumpster fire" by one political strategist in arecent interview with Bloomberg News.
However, polling by Quinnipiac and others have shown her with some tangible issues, including numbers showing Abrams losing footing with independent voters as well as Black males.
In recent months, Abrams has sought to retool her previously successful strategy against Kemp, including a heavier emphasis on early voting commitments to boost turnout created as part of sweeping changes Kemp made to the state's election systems in 2021.
She has also made health care access a signature of her campaign, focusing intently on the closure of a number of rural hospitals across the state that occurred during the Kemp administration and the Georgia state legislature's long-standing opposition to Medicaid expansion.
Newsweek reached out to Abrams' campaign for comment.