With just two days before Georgia's key Senate runoffs, Stacey Abrams refuted a comparison of her 2018 gubernatorial bid—in which she didn't concede amid allegations of voter suppression— to President Donald Trump's current election fraud claims.
"It's always dangerous to undermine the integrity of elections without evidence. When we challenged voter suppression, we were able to prove it," Abrams said during an interview on ABC News' This Week.
"In contrast, the continued notion that undermines the elections, I think is having a deleterious effect on Republicans," Abrams, a Democrat and founder of voting rights organization Fair Fight, continued. "My mission is to ensure that everyone trusts the system and that we make certain that it's a system that's worthy of that trust."
When asked how her claims from her situation in 2018 differ from those of the president's, Abrams said: "It's not simply a different circumstance. It's apples and bowling balls."
"I pointed out that there were a series of actions taken that impeded the ability of voters to cast their ballots and in almost every one of those circumstances, the court agreed, as did the state legislature," Abrams added. "By contrast, President Trump has lost every single one of his challenges in the state of Georgia. He has no evidence."
Comparisons between Abrams and Trump followed a December Wall Street Journal op-ed by Georgia Secretary of State Brad Raffensperger titled "Trump Runs the Stacey Abrams Playbook."
The Republican official, who has authority over election matters in Georgia, suggested Trump's efforts to combat President-elect Joe Biden's win matched with Abrams's actions after her loss to now-Governor Brian Kemp, a Republican, during the 2018 gubernatorial election in the Peach State.
"Establishing a playbook that President Trump is following to the letter now, Ms. Abrams refused to concede, announced that she would launch major litigation against Georgia's election system, and began collecting hundreds of millions of dollars from donors convinced the election had been stolen from her," wrote Raffensperger.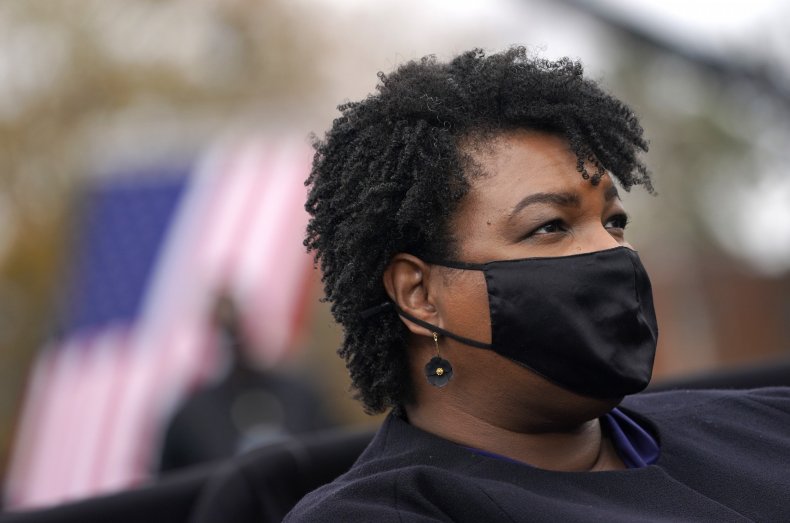 Following the election, Abrams acknowledged that Kemp "would be certified as the victor" during a public address, Quartz reported. However, she clarified that that address was "not a speech of concession."
"Concession means to acknowledge an action is right, true or proper. As a woman of conscience and faith, I cannot concede. But my assessment is that the law currently allows no further viable remedy," Abrams said at the time.
In her speech, Abrams claimed massive voter suppression in Georgia contributed to the gubernatorial election's outcome, which Kemp denied.
Meanwhile, Trump's attempts to challenge the outcome of November's presidential election have found little success. The majority of his campaign's legal actions were dismissed in court.
Abrams' appearance on This Week comes just two days before Georgia's crucial Senate runoff elections, in which incumbent Republican Senators David Perdue and Kelly Loeffler face off against their respective Democratic challengers Jon Ossoff and Raphael Warnock. The runoffs could determine which party will control the Senate amid the incoming Biden administration.
Abrams noted over 3 million people have already voted in the state, during a Sunday interview on CNN's State of the Union.
She added that 100,000 voters who didn't participate in the November election have turned out to vote. Of those 100,000, Abrams said many were people of color and young voters who are both more likely to back Democrats.
"This is going to be a very tough battle, but it is absolutely within the realm of possibility, in fact, the realm of likelihood, the Democrats can win," said Abrams.
A representative for Abrams told Newsweek said she had no further comments at this time.
Updated 4:06 PM ET, with additional information.