Stacey Abrams Says Decision to Reopen Georgia Was 'Dangerously Incompetent and Deeply Callous'
Former Georgia gubernatorial candidate Stacey Abrams said during an interview Tuesday that Governor Brian Kemp's decision to reopen businesses was "dangerously incompetent and deeply callous."
Citing the right-to-work nature of employment throughout the state, Abrams said during the interview, conducted by former Secretary of Labor Robert Reich, that low-wage workers in particular would risk forfeiting their jobs if they passed up opportunities to resume work during the coronavirus outbreak.
"We're telling the most vulnerable people in our society, 'You can either work or you can lose your life,'" said Abrams, a Democrat. "We are putting them at risk, and we're putting their families at risk."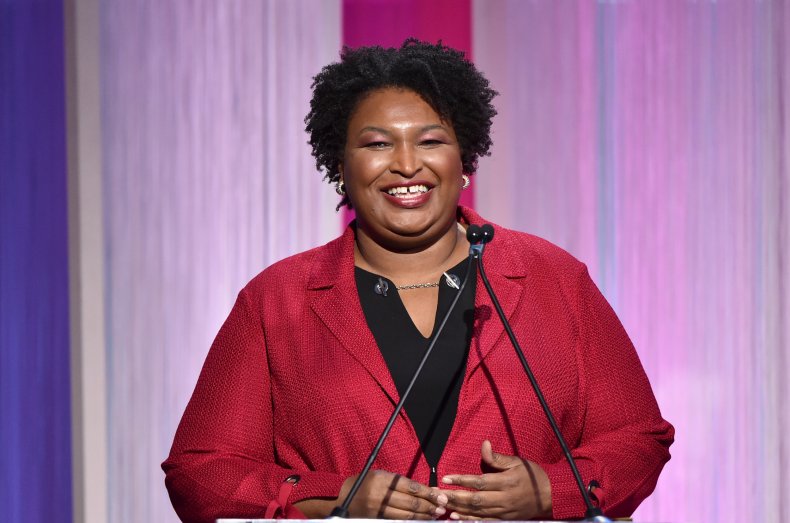 Last week, Georgia became the first state to begin lifting widespread restrictions imposed during the pandemic. Tattoo parlors, gyms, bowling alleys and salons were permitted to reopen last Friday, and movie theaters were allowed to reopen Monday. Although restaurants could also begin serving dine-in patrons this week, more than 120 around the state have said they don't plan to resume dine-in operations just yet.
Kemp has been under fire from officials at the local and national levels for his decision to begin reopening the state's economy before the May 1 deadline suggested by the Trump administration. According to the state's Department of Public Health, 24,722 cases and 1,032 deaths had been reported statewide by Tuesday afternoon. A Johns Hopkins University tracker showed Georgia was 12th on the list of states with the most confirmed cases of the virus.
In response to Reich's query on how she would have navigated the decision to reopen, Abrams said science and facts would have been vital to her theoretical approach. "We have counties in Georgia that are among the top 40 in the nation for coronavirus infection rates," Abrams said.
She also pointed to the state's limited testing capacity as another reason to postpone reopening, which a recent survey showed did not meet the levels recommended by health care professionals.
But Kemp is not the only governor under pressure from citizens to reopen local economies. In recent weeks, protesters across the country have gathered in defiance of stay-at-home orders to demand that businesses be allowed to reopen as unemployment numbers skyrocketed past those during the Great Recession.
According to Abrams, the Republican governor's decision to reopen local businesses was a political move. "We're not going to save the economy of Georgia through nail salons and bowling alleys," Abrams said. "What is happening is purely political. It is designed to speak to a very narrow base of people who do not feel that they have anything to lose and do not care if others have to sacrifice in order to benefit themselves."
Newsweek reached out to Kemp's office for comment but did not hear back before publication.