Stacey Abrams Says Warnock, Ossoff 'Leading Kind of Turnout' Democrats Need in Ga. Runoffs
Democratic activist and organizer Stacey Abrams praised Georgia senatorial candidates Raphael Warnock and Jon Ossoff for "increasing" voter participation and "leading the kind of turnout" that Democrats need to win in the traditionally conservative state.
Warnock and Ossoff will face off against Republican Senators Kelly Loeffler and David Perdue in the January 5 runoffs, after none of the contenders secured more than 50 percent in the general election on November 3. Under Georgia's constitution, candidates must garner the majority of votes, not just a plurality, to win their race. The two runoffs have become exceptionally prominent on the national political stage, as they will decide whether Democrats or Republicans control the Senate.
Abrams, the former Democratic minority leader of the Georgia House of Representatives who ran unsuccessfully for governor in 2018, stressed to CNN on Monday morning that Warnock and Ossoff appear to have already brought out a sizable number of new voters in early voting.
"The numbers tell their own story. More than 2 million voters have cast their ballots, including 65,000 voters who did not vote in November, who have been disproportionately under the age of 29 and people of color," Abrams explained. Notably, President-elect Joe Biden managed to narrowly flip Georgia blue by a margin of just under 12,000 votes.
"We are seeing active engagement across the state, including in rural parts of the state among black and brown voters. We are seeing turnout rates that are incredible for the state of Georgia," she added.
Abrams expressed confidence that "Raphael Warnock and Jon Ossoff have done an exceptional job of engaging voters, increasing participation and leading the kind of turnout that we need to win this election."
Newsweek reached out to press representatives for Loeffler and Perdue for comment but they did not immediately respond.
Participation in early voting for the Senate runoffs in Georgia has already far outpaced the state's last such contest, which was in 2008. But an uphill battle remains for Democrats. Georgia continues to be a conservative Republican stronghold, although demographics have been shifting in recent years—as was apparent in Biden's narrow win there in November.
However, Democrats must win both Senate contests to evenly split the upper chamber of Congress with the Republicans. In that scenario, Democrats would have narrow control, as Vice President-elect Kamala Harris would have the final say by casting any tiebreaking votes.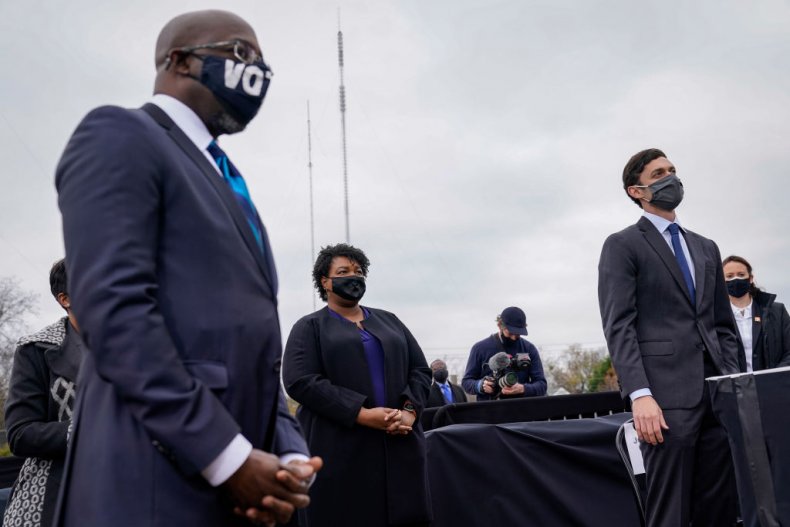 Polls out of Georgia have been mixed, with most showing a tight race. Some have shown the Republicans with a slight advantage, while others have the Democrat challengers in the lead. Others show a split race, with one Republican and one Democrat coming out ahead.
A recent survey by Reconnect Research/Probolsky Research shows Warnock leading Loeffler by just 1 percentage point, 43 percent to 42 percent. Meanwhile, Perdue leads Ossoff in that poll by 1 percent, with the same 43 percent to 42 percent split. The survey was conducted from December 14 to 22 and polled 1,027 likely voters in the state.