Stacey Abrams Sends Message of Thanks as Democrats Look to Win Georgia for First Time in 24 Years
Democratic politician Stacey Abrams sent thanks to grass-roots activists, volunteers and voters for helping to make Georgia a "pivotal battleground state" in the election as Joe Biden inches closer to winning its 16 electoral votes.
"Without your faith, this would not have been imaginable. Without your hard work, this would not have been possible," Abrams said in a video message posted to her Twitter page. "As we continue to make sure that every vote is counted and every voice is heard, our work is not done."
Abrams, a former minority leader in the Georgia House, went on to mention her support for Democratic candidates Jon Ossoff and Raphael Warnock, both of whom will be facing off against Republican Senators David Perdue and Kelly Loeffler, respectively, as both races advance to a runoff.
As the balance of power in the Senate is now at a tie between Democrats and Republicans, the two races could define the Senate majority come January. Each party currently has 48 seats won in the Senate. (Alaska and North Carolina are still awaiting results, and the Republican candidates have an edge in those races.)
Democrats need to flip at least two more seats and win the White House in order to gain a majority in the Senate. The two runoffs, to be held January 5, could be the answer. The last Democratic senator to win Georgia was Max Cleland in 1996.
"Control of the U.S. Senate will likely come down to these two races," said Abrams. "That means access to health care and access to justice are still on the line."
She added, "We know we can win Georgia. Now, let's get it done, again."
Abrams has been applauded by Democrats for her work in encouraging and mobilizing voters in metro Atlanta and many predominantly Black cities and counties, which should have benefited Biden, who was running narrowly ahead of President Donald Trump on Friday evening. The state hasn't voted for a Democratic president since Bill Clinton in 1992.
Abram was a favorite among national party leaders to run for the Senate this year, and Biden considered her as a running mate. In 2018, she ran for governor of Georgia—the first Black woman to win the Democratic nomination for that position—against Republican Brian Kemp. She lost the race by just 55,000 votes, and there were allegations that Republicans had suppressed Black votes by purging voter rolls.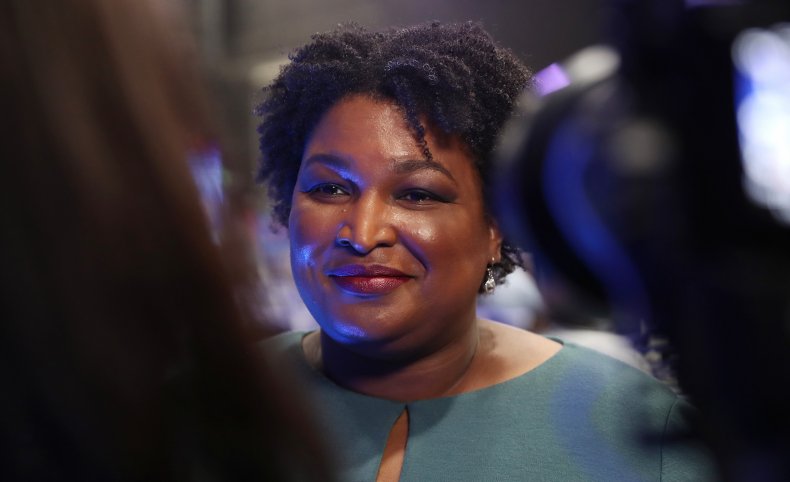 After Biden overtook Trump's lead in Georgia on Friday morning, voting activists and politicians thanked Abrams for her hard work.
"There's no such thing as a permanently red state. Thank you for your leadership,@StaceyAbrams!" tweeted former Democratic presidential candidate Pete Buttigieg.
Actress Viola Davis tweeted Abrams on Friday, writing, "This American citizen would love to thank you from the bottom of her heart!!"
Biden currently leads Trump in Georgia by just under 4,000 votes, as a small number of absentee, provisional and military ballots remain uncounted statewide. Georgia Secretary of State Brad Raffensperger confirmed on Friday morning that there will be a recount in the state.