Stacey Abrams Slams Brian Kemp Over 'Desperate' Cybercrimes Probe Two Days Before Midterms
Stacey Abrams, Georgia's Democratic candidate for governor, dismissed an investigation launched by opponent Brian Kemp into alleged cybercrimes by the Democratic Party as a "desperate attempt" to distract voters from allegations that have dogged his candidacy.
Kemp, a Republican and Georgia's secretary of state, faced accusations of voter suppression after The Associated Press reported that his office had failed to process the registrations of 53,000 people, the majority of whom were black, with a month to go before the November elections.
On Sunday, Kemp's office said it was investigating alleged Democratic Party involvement in a "failed attempt to hack the state's voter registration system."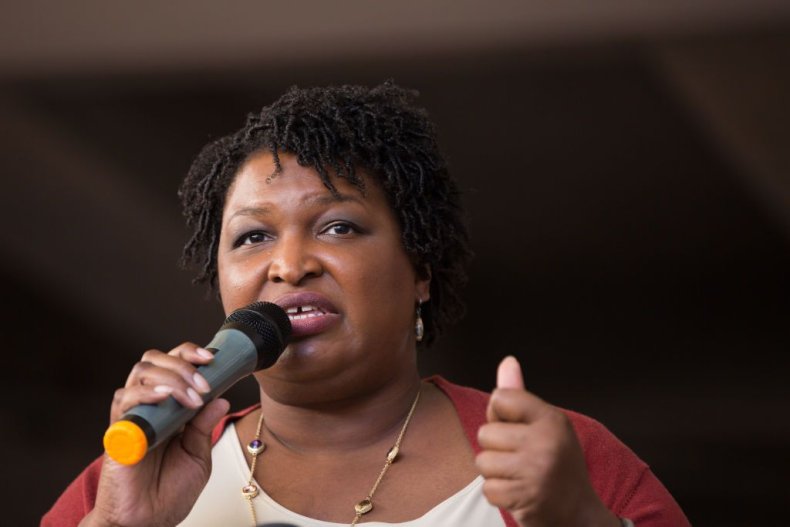 Kemp and Abrams are locked in a tight race. If Abrams wins, she would be the first female African-American governor in U.S. history.
In an appearance on CNN's State of the Union Sunday, Abrams said of the hacking accusations: "I've heard nothing about it.
"And my reaction would be that this is a desperate attempt on the part of my opponent to distract people from the fact that two separate federal judges found he derelicted his duties and have forced him to allow absentee ballots to be counted and those who are being held captive by the exempt maps system to be allowed to vote.
"He is desperate to turn the conversation away from his failures, from his refusal to honor his commitments, and from the fact that he is part of a nationwide system of voter suppression that will not work in this election, because we're going to outwork him, we're going to outvote him and we're going to win."
On Sunday, President Donald Trump stumped for Kemp at a rally in Macon, where he accused Abrams of seeking to turn Georgia "into a giant sanctuary city for criminal aliens."
Earlier, the president had said Abrams was unfit to be governor, describing her as "vapid and shallow" in an appearance on NBC's Meet the Press Sunday.
"I am the most qualified candidate. I am a business owner. I am a tax attorney who was trained at Yale Law School," Abrams said in response to Trump's comments. "I am a civic leader who helped register more than 200,000 Georgians."
President Barack Obama campaigned last Friday alongside Abrams, and on Thursday Oprah Winfrey urged Georgians to vote for Abrams at a rally, and had even campaigned door to door for the candidate.
Kemp has not commented on the cybercrimes investigation.