Stacey Abrams State of the Union Response: Five Things to Know About the Georgia Democrat
Former Georgia lawmaker Stacey Abrams has been tapped to deliver the Democratic Party's response to Donald Trump's third-year State of the Union address on Tuesday evening, but, according to a recent poll, about 45 percent of Americans are unaware of who she is.
Abrams, a lifelong activist and former Democratic leader of the Georgia General Assembly, first entered the national spotlight during her bid for governor in the 2018 midterm elections. Despite being narrowly defeated by her Republican opponent, Abrams has continued to be seen as a rising star within the Democratic Party.
Democratic leaders showered Abrams with praise when they announced that she would give the party's rebuttal to Trump's annual speech last week. In a statement, House Speaker Nancy Pelosi said that Abrams "embodies the American Dream" and that "her powerful message of progress for all is deeply needed during this time for our country."
Senate Minority Leader Chuck Schumer added that Abrams "is a present and future leader in this country."
Even though Abrams is not currently serving as an elected official, she has said that she intends to run for office again but has not said when or at what level of government. It has been speculated Democrats are eager for her to run for Senate in 2020.
Here's five things to know about Abrams:
Historic Gubernatorial Bid
Abrams made history in 2018 by becoming the first black woman to be nominated by a major party for governor. The 45-year-old Democrat went on to challenge Republican Brian Kemp in the statewide gubernatorial election, but was ultimately defeated by fewer than 60,000 votes.
But Abrams, citing gross voter suppression, initially refused to concede the race to Kemp for more than a week after Election Day. And even after she acknowledged Kemp's victory she continued to slam him for his handling of the election as Georgia's secretary of state.
"I acknowledge that former Secretary of State Brian Kemp will be certified as the victor in the 2018 gubernatorial election," Abrams announced at the time. "But to watch an elected official who claims to represent the people in this state baldly pin his hopes for election on suppression of the people's democratic right to vote has been truly appalling."
Abrams and her campaign also filed a major federal lawsuit against the state of Georgia for it's "gross mismanagement" of the election.
Launched Voting Rights Organization Fair Fight Action
After the 2018 midterm elections, Abrams went on to lead the new non-profit organization Fair Fight Action. The group's mission, according to their website, is to "advocate for election reform and engage in voter education and turnout to secure the voting rights of Georgians."
The group also ran a Super Bowl ad featuring Abrams during the championship game this past Sunday. In the ad, Abrams appears with Republican Natalie Crawford, the county commissioner in north Georgia. The duo urged viewers to "join us in election reform."
Abrams also founded the New Georgia Project in 2013 to sign up as many as 800,000 people of color within a decade who previously weren't registered to vote.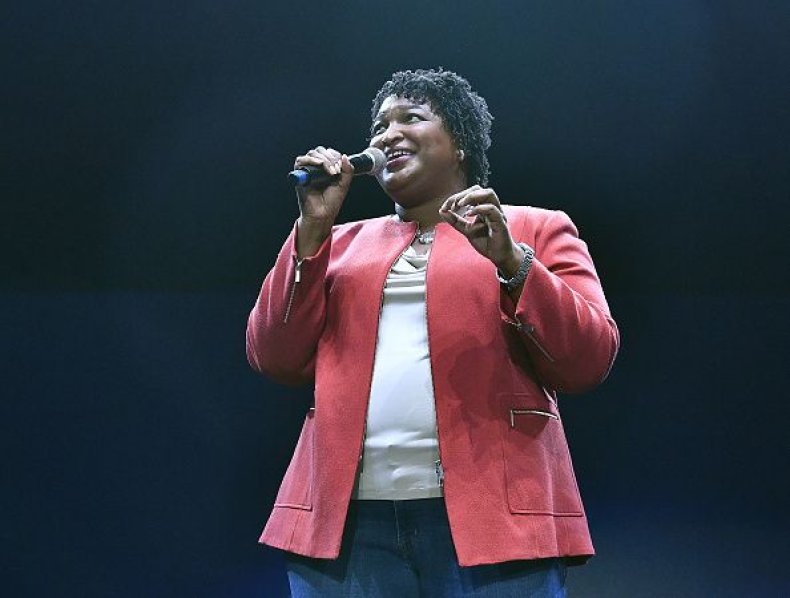 Most Googled Politician of 2018
Abrams was the most-searched politician of 2018, according to Google's yearly list of top search terms. She beat out other political figures like Beto O'Rourke, Andrew Gillum and Alexandria Ocasio-Cortez, all of whom also reached celebrity status during their midterm races.
Peak interest for Abrams happened just before and after Election Day in early November, with many of the Google searches coming from Georgia and Washington D.C.
Along with her internet popularity, Abrams also made headlines when she was endorsed by several high-profile Democrats and celebrities. Former President Barack Obama and former Vice President Joe Biden both voiced their support for Abrams, while media icon Oprah Winfrey hit the campaign trail for her in Georgia ahead of the election.
"You are on the precipice of an historical election," Winfrey told a crowd while campaigning in Georgia. "Nobody paid for me to come here; nobody even asked me to come here. I paid for myself and I approve this message."
First Black Woman to Deliver Response at the State of the Union
Abrams will make history on Tuesday evening as the first black woman to deliver the formal response to the president's State of the Union address in the speech's 53-year history.
The Democrat is writing her own speech, which will include anecdotes from her life and her experience on the campaign trail as well as her stance on key policy issues like health care and voting rights.
"At a moment when our nation needs to hear from leaders who can unite for a common purpose, I am honored to be delivering the Democratic State of the Union response," Abrams said in a statement last week. "I plan to deliver a vision for prosperity and equality, where everyone in our nation has a voice and where each of those voices is heard."
She Is A Prolific Romance Novelist
Before running for governor, Abrams was a prolific author of romance novels under the pen name Selena Montgomery. According to the Atlanta Journal-Constitution, Abrams wrote her first book while in her third year at Yale Law School.
Abrams told the newspaper that "because I write based on things I'd like to do or be, my main characters are always African-American women."
The former lawmaker has published a total of eight romantic thrillers.