Stacey Abrams Tried to Convince MLB to Keep All-Star Game in Georgia, Despite Opposing Voting Law
Voting rights activist and former gubernatorial candidate Stacey Abrams reportedly tried to convince Major League Baseball (MLB) to keep its All-Star Game in Atlanta despite Georgia's new voting laws.
According to Atlanta Journal Constitution reporter Greg Bluestein, Abrams spoke to a senior adviser at MLB and "strongly" urged the league not to pull the event out of Atlanta.
While she didn't meet with MLB Commissioner Rob Manfred, who made the announcement the game would no longer be hosted in Georgia, she reportedly spoke with a senior official before the decision was made.
"She also argued against a boycott before MLB's move in a @USATODAY op-ed and @AJC interview last week," Bluestein tweeted.
A source from the league told Bluestein that league officials spoke to a range of politicians with varying viewpoints, but Manfred's decision ultimately wasn't based on any conversation with any elected official.
Abrams has been a strong opponent of the controversial voting bill that Georgia Governor Brian Kemp signed into law last month. The new legislation introduced sweeping voting restrictions that make it harder to vote by mail, among other measures.
In response, several large corporations, including Coca-Cola and Delta Air Lines, issued public statements criticizing the new law. On April 2, MLB announced that it would relocate the game out of Georgia, saying that the league "fundamentally supports voting rights for all Americans and opposes restrictions to the ballot box."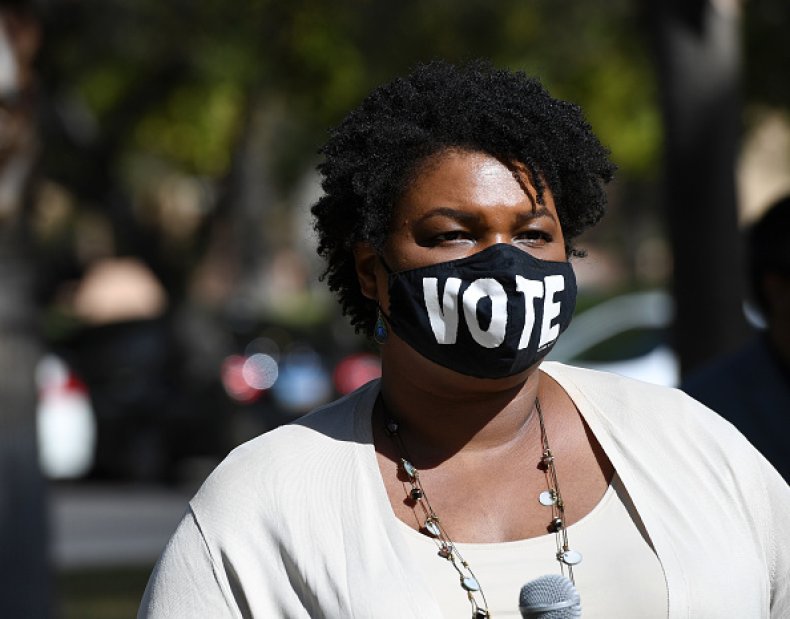 Abrams expressed her disappointment with the league's decision last week, writing in a statement that while she respects boycotts, she did not want "to see Georgia families hurt by lost events and jobs."
Although she commended the MLB's players, owners and commissioner for speaking out and urged others in positions of leadership to do the same, she added she had worried the boycotts would hurt the state economically.
The exhibition game is typically lucrative for host cities, which generate an average of $84.4 million a year, according to MLB data. Following the announcement, Georgia's Cobb County estimated the decision would cost the state a loss of $100 million in tourism.
"Republicans who passed and defended Senate Bill 202 did so knowing the economic risks to our state," Abrams wrote in her statement. "They prioritized making it harder for people of color to vote over the economic well-being of all Georgians."
Kemp has blamed Abrams, as well as President Joe Biden, for the game's move out of Atlanta, claiming that the two have lied about the reality of the new law.
"The truth is that Joe Biden hasn't read the bill and Stacey Abrams is raising millions off the fake outrage that she has created," the governor said during a Saturday press conference.
"Stacey Abrams is making millions off of this whole scam she's got going on of pressuring people, getting these big donors to support all these different organizations," Kemp told Fox News on Monday. "It's not just her. There are a lot of people who are doing this here. It is the biggest racket in America right now."
But Abrams' team argues that Kemp was aware of the repercussions he would face for passing the bill into law.
"Brian Kemp knows he caused this mess and that the MLB pulled out because of his irresponsible actions," Seth Bringman, a spokesperson for Abrams' Fair Fight Action, previously wrote to Newsweek. "He prioritized taking away voting access for people of color over the economic well-being of all Georgians, and his dumbfounding attempts to deflect blame won't work. Stacey Abrams continues to encourage events, business, and people to stay in Georgia while Brian Kemp causes job-killing boycotts that his cronies are celebrating."
Newsweek reached out to Kemp for comment but did not hear back before publication.