Stacey Abrams Delivers Rebuttal to Trump, Says 'America Is Made Stronger by the Presence of Immigrants, Not Walls'
Stacey Abrams, a Georgia Democrat, delivered the Democratic response to President Donald Trump's State of the Union address on Tuesday evening, criticizing the president's call for a border wall and his role in the partial government shutdown.
"So even as I am very disappointed by the president's approach to our problems—I still don't want him to fail. But we need him to tell the truth, and to respect his duties and the extraordinary diversity that defines America," Abrams said in a short speech immediately following Trump's address.
Abrams, 45, made history on Tuesday night as the first black woman to deliver the formal response to the president's State of the Union address in its 53-year history. She first entered the national spotlight during her gubernatorial bid in the 2018 midterm elections.
During the State of the Union, Trump briefly discussed illegal immigration and renewed his call for a border wall, or a physical barrier, between the United States and Mexico. He also criticized Democrats for opposing the wall and claimed that many of them had voted in favor of such a proposal in the past.
"Simply put, walls work and walls save lives. So let's work together, compromise, and reach a deal that will truly make America safe," Trump said. He also praised the societal contributions of legal immigrants and said that he wanted people to come into the country in "the largest numbers ever" as long as they enter lawfully.
In her response, Abrams criticized the president's insistence on a wall, saying that the country is made "stronger by the presence of immigrants" than it is by the presence of walls.
"We know bipartisanship could craft a 21st-century immigration plan, but this administration chooses to cage children and tear families apart. Compassionate treatment at the border is not the same as open borders," she said. "America is made stronger by the presence of immigrants, not walls."
While Trump's State of the Union address was the longest in nearly two decades, he did not address the partial government shutdown or gun-control legislation—two issues that Abrams covered.
The Democrat slammed the president for his role in the shutdown, which was the longest in U.S. history, capping at 35 days, as she recalled volunteering on behalf of furloughed federal workers struggling without pay.
"Making their livelihoods a pawn for political games is a disgrace," she said. "The shutdown was a stunt engineered by the president of the United States, one that defied every tenet of fairness and abandoned not just our people—but our values."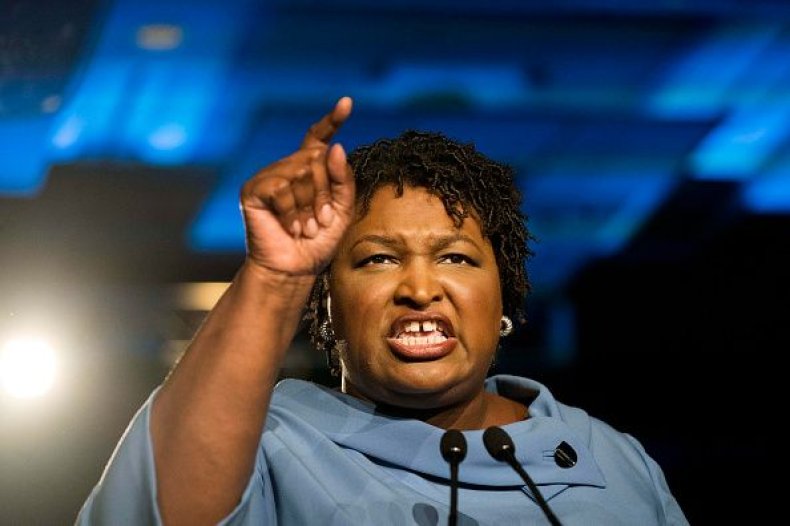 Abrams then criticized the White House for its handling of school shootings and gun control, telling the audience that the government's "most urgent work" is to protect the prosperity of the younger generations.
"Children deserve an excellent education from cradle to career. We owe them safe schools and the highest standards, regardless of ZIP code," Abrams said. "Yet this White House responds timidly while first-graders practice active shooter drills and the price of higher education grows ever steeper."
Abrams concluded the speech by discussing voter suppression, an issue at the center of her race for governor in 2018. In November, Abrams was defeated by her Republican opponent Brian Kemp by fewer than 60,000 votes but refused to concede until all ballots were counted. Her campaign accused the state of disenfranchising minority voters and throwing away valid votes.
When Abrams did end her gubernatorial campaign more than a week after Election Day, she slammed Georgia for it's "gross mismanagement" of the election and her campaign later filed a federal lawsuit against the state.
"This is the next battle for our democracy, one where all eligible citizens can have their say about the vision we want for our country. We must reject the cynicism that says allowing every eligible vote to be cast and counted is a 'power grab,'" she said, referring to Senate Majority Leader Mitch McConnell's latest response to a Democratic call for Election Day to be considered a national holiday.
Top Democrats praised Abrams's response to Trump's address. House Speaker Nancy Pelosi tweeted that Abrams was "an inspiration" and that she did a "masterful job." Just before her rebuttal, Senate Minority Leader Chuck Schumer called Trump the "warm-up act" and Abrams the "real show."