Stacey Abrams Wants a Rematch, Announces Bid to Challenge Brian Kemp for Georgia Governor
Democrat Stacey Abrams is running again for governor of Georgia, setting up a possible 2022 rematch with Republican incumbent Brian Kemp.
It had been widely speculated that Abrams would run for elected office again after she narrowly lost Georgia's gubernatorial election to Kemp in 2018. The two were separated by fewer than 60,000 votes, and Abrams initially refused to concede amid allegations of widespread voter suppression. Kemp, then the secretary of state and in charge of overseeing elections, denied the accusation.
In her first campaign video, Abrams said Wednesday she's running for governor "because opportunity in our state shouldn't be determined by ZIP code, background or access to power."
"If our Georgia is going to move to its next and greatest chapter, we are going to need leadership," Abrams said. "Leadership that knows how to do the job. Leadership that doesn't take credit without also taking responsibility. Leadership that understands the true pain folks are feeling and has real plans."
Kemp kicked off his reelection campaign this past summer with a rally at the Georgia National Fairgrounds and an advertisement bashing Abrams and "the liberal mob," even though she hadn't entered the race yet.
Since the last gubernatorial race, Abrams has become one of the nation's leading voting rights activists. She helped Georgia turn blue during the 2020 presidential election, as Joe Biden was the first Democrat to win the Peach State in nearly three decades.
The state also flipped both of its U.S. Senate seats in a 2021 special election that resulted in victories for Democrats Jon Ossoff and Raphael Warnock. The two representatives gave the Democrats narrow majority control of the evenly divided chamber.
Fair Fight, Abrams' advocacy group launched after her 2018 loss, has grown into a well-funded operation that has registered thousands of new voters. The group's success helped fuel record-breaking voter turnout in Georgia during last year's pivotal races.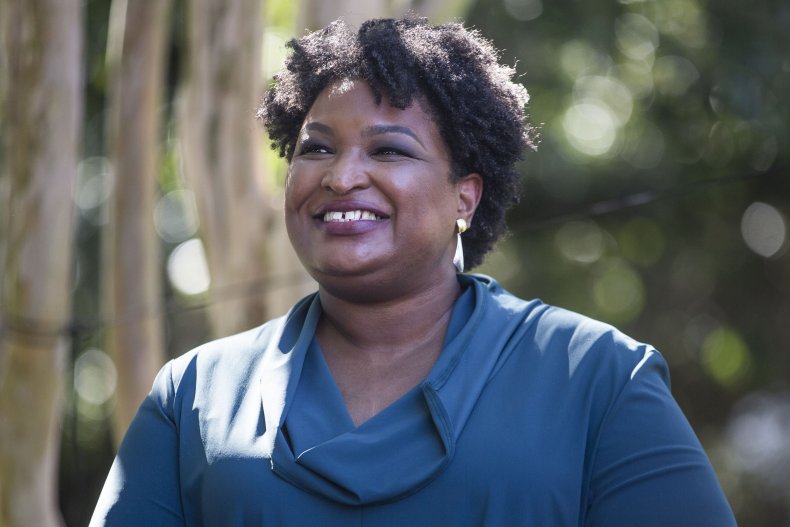 In a statement, Kemp said, "Next November's election for governor is a battle for the soul of our state. I'm in the fight against Stacey Abrams, the failed Biden agenda, and their woke allies to keep Georgia the best place to live, work, and raise a family."
The governor also commented on Abrams' announcement on Twitter, writing, "With Stacey Abrams in control, Georgia would have shut down, students would have been barred from their classrooms, and woke politics would be the law of the land and the lesson plan in our schools."
The Republican Governors Association accused Abrams of entering the race just to boost her profile for "her real career goal: President of the United States."
Abrams, who previously served as minority leader in the Georgia House, has said she has ambitions to one day run for president
"And even more importantly, when someone asks me if that's my ambition, I have a responsibility to say 'yes' for every young woman, every person of color who sees me and decides what they're capable of based on what I think I am capable of," she told CBS Sunday Morning earlier this year.
Update 12/01/21, 4:20 p.m. ET: This story was updated with more information and background.