Liberal Hollywood Is 'Forcing Segregation Upon Us,' Stacey Dash Says of 2017 Emmy Awards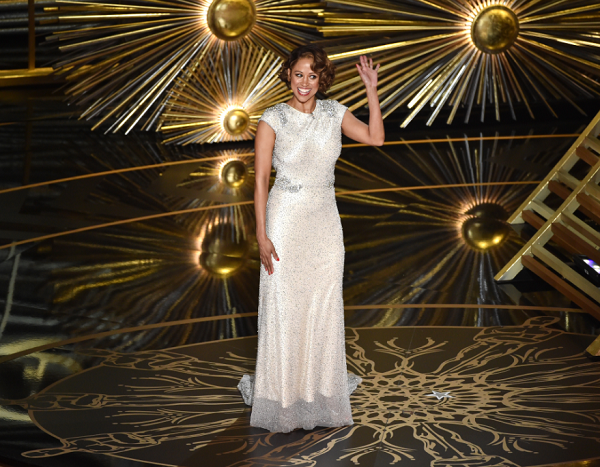 When Hollywood's elite get together, it's almost expected for there to be some sort of discussion about America's political climate and the controversial moments President Donald Trump and his cronies have stirred up since Trump's November 2016 election.
The 2017 Primetime Emmy Awards was no different, as plenty of high-profile celebrities used their platform to eloquently and passionately condemn Trump, the alt-right and white supremacy.
Knocking political agendas wasn't the only thing up for discussion for the TV industry's A-list. During award acceptance speeches, actors like Reese Witherspoon and Nicole Kidman advocated for gender equality, calling for more opportunities for women to bring their stories to the big and small screens in Hollywood, while Master of None co-writer Lena Waithe thanked her "LGBTQIA family" by pushing a poetic message of acceptance. After winning the award for best drama series, The Handmaiden's Tale showrunner Bruce Miller incited his fighter's spirit among the audience, encouraging viewers and award attendees to "go home, get to work" because "we have lots of things to fight for."
But not everyone watching the 2017 Emmy Awards was as inspired by the winners' speeches of unity, inclusion and resistance. Conservative political commentator and former actor Stacey Dash took offense to the rhetoric of the Emmys, writing in a series of tweets that the star-studded event was merely a "bully pulpit" for the left.
Bright and early on Monday, the former Fox News correspondent continued to bash the Emmys and its liberal constituents via Twitter, writing: "Hollywood feels good about itself this morning after its hissy fit and ranting?"
"The Left has been systematically forcing segregation upon us disguised as tolerance. It's self-segregation and it's working," she continued.
Despite once being a member of Hollywood—Dash is best known for her role in the 1995 cult classic Clueless—the 50-year-old has since voiced her disappointment with the entertainment industry. She has blamed Tinseltown liberals for blackballing her career as an actor because of her opposing political opinions, which she wrote about in her 2016 book There Goes My Social Life: From Clueless to Conservative.