Stacey Plaskett Responds to Her Viral 'Eye Roll' Moment at Cohen Testimony: 'This Is About the People of This Country'
While nearly all eyes were on Michael Cohen as the former lawyer to President Donald Trump delivered his testimony before the House Oversight and Reform Committee on Wednesday, a Democratic representative almost stole the show with a single gesture.
Video of Stacey Plaskett, the nonvoting delegate for the Virgin Islands in the House of Representatives, appearing to roll her eyes during GOP questioning went viral almost instantly, with many hailing the Democrat for having summed up viewers' feelings in a single look.
Plaskett appeared to be responding to Representative Jim Jordan of Ohio as he complained about not being provided with a copy of Cohen's opening statement far enough in advance of Cohen's testimony. "I just have a simple motion, Mr. Chairman," said Jordan, who had earlier expressed frustrations over the fact that Cohen was being allowed to testify at all given that he had recently been sentenced to prison for lying to Congress. Just as Jordan began to speak, Plaskett appeared to give him a stern look and deliver what many viewers interpreted as an eye roll. Some also believed Plaskett could be seen mouthing "be quiet," though it is not clear what she said.
The brief but everlasting moment quickly lit up Twitter with praise for Plaskett. Former ESPN personality Jemele Hill wrote: "Stacey Plaskett is all of us looking at Jim Jordan, the last person who should address anyone's character."
Plaskett thanked Hill "for the support" in her own tweet as the moment continued to go viral.
"@StaceyPlaskett didn't come to play with y'all, Tiffany Cross, co-founder and managing editor of The Beat D.C., wrote.
"Y'all should know @StaceyPlaskett is one of the dopest members of Congress," Bakari Sellers, who formally represented South Carolina's 90th District in the lower house of the state legislature from 2006 to 2014, chimed in.
Another tweeter, identified as Nicole Perez, praised Plaskett as a "national treasure for that eye roll."
Plaskett addressed the now-famous eye roll in an exchange with TMZ, with video showing a reporter for the outlet asking the politician what was going through her mind when she gave an "instant gif to America."
Of Jordan, Plaskett said: "He needs to respect the chairman. And he needs to respect this committee. This is not a wrestling match. This is not his showtime. This is about the people of this country."
Asked whether she was surprised by how quickly the eye-roll moment went viral, Plaskett said: "I mean, I was just being myself, you know?"
Plaskett also answered questions about whether she believed Cohen's testimony. "I believe the evidence that he's presenting, and I think the corroborating evidence is the thing that the American people need to focus on." she said.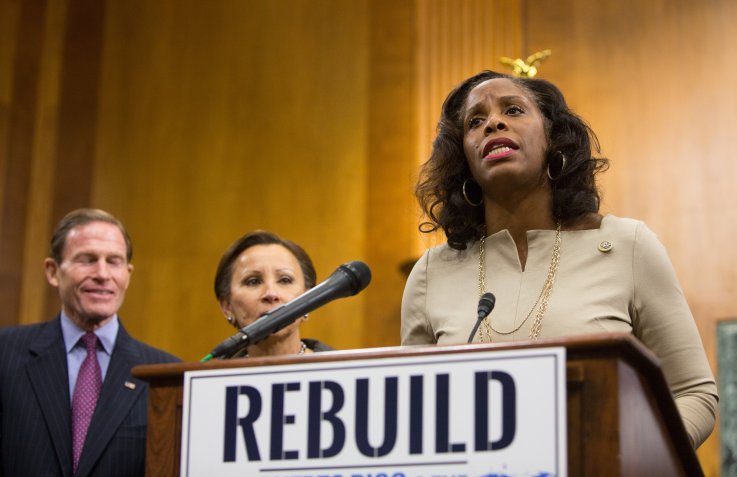 Stacey Plaskett Responds to Her Viral 'Eye Roll' Moment at Cohen Testimony: 'This Is About the People of This Country' | U.S.