Stacie Fang Identified as First Victim in Surfside, Florida, Building Collapse
Officials have identified the first victim in the building collapse that took place early Thursday in Surfside, Florida.
On Friday, the Miami-Dade County Medical Examiner declared 54-year-old Stacie Fang as the first victim in the partial building collapse that has left at least four dead. Another 159 people remain unaccounted as the search and rescue operations continue.
Fang died at Aventura Hospital after being transported from the 12-story Champlain Towers South Condo. Her cause of death has been determined as blunt force injuries. The medical examiner ruled her manner of death as an accident.
Fang has also been identified as the mother of 16-year-old Jonah Handler, who was rescued from the rubble of the building by Miami Fire Rescue.
"There are no words to describe the tragic loss of our beloved Stacie," the family said in a statement. "The members of the Fang and Handler family would like to express our deepest appreciation for the outpouring of sympathy, compassion and support we have received."
"The many heartfelt words of encouragement and love have served as a much needed source of strength during this devastating time," the statement continued. "On behalf of Stacie's son, Jonah, we ask you now to please respect our privacy to grieve and to try to help each other heal."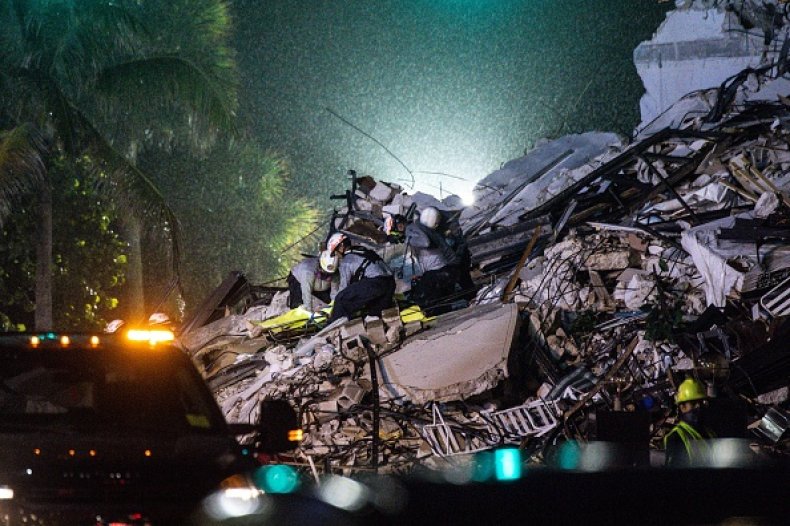 Emergency workers pulled Handler from the debris not long after the building collapsed early Thursday.
Nicholas Balboa, a man who helped firefighters rescue Handler, said he was walking his dog when the building crumbled.
"As I moved closer, I could hear somebody making noise and yelling. I started to get close to the building and climbed into the debris, and I could hear him saying that he was over there, and I could see his arm sticking up through the debris and waving his hand," Balboa told CNBC on Thursday night.
"He was just saying, 'Please don't leave me, please don't leave me.' I told him that we weren't going to leave him," Balboa said. "It was myself and one other person. So, we were there, and we just felt like we could get to him. It didn't feel right to just leave him, especially hearing that his voice was just so young."
Handler was hospitalized but was not badly injured and is currently in stable condition.
No identities of other fatalities have yet been released.
"We have confirmed four deaths," Miami-Dade County Mayor Daniella Levine Cava said at a Friday news conference. "The search and rescue team worked throughout the night, and it was a very active scene from above and below. We also brought heavy machinery onto the site to assist with the operation."
President Joe Biden has also approved an emergency declaration that allows the Department of Homeland Security and Federal Emergency Management Agency "to coordinate all disaster relief efforts."