Google Stadia Games List Adds 'Cyberpunk 2077,' 'Orcs Must Die 3' To Expanding Roster
Google announced seven new games during the second Stadia Connect live stream. Newly announced games coming to Stadia include Kine, Windjammers 2, Destroy All Humans!, Superhot and Attack on Titan 2: Final Battle.
Unlike the other newly announced games for Stadia—multi-platformers all—Orcs Must Die! 3 will be exclusive to the games streaming platform, at least for a limited window after its anticipated Spring 2020 release date.
"I have always wanted orc scenarios to feel like you can't win," Orcs Must Die! 3 design director Jerome Jones said. "You're going to have a 500 mob army in one single wave, and that's not spread out cleverly—50 guys here, 50 guys there—that's 500 orcs. That's what Stadia made possible."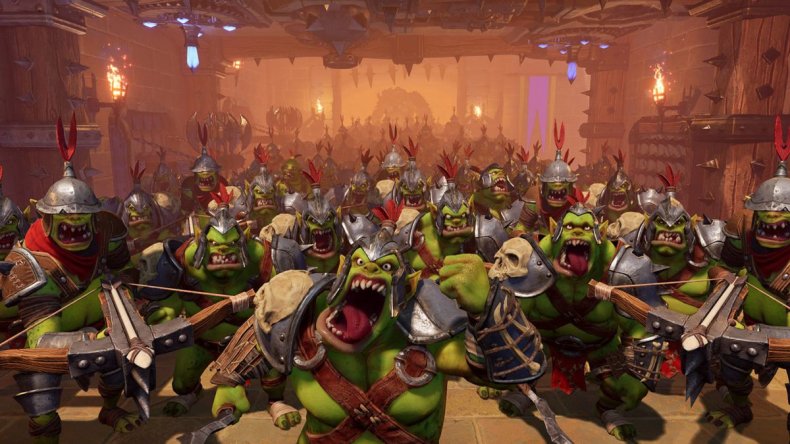 Newsweek subscription offers >
But the biggest title announced on Monday for Stadia is Cyberpunk 2077, an upcoming open-world RPG from The Witcher 3: Wild Hunt developers CD Projekt Red. Set in a transhumanist future, Cyberpunk 2077 has deep character customization at its core, as players fight to thrive in California's Night City.
"There are many scenes that people are going to have very strong feelings about," Cyberpunk 2077 art director Kasia Redesiuk said in the Google Stadia live stream. "I hope that the lens of the game and the lens of the future will show them, in an exaggerated way, things that are already happening in our society. And hopefully, our future is going to be better than the grim future of Cyberpunk 2077."
The seven new titles announced for Stadia brings the list to a total of 39 games announced for the upcoming gaming platform from Google.
Newsweek subscription offers >
Google Stadia Complete Games List
Here's the full Stadia collection announced so far:
Assassin's Creed Odyssey
Attack on Titan 2: Final Battle
Baldur's Gate 3
Borderlands 3
Cyberpunk 2077
Darksiders Genesis
Destiny 2
Destroy All Humans!
Doom (2016)
Doom Eternal
Dragon Ball Xenoverse 2
Farming Simulator '19: Platinum Edition
Final Fantasy XV
Football Manager
Get Packed*
GRID
Gylt*
Just Dance
Kine
Metro Exodus
Mortal Kombat 11
NBA 2K20
Orcs Must Die! 3*
Power Rangers Battle for the Grid
Rage 2
Tomb Raider: Definitive Edition
Rise of the Tomb Raider
Shadow of the Tomb Raider
Samurai Shodown
Superhot
The Crew 2
The Elder Scrolls Online
Thumper
Tom Clancy's Ghost Recon Breakpoint
Tom Clancy's The Division 2
Trials Rising
Watch Dogs: Legion
Windjammers 2
Wolfenstein: Youngblood
*Stadia exclusives
The Stadia Founder's Edition is available for preorder now. For $129, it includes 3 months of Stadia Pro (plus three to give to a friend with a "Buddy Pass"), a Stadia controller and a Google Chromecast Ultra for TV streaming. The Founder's Edition also includes Destiny 2, complete with its full complement of DLC releases, including "Curse of Osiris," "Warmind," "Forsaken" and "Shadowkeep."
Stadia will launch in November.
Google Stadia Games List Adds 'Cyberpunk 2077,' 'Orcs Must Die 3' To Expanding Roster | Newsgeek