Arabic, Jewish Staff at Israeli Hospital Join Together to Sing 'Peace Will Come'
In a public display of unity, the staff of a hospital in Israel, consisting of both Arabs and Jews, joined together in song. They sang "peace will come" in Arabic and Hebrew while holding signs calling for an end to the recent violence in the region.
As hostility continues throughout the region, with Israeli forces clashing with Palestinians, the staff's message touched many people, who then shared it around on social media on Thursday.
Journalist Emily Schrader was one of the many Twitter users moved enough by the video to post it on Thursday.
The hospital where the video was recorded is the Emek Medical Center, located in the northern Israeli city of Afula. The hospital opened in 1930 and is now said to be one of the largest medical facilities in Israel. It serves about 700,000 residents throughout the region, with a staff of about 1,900 employees.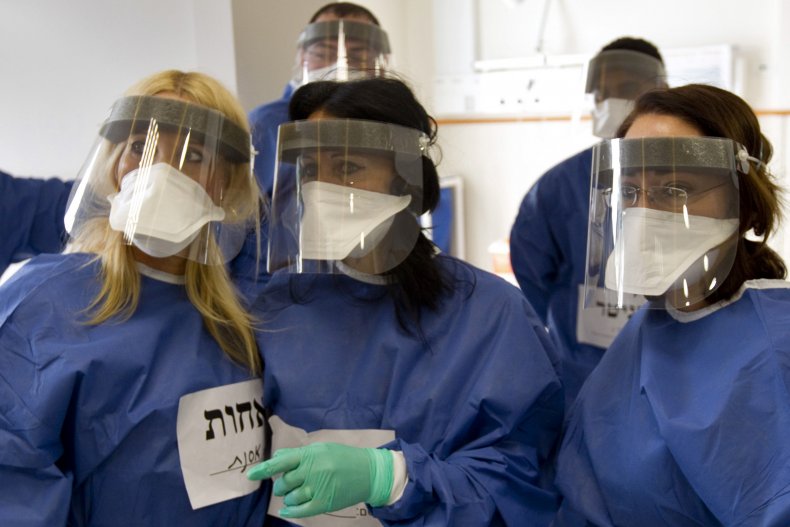 The hospital has long been known for having a staff made up of both Jews and Arabic Muslims. The website for the center states: "As the only hospital and emergency facility in our volatile region, Emek's reputation as a health provider grew—while never wavering from our guiding philosophy of Coexistence through Medicine. When man's inhumanity to man wreaks havoc on our local population, Emek's mixed ethnic medical staff of Jews and Arabs heroically works shoulder to shoulder saving lives and proving that we are capable of looking after one another."
The site's statement continues, "While the media cameras focus on the carnage, unnoticed people from neighboring Jenin with their children stream to Emek for salvation. Their untold stories and treatments could fill a medical journal. Emek Medical Center has proven that peaceful coexistence is not as difficult as the extremists would have us believe."
Other messages about the video included two from Twitter users in Israel: "This made me cry" and "I didn't realize how much I needed to see this right now."
Others spoke about similar situations in other hospitals. A retired doctor wrote of one in Jerusalem: "Did I mention that Alyn hospital looks after Arab and Jewish children equally side-by-side. Inside the hospital there is no conflict. The children play together and bring the parents together, who then slowly bring their communities together. Today, we need more of this."
An American rabbi who shared a post about another medical facility, made up of Arabs and Jews in Haifa, also called for peace: "Idealistic? Sure, but I can use this vision of coexistence and shared hope this morning. Arab and Jewish staff at Rambam Hospital."
The Emek video comes as the violent turmoil continues in the region, with rockets fired from Palestinian groups and airstrikes from Israel forces. There also have been clashes between Arab and Jewish mobs in cities throughout the country.
"Our region is peppered with rioting lost souls, and we all need to brave the gauntlet to get to and from work. Cities, towns, villages and main highways are littered with the stain of frustration and unrest," Larry Rich, Emek's director of development and international public relations, told Newsweek.
"But here in Emek, the work of saving lives goes on—shoulder to shoulder, Jew and Arab, pushing against the current of those who would tear it all down," he said.