Staff Laid off From Gettr Blame Chinese Investor for Platform's Floundering
Employees recently laid off from Gettr—the so-called "free speech" site launched in July 2021 by Jason Miller, a previous adviser to former Republican President Donald Trump—are blaming the platform's key Chinese investor Guo Wengui for Gettr's recent instability.
Guo and his "hand-picked" chief technology officer, Joe Wang, have reportedly and repeatedly disagreed with Gettr's information technology and cybersecurity teams regarding the best ways to maintain and improve the site's security protocols, former employees told the Washington Examiner.
These clashes have occurred amid monetary issues, a "major restructuring" and resulting lay-offs among Gettr's online security and infrastructure teams, the publication added. At least 13 members of those teams—including the chief information officer and chief information security officer—have been removed from the platform since December 28, 2021.
The two officers were let go barely three months after they were first hired, according to former executives. The other team members haven't been replaced, "leaving the company vulnerable to online threats," the Examiner reported.
In response to the publication's report, Miller said in a statement, "Our position remains strong, with over 4.5 million users, and this month we'll be releasing Vision, our short video format which will compete with TikTok and Instagram reels."
Newsweek contacted Gettr for comment.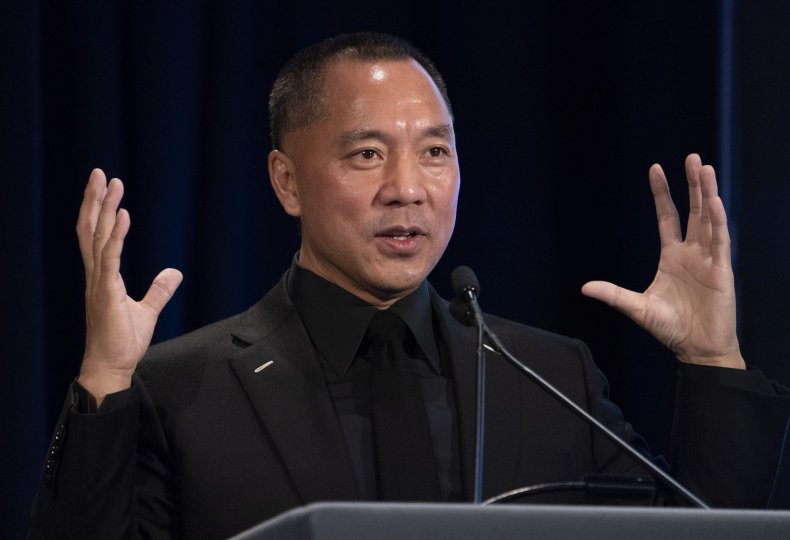 An outspoken critic of the Chinese government, Guo fled to the United States in 2014 after being accused by Chinese authorities of bribery, fraud and money laundering. He has denied the allegations.
Additionally, Guo is a colleague of Steve Bannon, who temporarily served as a White House adviser under former President Donald Trump and was convicted and later pardoned for conspiracy to commit mail fraud and money laundering. When Bannon was arrested for the charges, he was aboard Guo's yacht, according to HuffPost.
Guo is currently under investigation by U.S. Securities and Exchange Commission and the FBI regarding a $300 million investment offering for a planned media company called GTV Media Group. The company pledged that it would be the "only uncensored and independent bridge between China and the Western world," according to its fundraising documents.
Miller launched Gettr on July 4, 2021, six months after Twitter suspended Trump for inciting the January 6, 2021, riots on the U.S. Capitol.
Shortly after launching, hackers accessed and publicly released information on roughly 90,000 Gettr users, including usernames and email addresses. The platform also lacked protocols to prevent users from publishing sensitive and illegal content, like child pornography, an August study from the Stanford Internet Observatory said.
Gettr's website proclaims that it's "founded on the principles of free speech, independent thought and rejecting political censorship and 'cancel culture.'"
Despite its claims of freedom, Gettr has had its own issues with censorship. The site banned white nationalist figure Nick Fuentes from its platform and also blocked the word "groyper," a term Fuentes' followers call themselves.
While Gettr and other so-called "free speech" sites like Parler have tried to court right-wingers, they are largely considered to be "echo chambers" for right-wing ideology. They lack the political and ideological diversity of Twitter, conservative podcaster and writer Matt Walsh once noted.