Dog's Weekly Shower Routine to Help With Allergies Melts Hearts: 'Lil Robe'
An incredibly cute video of a Staffordshire bull terrier taking a shower has gone viral on TikTok, with over 11 million views and 3 million likes.
In the clip posted to @myla.thebluestaffie, the pup takes herself into the shower while her owner gives her a wash with some medicated shampoo. This she recommends leaving on for 10 minutes. The owner then squeezes out all the water before toweling the dog off and popping her into her own bathrobe. One TikTok user commented, "Her lil robe."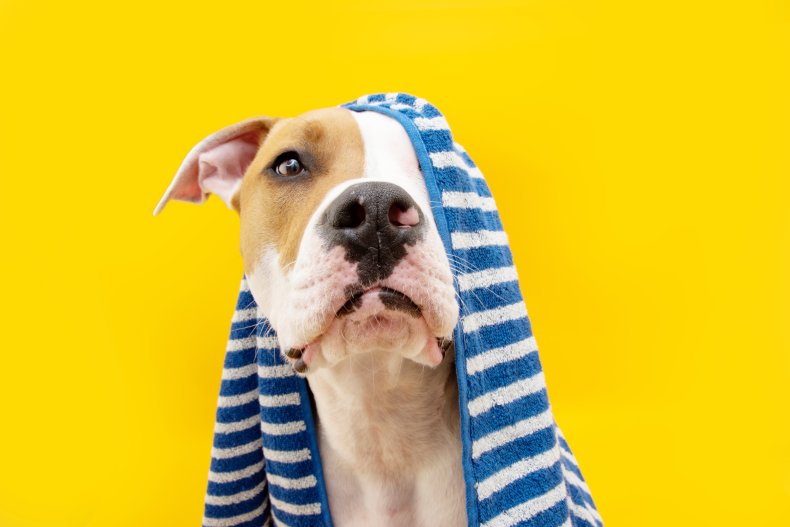 VCA Animal Hospitals, a chain of more than 1,000 animal hospitals in the U.S. and Canada, says that medicated shampoo "should be applied to a clean, wet coat, so start by thoroughly rinsing your dog with lukewarm water." If your pet is dirty, the experts recommend washing the dirt off with a regular dog shampoo first. Medicated products don't necessarily contain detergents and might not clean your pet.
Once your dog is clean and wet, "work the medicated shampoo into the coat," VCA Hospitals experts say. "Start with the areas that are most severely affected. In many cases, these areas are the paws, armpits, groin, and the area around the rectum.
"After thoroughly rubbing the shampoo into these areas, you can begin massaging the shampoo into the coat across the rest of her body. Once the shampoo has been thoroughly worked into your dog's coat, set a timer for 10 minutes (or the contact time your veterinarian prescribed)."
The pampered pooch appears to enjoy the beauty routine. In an earlier video, one user wrote that their dog is scared of showers, to which the poster of the clip replied, "bless him, Myla used to be really nervous but we just took our time gave her her treats and made it rewarding for her and she's got so much better."
One user wrote: "She's so precious, her allergies got nothing on her."
If your dog has allergies, your vet might prescribe medicated shampoo to help alleviate irritation.
When rinsing, it is important not to leave any residual shampoo on your dog's skin and to towel-dry your pet, ensuring that they stay warm until entirely dry.
It's important to remember that bathing your dog too regularly can cause dry and itchy skin. Water that is too warm can make irritation worse and cause more discomfort. VCA Animal Hospitals experts warn that "you may notice that your dog's skin is a bit red immediately after bath." However, this may not typically indicate a reaction to the shampoo, rather an increase in circulation in the skin.
Newsweek has reached out to @myla.thebluestaffy for comment.
Do you have funny and adorable videos or pictures of your pet you want to share? Send them to life@newsweek.com with some details about your best friend, and they could appear in our Pet of the Week lineup.