"I was led, with my hands tied behind my back, to the back of a van and put in a box," says Carl Collins, an information architect living in Brooklyn. He was kidnapped a few years ago following dinner at a community garden in Manhattan's East Village. He had recognized all of his assailants. One was an acquaintance, whom he met just months before. He saw the man's face before a second kidnapper snuck up behind him and threw a black hood over his head. He deduced the identity of the second and third culprits, who were driving the van, by their voices. They were both old friends of his—although one was supposed to be in Singapore for work. When they removed the hood, Collins even recognized the box he had been stuffed into—his girlfriend, a woodworker, had built it in the apartment they shared, purportedly for one of the drivers.
The kidnappers drove Collins to a rural area a couple of hours upstate. He was hooded once more, then led up a steep trail—which reminded him, uncannily, of exercises he had been practicing with a dance instructor he had met just months before. As he continued up the path, the sounds of chanting, drums and tribal music grew louder. At the end of the trail, Collins was lashed to a tree, and, blindfolded, he could feel tinder being piled at his feet and the flames of a fire already licking at the tip of his nose. "There was a real sense of: Oh my gosh, this is where they set me on fire," he remembers. But this wasn't an immolation. It was his Odyssey.
"Immersive, durational experiences for an audience of one" is how Odyssey Works describes its productions, dubbed Odysseys. An unconventional theater troupe of sorts, Odyssey Works is a collection of actors, poets, musicians, sculptors, architects, web designers and psychologists, as well as other artists and professionals, whose stage is the world. This team comes together to study the aesthetic tastes, personal relationships and day-to-day life of a single person, whom they refer to as "the participant" but who might also be considered their audience of one.
The production Odyssey Works puts on for the participant formally lasts one weekend, but it can weave through the days, weeks and even months leading up to that time. The team works to incorporate subtle moments of beauty—a dance performance on the morning subway commute, a previously unheard-of novel from a favorite author gifted by a friend, an introduction to an insightful stranger made by a family member—into the participant's everyday life without immediately revealing their intentions. The dancers were carefully choreographed, the novel was a convincing forgery, the stranger is an actor tipped off by friends and family—all to provide a sublime experience specifically constructed for one person. These subtle moments of beauty build in frequency and intensity up to the "official" weekend of the Odyssey, which is composed of a string of interconnected performances that take over the participant's life. Previous Odysseys have sent participants to different states and even countries, have had them hitchhike home with only a few dollars to their name or dig themselves free after being buried alive (all without any actual harm, of course).
Art for One
"It's like The Game, if it were directed by Michel Gondry and Fellini on a happy day," says Abraham Burickson with a laugh, referring to the 1997 David Fincher film in which Michael Douglas is caught in a violent conspiracy that turns out to be ( spoiler alert! ) an extremely elaborate staging. Burickson, a 42-year-old professor of design and writing at the Maryland Institute College of Art, co-founded what would become Odyssey Works with Matthew Purdon in 2001, following a beachside conversation in Big Sur about how art could affect audiences as deeply as possible. The answer seemed to be to know your audiences so well that you are able to design art specifically for them, and thus the seed of making art for one person was planted. Purdon became the first participant, his Odyssey lasting only a single day and culminating with him being buried alive at the beach (with a breathing tube). It took Purdon more than half an hour to dig his way out, but as Burickson recalls, he emerged with a gleam in his eye, a smile on his face. Despite it being November in San Francisco, Purdon immediately tore off all of his clothes and dove into the frigid Pacific. Looking back on it, Burickson says, "That was the moment that I realized we were onto something."
Odyssey Works has staged 18 productions, of which eight were for Odyssey Works members, like Ayden LeRoux, who leads the team along with Burickson. While the performances for team members tend to be shorter and cost significantly less, as time and resources are donated by fellow members, a typical Odyssey otherwise runs around $35,000. That may sound steep, but consider the breadth of the production: Odyssey Works's most ambitious Odyssey, for the novelist Rick Moody and funded by the Brooklyn Emerging Artists in Theater Festival, lasted four months and involved 37 different artists, as well as 70 public volunteers. Partnering with organizations like the BEAT Festival, which is committed to supporting new performance artists, allows Odyssey Works to put on productions without any cost to the participant; otherwise, they rely on private commissions.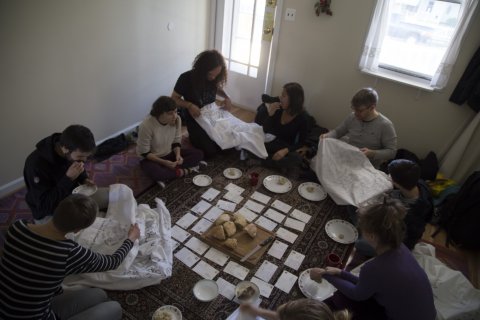 Whether there's a private commission or not, each Odyssey begins with an application. Hopeful participants must complete a 10-question survey, which eliminates applicants based on practicalities, like location and availability. Then they move on to the full application: six pages of questions that have taken participants up to 10 hours to complete. Not only is this process self-filtering, ensuring that applicants are as committed to their productions as Odyssey Works is, but it offers the team intimate insight into their would-be participants. "The application itself is a really interesting introspective journey," says Collins. The application includes questions about tastes ("What's your favorite smell?"), relationships ("What would your close personal friends say about you?") and routines ("Where do you most frequently spend money?"), and it ranges from the existential ("Where do you get your sensory perceptions of the world?") to the utterly mundane ("What brand of toilet paper do you buy?").
As there is typically only one participant for each Odyssey and each Odyssey takes months to plan and perform (the team averages one to two productions a year), Odyssey Works narrows the pool to three candidates, who are interviewed and whose references are contacted. The final selection is made by the core team through consensus. Even after the participant has been chosen, Odyssey Works continues its research, reaching out to the participants' close family members and friends, who furnish additional information and are invited to play greater roles in the production.
After they've amassed their research and resources, the team takes a weeklong retreat to pore through it all and devise the performance. The participant's favorite songs, everyday routines, greatest doubts—everything from the minutiae to the monumental—is considered when weaving the tapestry of the Odyssey. Because it has artists from many disciplines, Odyssey Works also considers a variety of media. In the course of creating Odysseys, the team has counterfeited currency featuring the participant's face; translated a symphony to be sung by a chorus through cries, laughs and moans; produced a radio show to be played on a clock radio snuck into the participant's bedroom; organized a water balloon fight through midtown Manhattan; and fabricated a novel by Jorge Luis Borges, a short story by Italo Calvino, an insert for The New Yorker and a review on the New York Times website for a book that the participant was working on but had yet to publish. They've built art installations, mapped walking tours, choreographed dozens of dancers for seemingly impromptu public performances and much, much more. The overwhelming amount of information about the participant that the team has access to, coupled with the seemingly endless number of outlets through which to deliver their performance, means that each Odyssey is part monthslong surprise birthday party, part love letter written in every conceivable language—and all just for you.
That isn't to say every part of the performance hits its mark. "We've had issues with law enforcement almost every time, even if it's just a traffic ticket," says Burickson, laughing. During a production in San Francisco in 2003, the participant happened upon an anti-gentrification protest that he believed to be part of his Odyssey. Only after he had been arrested for physically obstructing the entrance to a real estate open house did the participant realize that sitting in jail was probably not part of his performance. (He was released without charges after explaining to the San Francisco Police Department that he was part of an experimental performance piece.) During Rick Moody's 2013 Odyssey, he was stopped at customs while traveling from New York City to Regina, Saskatchewan, unable to say where exactly he was heading. (He was released after explaining that he was in the middle of a production. Apparently law enforcement is hip to performance art.) After about 15 years of doing this, though, Odyssey Works has learned its lessons. Participants' physical and psychological well-being is considered at every turn, and often someone is tailing them, just in case.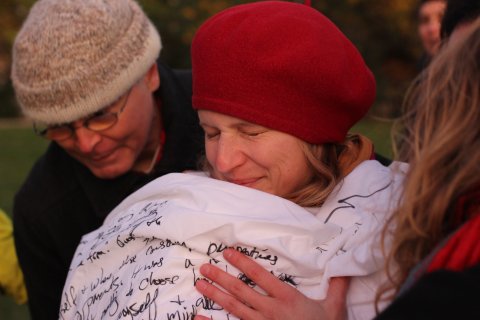 Looking Differently at the World
Odyssey Works's efforts at large have also evolved. "It's really inefficient to make work for one person, and people are really, really moved by what we do, but our reach doesn't go very far," says LeRoux. In an attempt to expand their scope, the team has been branching out. In 2013, Odyssey Works self-published its first book, Isolation and Amazement, which documents Collins's Odyssey. Its second book, Odyssey Works, published this past November, takes a different approach, sharing some of the lessons in art making that it has learned over a decade and a half of staging productions. It offers six proposals to artists to help them create more meaningful and beautiful artwork, suggesting, for example, they design experiences rather than things, experiment with form and involve their audiences completely. The team has also been giving lectures at schools and cultural institutions, as well as holding workshops for game designers, performance artists and even businesspeople interested in reaching their consumers in novel ways. There are also ideas about Odysseys for couples, perhaps twin siblings, or even longer productions for larger groups of people. "Our performance, I'm thinking, could be a six-month experience for everybody who joins, and anybody could come," says Burickson. "We might even have ticket sales, or something crazy like that."
In considering the overall direction that the Odysseys themselves are heading in, Burickson contrasts the team's initial reliance on the sensational with their recent focus on subtlety. " Back in the early days, there was a lot of burying alive and putting on trial and burning alive," he says. "We don't do that so much anymore, because it's much more interesting to see how you can work in the details to make the meaning that you're building into this performance more broadly wrought rather than suddenly experienced. " That might seem obtuse, but the principle is simple to see in practice in their most recent production. LeRoux had her Odyssey this past November, just days before she relocated to Austin, Texas, after eight years of living in New York City. During a quiet portion in the performance, she and her partner enjoyed a packed lunch of sushi at the 34th Street East Ferry terminal while awaiting the boat. A few minutes after they arrived, a street musician with an acoustic guitar set up not too far away. Among the songs he played was "Hallelujah" by Leonard Cohen, who had died earlier that week. The moment, complete with the orange autumn sun setting behind the city's skyline, was subtle enough to have not necessarily been concocted by Odyssey Works. It could have just as easily been a coincidence—a natural though random parting gift from New York to LeRoux. It was a blurring of the lines between the Odyssey and everyday reality.
"It's a really powerful thing to feel like the universe is conspiring for you," says LeRoux while discussing that dynamic. "If you're just drinking your coffee on the train like you do every day, and you're given this little bit of information that this day is a special day, you're on an Odyssey, that coffee tastes different. The people that are there on the train with you seem different. And you pay more attention.… Between all of our participants, what we see as the most marked transformation, beyond any sort of specific narrative in their lives, is the way that their attention to the world changes afterward.
"I feel that, certainly," she says of her perception following her Odyssey. "I'm looking differently, and I'm open in a way that, when you're in routines, it's really hard to do."