A Staggering 72,000 Businesses Have Now Been Shut Down From COVID-19
Over 72,000 businesses have closed permanently in the U.S. since the beginning of the coronavirus pandemic in March, according to data released in July by Yelp.
In an attempt to curb the spread of the virus, many businesses closed down non-essential businesses. As positive cases of the virus declined, state governments began to allow some businesses, such as bars and restaurants, to reopen while employing safety measures against the virus. Interaction between individuals, particularly in bars, caused a resurgence of the coronavirus in some areas. In response, some governors closed businesses down again. According to the Yelp Economic Average, some of those businesses have closed their doors for good.
"Overall," the research said, "permanent closures have steadily increased since the peak of the pandemic with minor spikes in March, followed by May and June." Yelp reported 72,842 permanent business closures since the beginning of March. Permanent closures made up 55 percent of all closed businesses.
States with the greatest number of positive coronavirus cases are also where the number of permanently closed businesses is the highest. In California, 14,100 businesses are forever shuttered with the highest number in the metropolitan area of Los Angeles, which reported 5,600 permanently closed businesses.
California has reported 470,319 positive cases of coronavirus, the highest number of cases in the U.S. to date. On Tuesday, the state reported 3,494 new positive cases of the virus.
In the Miami-Fort Lauderdale-West Palm Beach area of South Florida, 1,949 businesses have permanently closed. In Palm Beach County alone, 31,596 positive cases have been cumulatively reported since March.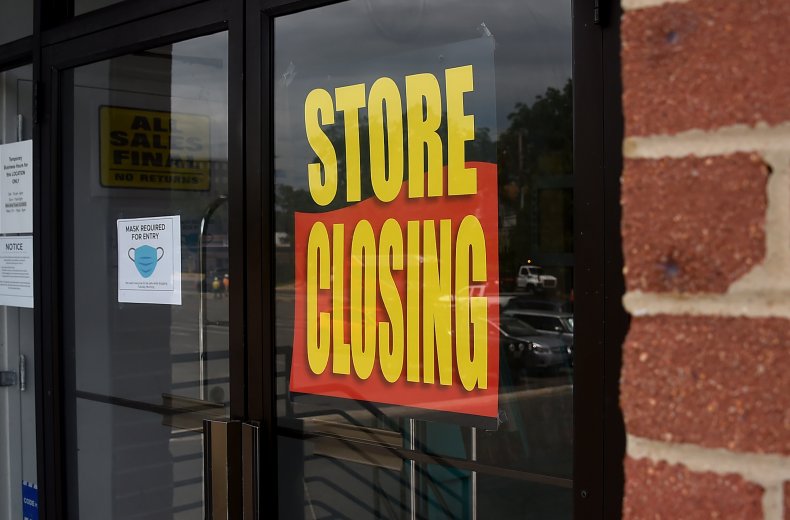 Texas, with a cumulative 407,034 positive cases of COVID-19, lost 6,500 businesses to permanent closure since March. The Dallas metro area was listed as showing 1,900 permanently closed businesses, the highest number in the state.
Newsweek reached out to the U.S. Chamber of Commerce for comment.
After closing down bars and indoor dining in Kentucky for the second time, Governor Andy Beshear said there was no guarantee that bars in the state would survive the mandated two-week closure period.
"It's not fair to those that have done it responsibly," Beshear said, "and I'm not going to pretend now that it's fair, and I'm not going to pretend like there are some small businesses that they won't make it through this."
Beshear made the decision to shutter businesses on the recommendation of White House adviser Dr. Deborah Birx. Birx also warned Tennessee Governor Bill Lee that the state was on the verge of becoming a hotspot for the virus. Birx recommended closing bars in restaurants in Tennessee. Governor Lee chose to reject her advice.
"I've said from the beginning of this pandemic that there's nothing off the table," Lee said at a Monday press briefing. "I've also said that we are not going to close the economy back down and we are not going to. But I appreciated their recommendations and we take them seriously."