Stallone Says 'Storm' in Instagram Post Was Not Tied to QAnon, That He Meant 'Thunderstorm'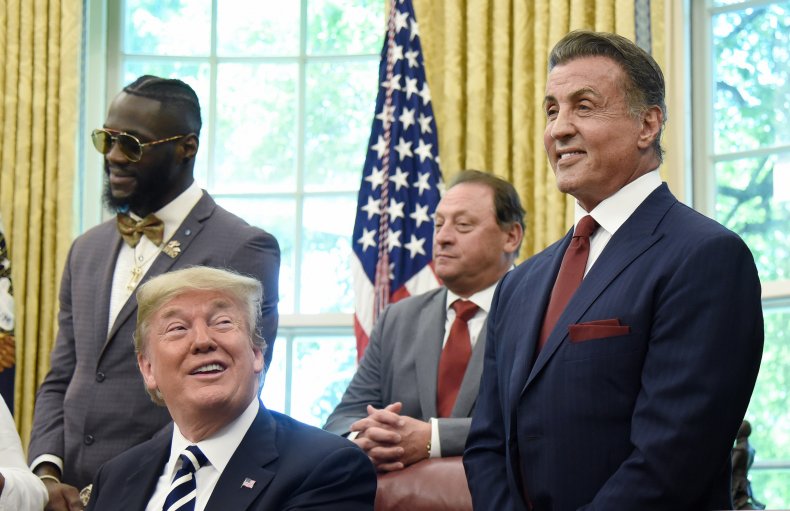 Actor Sylvester Stallone has edited a recent social media post after some construed it referred to QAnon's "the Storm," adding new comments to insist that he did not intend to draw a connection to the conspiracy theory.
QAnon supporters celebrated last week when Stallone posted a picture of himself wearing a hat featuring the letter "Q" and the caption "Heading into the Storm," an apparent reference to "the Storm" from QAnon—an event that adherents to the baseless conspiracy theory believe will see former President Donald Trump round up, prosecute and execute a supposed cabal of Satanic Democrats and "elites" involved in child sex trafficking.
A new version of the post amended his original "Headed in the Storm ..." comment to include "As IN THUNDERSTORM!!! We are in a jet for god sake flying through the rain!" The original version of the post, without the added explanation, remained on Twitter as of Monday evening.
Stallone also dismissed perceptions that the "Q" on his hat referred to QAnon in follow-up posts, although social media reactions suggested that many were not convinced. On Twitter, the actor said that his hat referred to a boat named "QUANTUM OF SILENCE." A similar Instagram post indicated that it referred to a boat with the same name as the James Bond film Quantum of Solace.
"For those incredibly inquisitive individuals, let me state unequivocally that the Q on this hat stands for QUANTUM OF SOLACE, the name of the boat I was on, NOT anything else, ok?" Stallone wrote on Instagram. "Relax .... So folks, The moral of the story is ... Enjoy your lives and let other people enjoy theirs ... So Keep Punching!"
Predictions on the supposed QAnon "Storm" have been proven false on multiple occasions. While the alleged government at the center of the conspiracy theory—an anonymous internet poster named "Q"—has remained silent since shortly after Trump lost to President Joe Biden in 2020, followers have continued to profess their faith and make new predictions. They were recently disappointed when the deceased John F. Kennedy, Jr., failed to be resurrected in Dallas last month as predicted.
Despite suspicions surrounding his recent social media posts, Stallone has never explicitly expressed public support for the false conspiracy. He has also not expressed public support for Trump, although he did appear alongside the former president and several figures from the world of boxing at the White House in 2018 for the posthumous pardoning of former heavyweight champion Jack Johnson.
Stallone's publicist denied reports that he had joined Trump's Mar-a-Lago earlier this year, telling People that he "was an invited dinner guest at the Club but is not himself a member there."
Newsweek reached out to Stallone's publicist for comment.