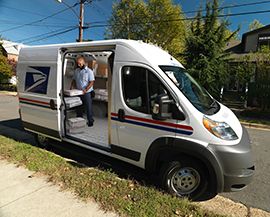 The New Year is almost here, which means its almost time for U.S. Postal Service stamps to get more expensive. The new price of first-class forever stamps will increase from 50 cents to 55 cents on January 27 – an increase of 10 percent.
The postage price increase is an effort by the United States Postal Services (USPS) to offset record operating losses in 2018 totaling nearly $4 billion, according to reports. The post office has experienced a volume decline in 2018 of 3.2 billion pieces, according to Fox Business, with a 3.6 percent decline in first-class mail, which provides its most significant share of income.
The January 27 stamp price hike, accompanied by other mailing and shipping increases, is the biggest price increase by total cents in the history of the post office. The largest percentage price increase occurred in 1991 when the cost of a stamp went from 25 cents to 29 cents.
Approved by the Postal Regulatory Commission, the January stamp price increase accompanies mail and package rate increases across the board for the USPS – an effort to keep the post office "competitive while providing the agency with needed revenue," officials said.
The post office, which "receives no tax dollars for operating expenses and relies on the sale of postage, products, and services to fund its operations," touts the fact that it "has some of the lowest letter mail postage rates in the industrialized world and also continues to offer a great value in shipping."
The USPS has not been profitable in a decade.
Other USPS 2019 postal price increases taking effect January 27:
Small flat rate box from $7.20 to $7.90
Medium flat rate box from $13.65 to $14.35
Large flat rate box from $18.90 to $19.95.
Regular flat rate envelope from $6.70 to $7.35
Large flat rate envelope from $7 to $7.65
Padded flat rate envelope from $7.25 to $8
Last year President Donald Trump criticized the post office for not charging online shipper Amazon enough for handling its packages. He also suggested the post office raise its prices.
"Why is the United States Post Office, which is losing many billions of dollars a year, while charging Amazon and others so little to deliver their packages, making Amazon richer and the Post Office dumber and poorer? Should be charging MUCH MORE!" the president wrote on Twitter in 2017.