Stampede In Times Square After Motorcycle Backfires, Sparking Shooter Fears
A motorcycle backfired in New York City's Times Square, sparking fear that another mass shooting had started.
Just before 10 p.m., pedestrians in Times Square panicked after hearing a loud sound. Though it turned out to be a motorcycle backfiring, scared people ran away from the area, escaping into stores and businesses.
Twitter user @DanielsGrp recorded video of people running from the sound. "People fleeing and hiding from #timessquare after suspected live shooter #NewYork we caught this from our hotel bar 10th floor #police confirmed this was not a live shooter #timessquare #NYC," they wrote.
"Having a mob of people yelling and running at you in/near Times Square is probably the scariest thing I have ever been in," Jess Conner, a witness, tweeted.
Ambulances were dispatched to the scene, as some people were injured trying to escape what many believed to be an active shooter. However, it is currently unknown how many people were hurt.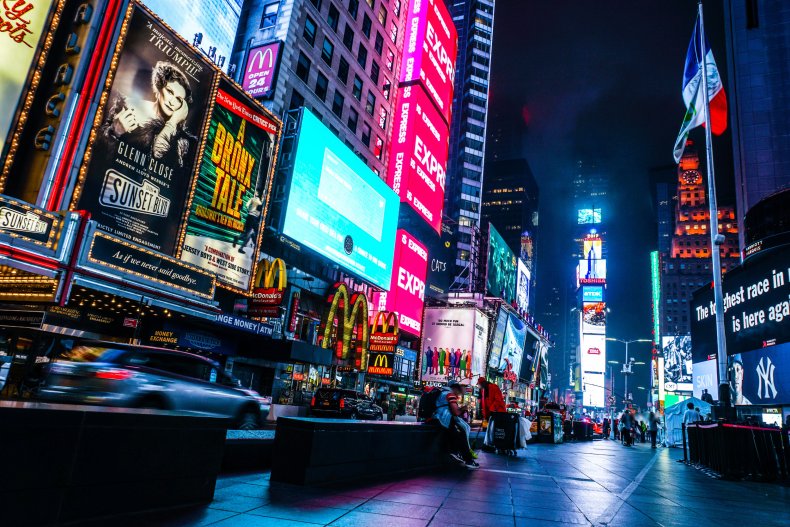 Tonight's performance of To Kill a Mockingbird on Broadway ended early due to the sound. According to Deadline, audience members at the Shubert Theatre panicked, ran down the aisles and ducked for cover. Pedestrians also rushed into the Shubert lobby for safety.
"Stopped our show tonight due to a motorcycle backfire that was mistaken for a bomb or a shooting. Screaming civilians tried to storm our theater for safety. The audience started screaming and the cast fled the stage. This is the world we live in. This cannot be our world," Gideon Glick, who plays Truman Capote in the show, tweeted.
Other Broadway shows were affected as well, with Dear Evan Hansen star Andrew Barth Feldman tweeting "People were sobbing, calling their loved ones, hiding behind seats and in the dressing rooms, and were separated from their families and groups."
This Sunday, Times Square saw a protest against gun violence after two mass shootings on Saturday. In El Paso, Texas, 22 people were killed at a Walmart by Patrick Crusius, 21. That evening, Connor Betts, 24, killed nine at a bar in Dayton, Ohio.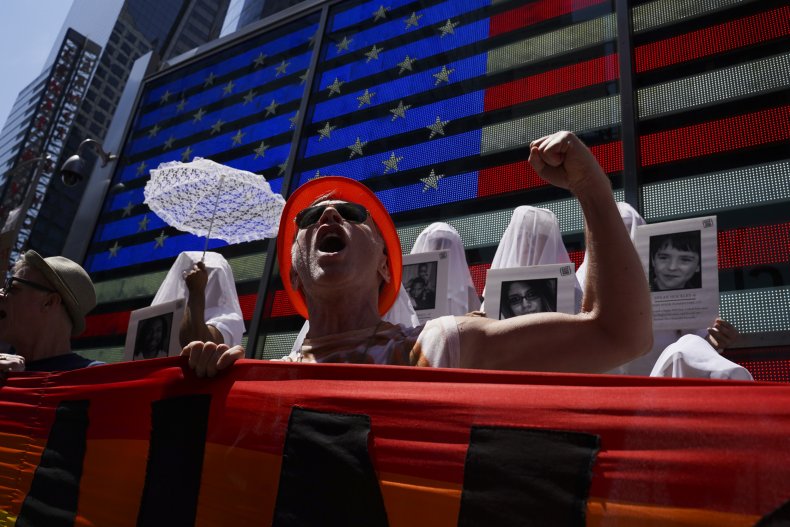 This is the second time today a loud banging noise caused a panic. The Valley Fair Mall in West Valley City, Utah, closed early this evening after false reports of an active shooter. Shoppers panicked, ran and hid after hearing a large sign fall down. West Valley City Police confirmed that there were no injuries.
The mall closed at 8:15 p.m. local time, as police helped to clear the small. According to KUTV, shoppers had taken cover in stores, some of whom were unaware there was no shooter.