Exclusive: Stan Wawrinka On Andy Murray, Novak Djokovic, Roger Federer And His Late Career Bloom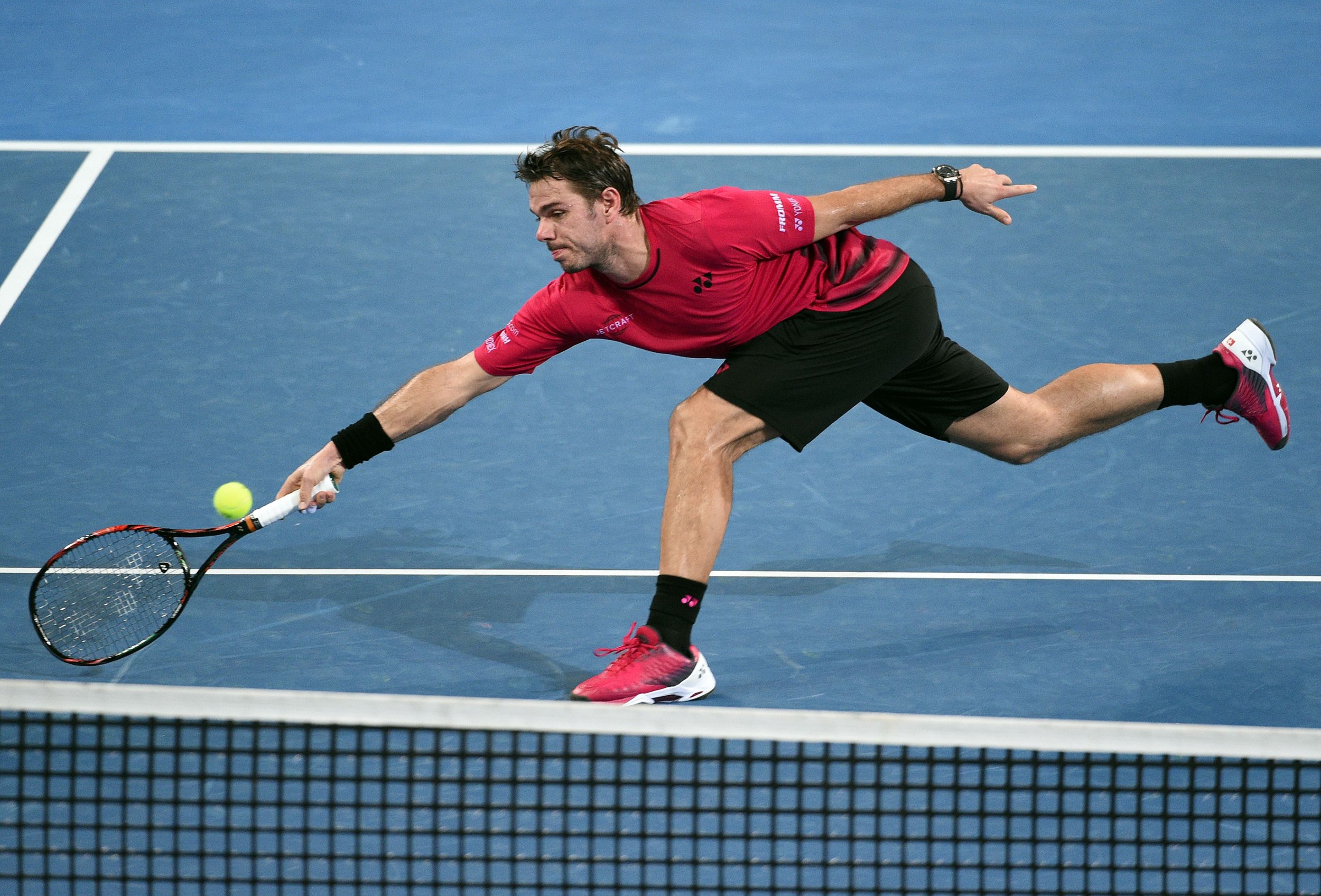 Stan Wawrinka doesn't mind admitting that he is, in his own words, an "old player."
Wawrinka, three times a Grand Slam finalist and thrice a winner, will turn 32 on March 28. The Swiss number one has two years on world number one Andy Murray, the same on Novak Djokovic, now Murray's chaser. Rafael Nadal, making the latest in a long line of comebacks from injury, is actually younger at 30.
"For sure, I cannot do the same as ten years ago," Wawrinka tells Newsweek from Australia, where he is preparing for his first tournament of the season, the Brisbane International. "For sure I am an old player. But I have been at my best for three or four years now so hopefully I can keep up the big results."
The new year has not, Wawrinka says, led to any great changes from the last—the third year in a row in which he won a Grand Slam, toppling Djokovic at the U.S. Open as the Serb's mid-year tailspin picked up velocity. "I had one month of fitness," Wawrinka says of his off-season. "With my fitness coach and [coach] Magnus Norman also. It was good preparation I think. There is no big difference. We keep trying to improve what I'm doing on and off the court."
That final at Flushing Meadows, New York, might have been the distillation of Wawrinka's era-defying brilliance. Forty-six winners whistled past Djokovic's nose, after the Serb had won the first set. "You were the more courageous player in the decisive moment and deserve the title," Djokovic said on the conclusion.
That magnanimity, kind but apparently bland enough, in fact provides a perceptive insight into Wawrinka's major tournament hit rate. Seemingly unencumbered by any sense of occasion, once he reaches the latter stages of Grand Slams he keeps on crushing the ball, mostly with a single-handed backhand, perhaps the most graceful shot of a sport frequently touched by grace. Wawrinka combines its natural elegance with malevolence.
Why does he seem to spring into life in Grand Slam finals? "Whenever I am in a final I have full confidence in my game, in general. Because I have won many matches in the same tournament, so I am playing my best tennis. I am ready. So far I have played three amazing finals—I'm really proud and happy to have done that."
In each of his finals, Wawrinka has entered as the upstart—"shock," "stunning" and "upset" feature heavily in the postscripts for each—though the fleshy details of those Grand Slams are more complex than the headlines. In January 2014, Wawrinka pummelled a Nadal who almost quit the match with a back injury. In New York two and a half years later, Djokovic's fabled fitness deserted him as the match wore on. Only the 2015 French Open measures up in reality to the hyperbole of the pen. Djokovic came into the final on a 28-match winning streak, missing only the title at Roland Garros from a career Grand Slam. On that day, June 8, Djokovic absorbed 59 winners, hit 30 of his own, and made 41 unforced errors in an increasingly fraught attempt to return cannon fire with buckshot.
Perhaps it is understandable, given the pride of the professional athlete and the knottiness of history, that Wawrinka dances around the concept of being the underdog.
"I'm happy with what I've achieved in the last four years," he says. "I'm trying to be the best I can—so far that is number three in the world. I'm happy with what I have done so far but I am trying always to push as hard as I can. We will see what 2017 will bring."
At the start of 2017 it is Murray who reigns as men's tennis' kingpin, a brutally consistent second half to last season vaulting him up and over Djokovic, who he trailed at one point by more than 8,000 ranking points. Murray and Wawrinka won the same number of Grand Slams in 2016, but it was the Scot's ability to manage the weekly grind of lower-level tournaments that made him the world's best. Murray went 78-9, reaching five Masters 1000 finals, the highest-profile events beneath the four Slams. Wawrinka ended the year with 18 losses, his best result in a Masters event since the semi-final in Canada in July.
There is a nick in the bodywork of Murray's legacy. He has reached 11 Grand Slam finals and lost eight of them to Djokovic and Federer. Murray gets invited to the prom more often, only to stumble at the feet of the Homecoming King. Wawrinka is the gatecrasher, raucously tearing the tiara from the Queen's head. What does Wawrinka believe is the difference between the two?
"I got to my first final at 29 years old, so it [his and Murray's] situation is completely different," he says. "The other player [Murray] was in a final at 19, really early.
"I think for one or two years he really improved a lot, pushing and pushing to get closer to Novak. You could see it for the first six months of the year, the French Open final… he was always really really close. He just kept adding different things in the second half of the year, and got a lot of confidence from the way he was playing, winning Wimbledon. What he's done is amazing, he deserves to be there."
Conforming to that reputation as a man of steepling moments, Wawrinka's victories over Murray have come on the grandest stages. His seven victories in 17 matches include knocking Murray from the 2010 and 2013 U.S. Opens. The volte face occurred at the 2016 French Open, when Murray beat Wawrinka over four sets—his sole success against the Swiss player on clay.
"I think we have had really good battles many times," Wawrinka says. "In general when I play him it's later in the tournament, in the quarters, so I get more confident and start to play my best tennis. If you look in general at his career, he's an amazing fighter, an amazing tennis player and number one in the world."
By the time Wawrinka crashed his way through the window of the world's top ten in May 2013, Murray had been there for just under five years. His was, compared to his peers, a late emergence from the pack. "I don't know the reason," he says. "But look at Andy, 29 and playing his best tennis now. In general I think players play longer at the top now, if you look at Andy and Roger [Federer]. I have been walking out there since I was really really young, it took me time to get to my top."
Wawrinka will expect to be near his peak at the Australian Open, which begins at Melbourne Park on January 16. The men's singles lineup offers a range of beguiling narratives, not least whether Murray can further legitimize his ranking with a Slam. Behind him is a variety of suitors and the dethroned in Djokovic, his off-season training no doubt given an edge by the fall to world number two.
"He [Djokovic] had so many amazing years," Wawrinka says. "He was winning every single tournament he was playing. Maybe it was unlucky, maybe it was a little bit normal. But look at what Andy achieved, by winning all the last tournaments he played after the U.S. Open. I see it more that Andy played amazingly. I am sure Novak will be strong this year, but we will see how strong."
Djokovic suggested in September that tennis' old "big four" should add a new member in Wawrinka, who responded by saying he was far away from the Serb, Murray, Nadal and Federer.
The 12-times Grand Slam champion was bending an already supple frame to be gracious, and perhaps oversimplifying in the process. The reality is that the bloc of four appears in flux. Nadal will lurk dangerously as the ninth seed in Melbourne, while Federer makes his first Slam appearance since losing the Wimbledon semi-final of last year to world number three Milos Raonic. "I am sure he will be more than ready and really dangerous," Wawrinka says. "He's the best player ever so I am sure that he will be back at the top."
On a rung of his own, Wawrinka will continue to hammer away, clipping the lines with those whirling dervish backhands more often than he misses, at least at the sharp end of major tournaments. Tennis' big beasts will fear the tour's wild man again in 2017.