Stand-alone $1,400 Stimulus Check Bill Offered by Bipartisan Reps as Relief Battle Rages On
A stand-alone and bipartisan $1,400 stimulus check bill was proposed Friday by two U.S. representatives as the congressional battle over economic relief legislation continues.
The bill, called the Coronavirus Assistance for American Families Act, was proposed by Democratic Representative Lisa Blunt Rochester of Delaware and Republican Representative David McKinley West Virginia. It would provide a direct payment of $1,400 to adults as well as an additional $1,400 to any dependents.
"Today's weak jobs report highlights how American families are struggling and need immediate relief. More than half of households have reported major financial challenges due to the economic and public health crisis," McKinley said in a statement announcing the bill. U.S. employers added just 49,000 jobs in January, according to the Labor Department's report on Friday.
McKinley continued, "By providing a third round of individual relief, millions of American families would receive the help they need. As Congress continues to negotiate additional COVID-19 relief measures, we must prioritize family-focused direct assistance to those who need it most."
In an email to Newsweek, McKinley said, "The American people are not to blame for this pandemic that has threatened the livelihood of millions of hardworking Americans. The bill provides direct relief to Americans who feel unheard, unsupported and need financial support now."
Blunt Rochester also issued a statement on the bill, saying, "While I was pleased that a $600 direct payment made it into the last COVID relief package, the reality is that American families are struggling and need more support."
She continued, "I'm proud to, once again, join with Representative McKinley to make clear that providing direct relief to the American people shouldn't be a partisan issue. I'm also pleased that our bill would provide additional relief to families who are caring for dependents. Congress must continue to prioritize direct payments for the American people as quickly as possible."
A press release from Humanity Forward, a nonprofit focused on creating bipartisan coalitions, said, "The introduction of this bill by Reps. McKinley and Blunt Rochester demonstrates ongoing bipartisan support for the full-sized $2,000 payments for which both former President Trump and President Biden pledged to support."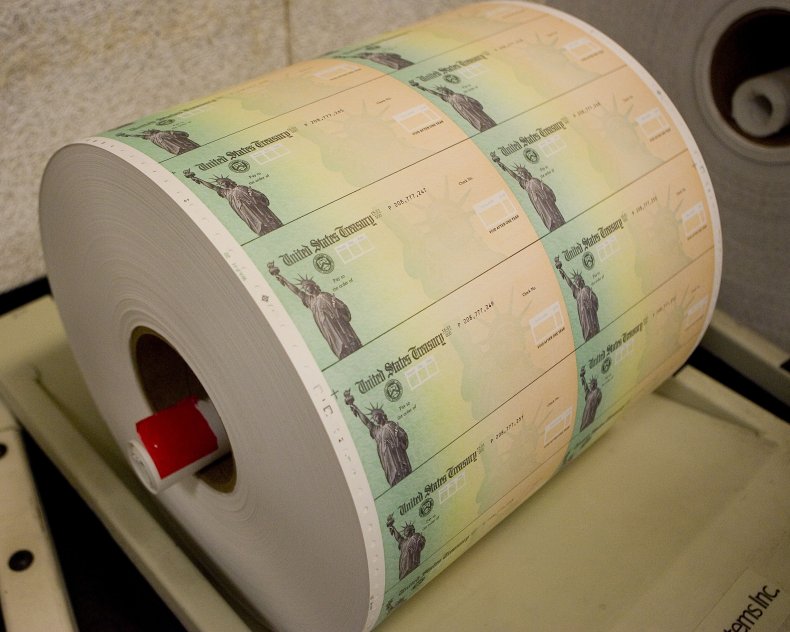 The release added, "They were joined by over two-thirds of the House and a majority of the evenly split Senate. It further makes clear that direct cash relief stands alone as the most broadly popular and bipartisan method of delivering economic stimulus."
In an email Newsweek Greg Nasif, chief spokesperson for Humanity Forward, said, "We're excited by the endurance of bipartisan support for direct cash relief. While we are continuing to advocate for recurring payments, we're taking a broad perspective and celebrating how far both parties have come in support for an issue that was considered fringe just a couple years ago."
The proposed bill came shortly after Democrats moved a step closer to passing President Joe Biden's $1.9 trillion relief package. A budget resolution was approved by the Senate in a 51-50 party-line vote, with Vice President Kamala Harris breaking the tie. The resolution allows the Democrats to pass the Biden bill without any Republican support.
Since changes were made to the resolution by senators, it will need to be approved by the House for a second time.
"We have moved forward. Many bipartisan amendments were adopted.... This was a giant first step," Senate Majority Leader Chuck Schumer said after the vote. "We will keep working as hard as we can to pass this legislation through the House, through the Senate as we go through the reconciliation process, and hopefully put it on the president's desk."
Newsweek reached out to Blunt Rochester for further comment but did not receive a response in time for publication.