'Stand with me. Hate them': Bernie Sanders Says Trump's Reelection Plan is Based on Dividing Country
Senator Bernie Sanders, one of the leading candidates for the 2020 Democratic presidential nominee, argued in a new interview that President Donald Trump's high-profile push for mass deportation of undocumented migrants is a deliberately time, politically motivated part of the president's reelection plan.
It was revealed late last week that U.S. Immigration and Customs Enforcement (ICE) had planned on launching a multi-city series of raids this weekend, targeting some 2,000 migrant families that had already been notified they were to be deported. However, on Saturday Trump announced that he would hold off on the ICE raids for two weeks in order to give Congress time to work out a legislative solution to immigration reform.
In an interview aired Sunday on CBS News' Face the Nation, Sanders called the deportation plan "horrific and so un-American" but expressed his belief that Congress — even one as politically divided as the current legislature — could pass a meaningful immigration bill.
"Look you've got some 11 million undocumented people in this country," Sanders told host Margaret Brennan. "Our job is to pass comprehensive immigration reform and a path toward citizenship. Our job is to give immediate legal status to what Trump took away."
Sanders was referring to the Deferred Action for Childhood Arrivals (DACA) program, which had allowed millions of undocumented migrants who had been brought to the country as children to remain in the U.S. via a series of renewable deferrals.
Brennan pointed out to Sanders that DACA itself was not passed by Congress, but put in place by President Barack Obama in a move that some courts have ruled was not legal. She asked the senator if Democrats would need to control both the House and Senate to come to actually pass a reform bill.
"Not necessarily," said Sanders. "The American people do not believe that America is about rounding up men, rounding up millions of people throwing them out of this country. How ugly is that. That's not what the American people want. They do want comprehensive immigration reform and a president that would provide that support could get Republican leadership on that as well."
Sanders acknowledged that there is a problem at the border with a flood of migrants, particularly those from economically and politically troubled Central American countries seeking asylum. The situation requires thinking in a "humane and serious way not through a demagogic way," said the senator. "We need a lot more judges down there and administrative staff as well."
The Vermont senator also accused Trump of using the threat of deportation as a political chess piece, coming only days after he officially announced his reelection campaign.
"But what he is doing and this is his entire political strategy is to divide the American people up based on where we came from based on our sexual orientation," said Sanders, arguing that this us-versus-them approach was all Trump had to sell to his base. "So you have a president who gives tax breaks to billionaires and wants to cut Medicare, Medicaid and Social Security. That's not what he's going to run on. You've got a president who tried to throw 32 million people off health care. He ain't gonna run on that one. You got a president who gave 83 percent of the tax benefits to the top one percent, not going to run on that one. So how do you win an election? What do you say — You see those undocumented people, they all your enemy. 'Stand with me. Hate them. Let's divide this country up.' I think that is an incredibly ugly and dangerous thing to be done. And I will do everything I can to stop that."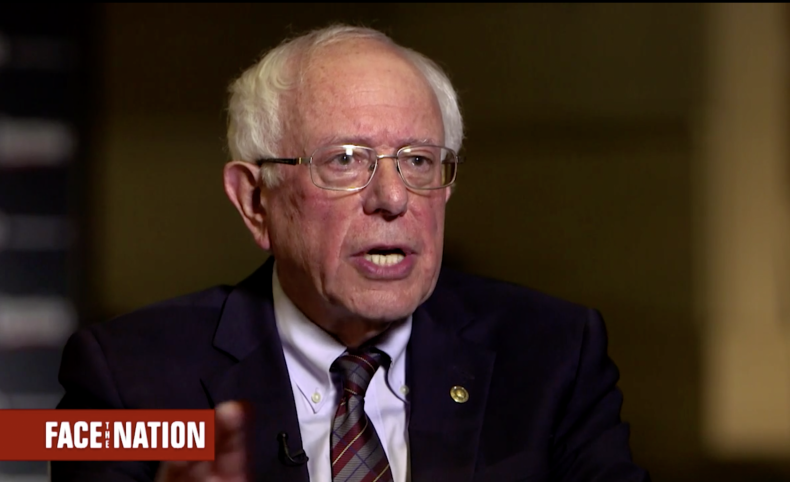 Sanders is currently running second in many of the early polls for the vast field of 24 Democratic candidates, with former Vice President Joe Biden continuing to lead the large pack. The senator said he was not yet concerned about not being the front-runner, particularly as some polling also found that he and other Democrats could likely beat Trump in national election.
"This is eight months before the primary and a long, long time before the general election. I think what a lot of the polling out, there to the degree that we give credibility to it, has me doing actually quite well," he said to Brennan. "There's never been, I don't believe, a national poll that doesn't have me defeating Trump. And some of the more recent ones have me beating him by pretty large numbers. And Joe Biden also does very well in these polls, but I think we have a long time to go and I think that people do want a candidate who will beat Trump."