The family of Markeis McGlockton, who was fatally shot in the parking lot of a Circle A Food Store in Clearwater, Florida, on Thursday, appealed to the state attorney to press charges against Michael Drejka, who was not arrested because of Florida's "stand your ground" law.
The altercation began with an argument between McGlockton's girlfriend, Britany Jacobs, and Drejka over a handicapped parking space. When McGlockton confronted Drejka about what was going on, Drejka fired a fatal shot at McGlockton.
During a press conference on Tuesday, McGlockton's parents and Jacobs expressed their sorrow at his passing and praised him for being a dutiful father, loving son and boyfriend, and overall "just a good man."
"The loss of Markeis McGlockton is great. It's not just, 'Oh this is another black man that this has happened to,'" the family's attorney Michele Rayner said. "If you saw him you saw one of his children."
Rayner called on Florida State Attorney Bernie McCabe to "do the right thing" and file charges against Drejka, adding, "If not, they're sanctioning a murder."
"Any kind of law that allows one man to kill another man and the man that pulled the trigger doesn't even get fingerprinted needs to stop," McGlockton's father, Michael, said.
Jacobs remained firm in her stance that her boyfriend was just trying to protect her and their two children who were in the car at the time of the shooting. Surveillance footage doesn't include the audio of the incident, but Jacobs said McGlockton warned Drejka when he came out of the store to "get away from my girl" before he pushed him.
About a month before the shooting, another man had a run in with Drejka over a handicapped parking spot, which resulted in Drejka threatening to shoot the man, according to Michael McGlockton.The man, Richard Kelly, confirmed the encounter during an interview with Bay News 9. Given that this wasn't the first time Drejka has been in an altercation of this kind, Michael McGlockton said he does believe the man was looking for a fight.
Right before the fatal shooting, Jacobs and Drejka got into an argument when she parked her car in a spot designated for a person who is handicapped without the proper permit. Surveillance footage showed 28-year-old McGlockton walk up to 47-year-old Drejka and push him to the ground.
While still on the ground, Drejka took out his firearm and shot McGlockton once in the chest, according to Pinellas County Sheriff Bob Gualtieri. The 28-year-old staggered back inside the convenience store and was taken to the hospital, where he was pronounced dead.
Gualtieri said during a previous press conference that Drejka put his firearm in his car and waited for law enforcement to arrive. Drejka had a valid concealed weapons license and was deemed to be protected under the "stand your ground" law.
"He felt, after being slammed to the ground, that the next thing was that he was going to be further attacked by McGlockton," Gualtieri explained.
Gualtieri added that the law regarding "stand your ground," is clear and the Florida legislature has set a "subjective" standard that puts Drejka's decision to shoot quickly in a moment of fear for his life within the "bookends" of the law.
"The immunity that people are granted under the 'stand your ground' law is not just an immunity from being charged, not just an immunity from being convicted, but is an immunity from arrest," Gualtieri told reporters during the press conference.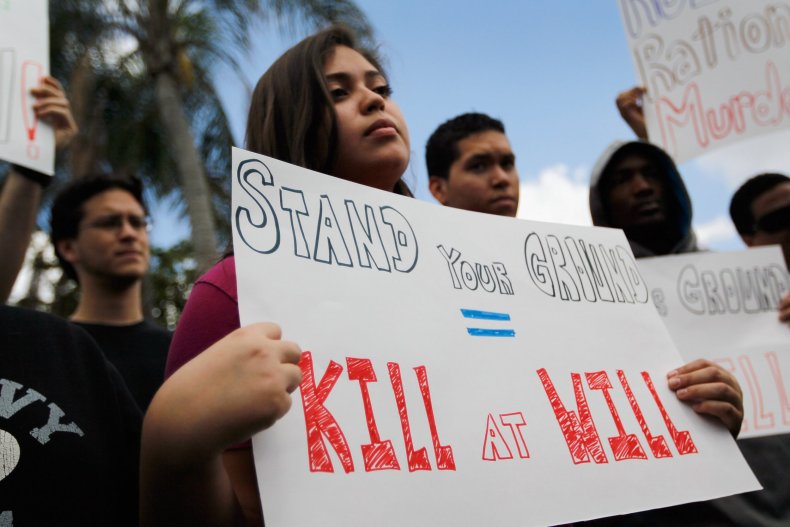 Gualtieri added that his office is prohibited from arresting Drejka under the law and if they violate that law, they're civilly liable. If a state attorney were to press charges, Gualtieri explained that Drejka could charge the state with violating his "stand your ground" rights. Then the state attorney has to prove by "clear and convincing evidence" at a "stand your ground" hearing that Drejka is not entitled to immunity, which is "a very heavy standard."
Rayner acknowledged that the sheriff is in a difficult situation because he could be opening himself up to a lawsuit, but she said the person who is in charge of enforcing the law, shouldn't be in that predicament.
If "stand your ground" wasn't a law, Gualtieri said the case would likely have a different outcome because of the pause Drejka took between when he hit the ground and when he fired his gun.
"That pause gives me pause. That pause gives me some concern and it goes back to what I said when I opened, 'Just because you can [shoot someone] doesn't mean you should,' but I don't get to and we don't get to substitute our judgment for Drejka's judgment," Gualtieri explained.
The case was turned over to the state attorney's office, which will decide if charges will be brought against Drejka. McGlockton and Jacobs had three children together and their 5-year-old son was in the store with McGlockton at the time of the shooting.
Rayner also refuted Gualtieri's claim that McGlockton was shot in the chest and said during the press conference that he was shot in the side, which is proof that he was turning to walk away when he was shot. Rayner added that her clients want the process of charging Drejka to be done correctly so the appropriate charges are brought.