'Stand Your Ground' Law Protects Shooter In Fatal Fight Over Handicapped Parking Space
A Florida man who fatally shot a father of three in an argument over parking space will not be arrested, because of the state's "stand your ground" law, which protects people who act in self-defense.
Surveillance video of the incident shows Michael Drejka, 47, fatally shooting Markeis McGlockton, 28, in the chest, during a tussle over a disabled parking spot earlier this week.
At a press conference on Friday, Pinellas County Sheriff Bob Gualtieri revealed that Drejka's actions were "within the bookends of stand your ground and within the bookends of force being justified," reported The Tampa Bay Times. "I'm not saying I agree with it, but I don't make that call," he said, before announcing that the State Attorney's Office will make the final decision on the case.
In the footage, Drejka could be seen arguing with McGlockton's girlfriend, Britany Jacobs, 24. Authorities confirmed that the argument started after Jacobs parked her car in a disabled parking space without a permit.
McGlockton, who was inside a store when the argument broke, came back outside and shoved Drejka to the ground with both hands. Drejka then quickly pulled out a gun and shot McGlockton once in the chest.
After suffering the gunshot wound, McGlockton made his way back into the store to his and Jacob's 5-year-old son. Shortly after, he was pronounced dead. "He's not too good," Jacobs said of their son. "It comes and goes, but he knows [McGlockton] is dead."
On Friday morning, before Gualtieri revealed that the shooter was protected by Florida law, Jacobs told The Tampa Bay Times that her boyfriend was just defending his family. "It's a wrongful death," she said. "It's messed up. Markeis is a good man… He was just protecting us, you know? And it hurts so bad."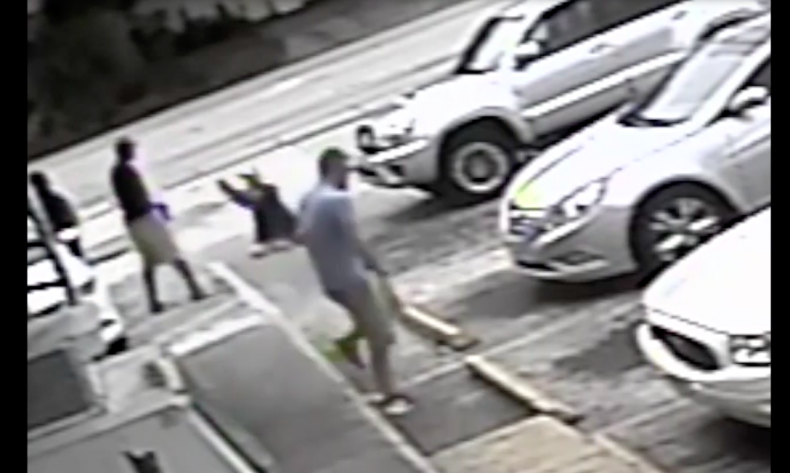 Jacobs and McGlockton met at Dunedin High School and have been dating since 2009. They have three children together, the five-year-old who witnessed the incident, a four-month-old and a three-year-old.
Jacobs, who was a certified nursing assistant, said she is seeking legal representation to challenge the "stand your ground" law and hold Drejka accountable for his actions. "He's getting out like he's a police officer or something, and he's approaching me," she said. "I minded my own business… I didn't do anything wrong."
Although the mother-of-three told The Tampa Bay Times that she only parked in the disabled spot because no others were available, the surveillance footage showed that several other non-handicapped spots were empty at the time of the incident.
The Pinellas County Sheriff's Office did not immediately respond to Newsweek's request for comment.