Stanford Doctor Jay Bhattacharya Calls Dr. Fauci 'Number One Anti Vaxxer'
Dr. Jay Bhattacharya, a professor at Stanford University Medical School, suggested on Thursday that Dr. Anthony Fauci is "probably the number one anti-vaxxer" due to the way he's continued to urge Americans to follow COVID-19 mitigation measures even if they are vaccinated.
"Dr. Fauci is probably the number one anti-vaxxer in the country in some sense, because he has modeled behavior that has made people think the vaccine won't give you back your life, but it will," Bhattacharya said while appearing on Fox News The Ingraham Angle. "It's an incredibly effective vaccine. You know, he was wearing a mask. He has been vaccinated, I don't really understand what he's trying to do here."
The comments from Bhattacharya come shortly after Ohio Republican Rep. Jim Jordan sparred with Fauci, the director of the U.S. National Institute of Allergy and Infectious Diseases and the chief medical adviser to the president, over the nation's COVID-19 mitigation measures.
During a congressional hearing on the response to the COVID-19 pandemic, Jordan asked Fauci when Americans will "get their freedoms back."
"Fifteen days to slow the spread turned into one year of lost liberty," Jordan said. "What metrics, what measures, what has to happen before Americans get more freedoms?"
In response, Fauci said that the nation still needs to vaccinate more individuals to reach a level where COVID-19 is "no longer a threat." Fauci's response was interrupted by Jordan who asked him for a specific number, again asking, "What measure, what standard, what objective outcome, do we have to reach before before Americans get their liberty and freedoms back?"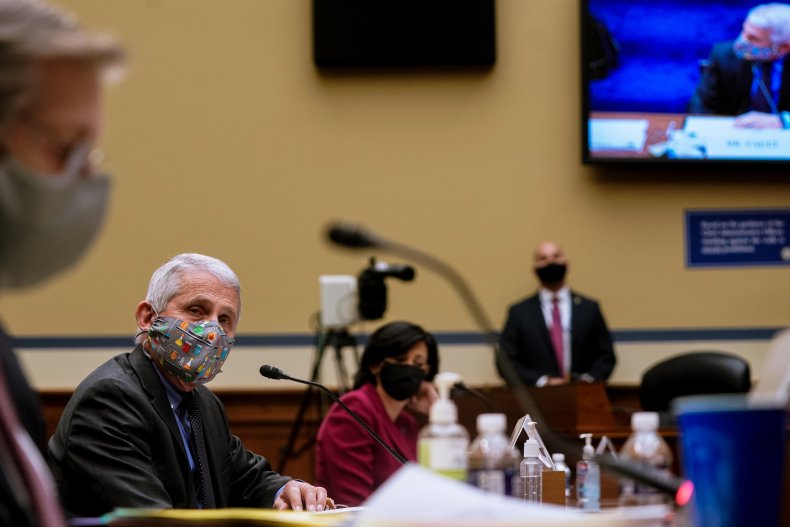 While Jordan suggested that COVID-19 lockdowns have infringed upon American's rights, Fauci said in response, "You're indicating liberty and freedom. I look at it as a public health measure to prevent people from dying and going to the hospital."
The two continued to spar over the nation's response to the COVID-19 pandemic with Jordan saying that he wants Fauci to give a clear recommendation for when COVID-19 restrictions can be lifted.
While appearing on Fox News, Bhattacharya was asked why Fauci didn't provide Jordan with a specific number for when Americans can "get more freedoms back" he said, "There is no number other than zero that would satisfy him, I think. That's the problem."
Bhattacharya, who is the one of the authors to the Great Barrington Declaration, a petition calling for the end of COVID-19 lockdowns, also said, "I completely agree with Rep. Jordan that Dr. Fauci is utterly blind to the collateral damage from a lockdown, including our liberty but also our other health needs."
The Great Barrington Declaration was drafted by the American Institute for Economic Research, a libertarian organization.
While Fauci has urged all Americans to get vaccinated against the coronavirus, he has continued to say that virus mitigation strategies, such as mask wearing, need to stay in place until the transmission of the virus is no longer considered a threat.
Bhattacharya wrote to Newsweek, "Dr. Fauci's actions during the epidemic have created the perception that he is a political actor. A significant portion of the country distrusts him and consequently mistrusts his advice. Much of the vaccine hesitancy in the country stems from this problem."
"The vaccines are a medical miracle—extremely valuable for protecting the vulnerable against severe COVID-19 disease," Bhattacharya's message added.
Newsweek reached out to Fauci for comment but did not receive a response in time for publication.
In addition to Jordan and Bhattacharya, Fauci has also faced criticism on mask wearing after being vaccinated from Kentucky Senator Rand Paul.
"You want to get rid of vaccine hesitancy? Tell them you can quit wearing your mask after they get the vaccine," Paul said to Fauci during a previous congressional hearing on COVID-19.
Shortly after Paul's comments, Fauci told CBS This Morning that "Senator Paul has this message that we don't need masks, which goes against just about everything we know about how to prevent spread of the virus.… He was saying if you've been infected, or you've been vaccinated, don't wear a mask—which is completely against all public health tenets."