Stanford Student Introduces New App That Curbs College Workload Ahead of National STEM Day
A Stanford student has created an app that's geared toward helping college students manage their workload.
Devin Green is the creator of Slight Work. Slight Work was created with the intention to make the goal of completing assignments, projects, and homework easier for busy college students. Green, who's a college student himself at Stanford University recently received an opportunity for Slight Work to be added to the Apple App Store. Newsweek spoke to Green about coding, STEM (Science, Technology, Education, and Mathematics), and more.
Devin, when did your general interest in STEM begin?
Devin Green: I started getting really into STEM at the end of elementary school and the beginning of middle school (so when I was about 12-13). I saw the first Iron Man movie and was in awe of the technology. I needed some way to join the magic and thought coding would make a good entry point. I decided to make an app for my iPod Touch, so I started teaching myself how to code. In 2014 Apple announced that they were switching to the new Swift programming language, which meant I got started at just the right time. Swift requires no previous coding knowledge, so it was the perfect way for me to get started and explore my passion. I started with reading Apple's Swift reference guides and watching YouTube videos on setting up projects. Over time, Swift became the first programming language I mastered, and I still love using it today.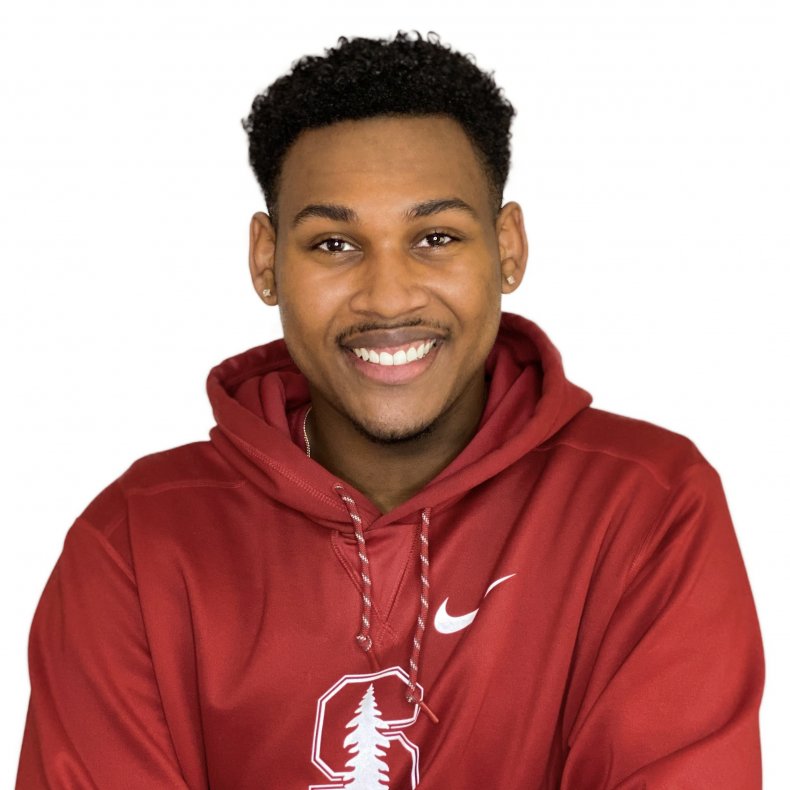 Most 13-year-olds have aspirations that lie within sports and entertainment but you decided to create your first app. Talk about that process and how it led to future opportunities in your life.
D.G.: I was definitely like the average 13-year-old. Other than coding, my two favorite things were (and still are) basketball and movies, so I wanted to make my first app around at least one of those. My first published app was "Movie Master" and functioned as a movie database and trailer-viewing platform. It was fun to see the final product work just as I imagined, but the development journey was the critical piece that I took with me. Developing that app (and subsequent projects) helped me learn what I needed to create a winning Swift Student Challenge submission. The Swift Student Challenge gives students from around the world the opportunity to show off their love of coding and apply for a chance to attend Apple's Worldwide Developer Conference (WWDC). Having the opportunity to attend WWDC was incredibly rewarding, as it exposed me to developers of all ages and backgrounds to learn and grow from and offered me guidance to help take my apps to the next level.
As a current college student at Stanford University with a rigorous workload, how important was it for you to create an app such as Slight Work?
D.G.: Slight Work was a super fun project to build that has definitely helped me manage my workload in college. When I developed the app in high school, my friends and I struggled to keep track of everything and finish assignments promptly. While I figured I'd use the app to help me get through the rest of high school, I never thought that something I made in my bedroom could help propel me this far forward in college!
Do you have any other STEM-related projects that are on the horizon?
D.G.: I have a few projects I like working on in my spare time. My favorite project is Stanny, a digital assistant/AI companion I'm building from scratch. Stanny started as my Swift Student Challenge submission, where I made a Natural Language Processing dataset and response list to help Stanny converse with quarantined individuals as the COVID-19 pandemic was ramping up. I have a couple of other projects in the works that I'd like to keep close to the vest, but I find that the best ideas I have revolve around some problem or inconvenience that I want to fix.
National STEM Day is a day where the U.S. brings light to the four main concentrations in an effort to educate and spread awareness for future generations to come.