Stanford's Christian McCaffrey Is The Most Fun College Football Player To Watch Since Reggie Bush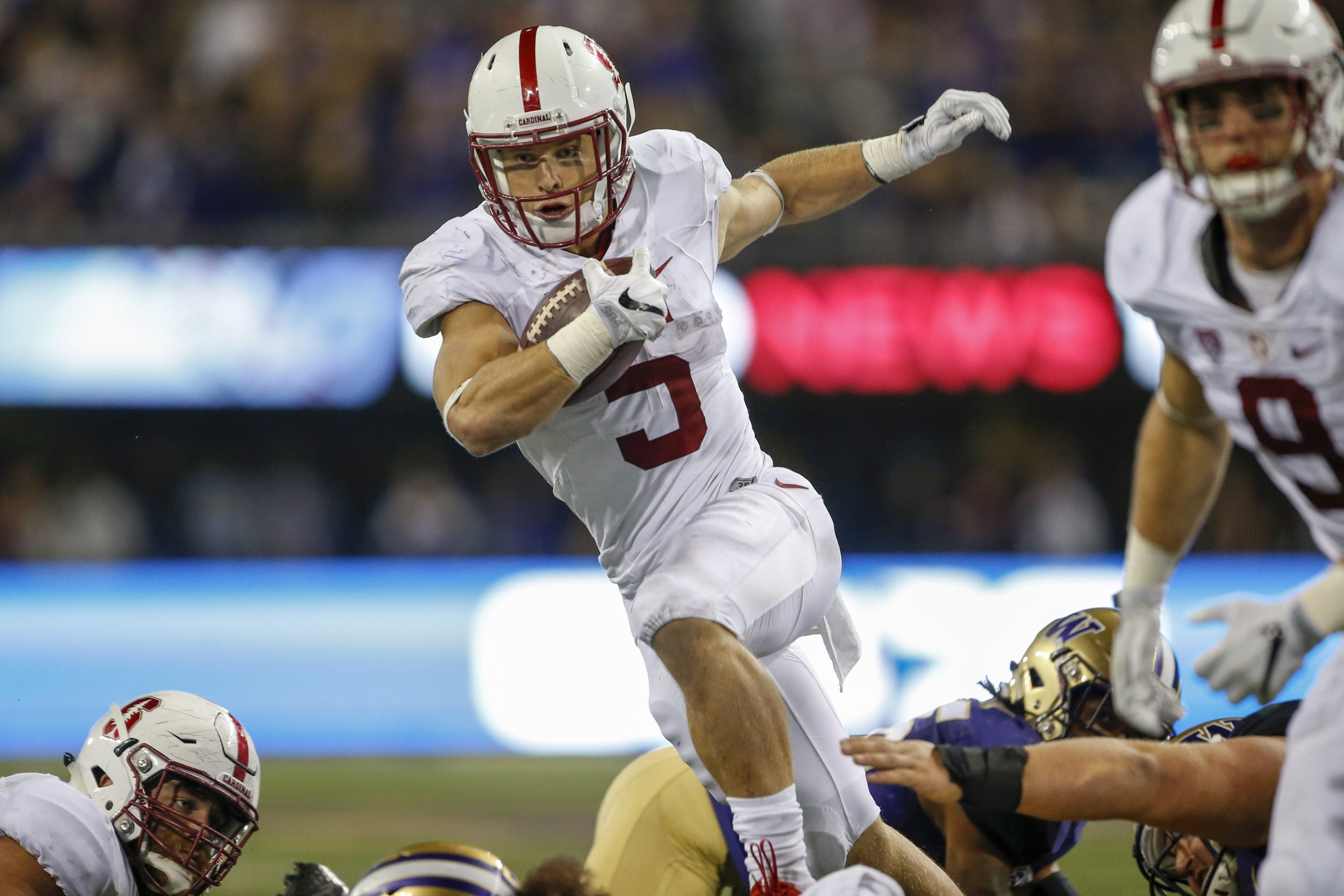 The sky was brilliant, the year was freshly unwrapped, and Christian McCaffrey was completely untethered. On the first play of the 2016 Rose Bowl, Stanford's extraordinary running back slipped out of the backfield, caught a short pass from quarterback Kevin Hogan and galloped untouched for a 75-yard score. "A lightning bolt," ABC's Brent Musburger said.
Superman wore an "S" on his chest; McCaffrey wears one on his helmet. As a first-year sophomore starter last season, he was simply the most fun college football player to watch since Reggie Bush. Handling the rock 30 times per game as Stanford's leading rusher, receiver, punt and kick returner, McCaffrey broke Barry Sanders's NCAA single-season all-purpose yardage record, a mark that had stood for 27 seasons. That McCaffrey's backup was Sanders's own namesake (who has since transferred to his dad's alma mater, Oklahoma State) was just one more remarkable footnote to a burgeoning legend.
If McCaffrey, listed at 6 feet (he is shorter) and 200 pounds, was a force of nature in 2015, he has discovered how fickle nature can be this autumn. Last Saturday, the dynamo from Castle Rock, Colorado, missed the entire second half of the Cardinal's 42-16 loss to Washington State after rushing for just 35 yards. Stanford coach David Shaw, in his customarily circumspect manner, would only say that McCaffrey is "banged up." His status for Saturday night's nationally televised game at Notre Dame is uncertain.
Stanford's visit to South Bend, Indiana, had long been penciled in as McCaffrey's Heisman Trophy close-up. When the Fighting Irish played the Cardinal in Palo Alto, California, late last November, both were top 10 programs. McCaffrey, who rushed for 200 or more yards thrice last season, gained only 94 in the Cardinal's 38-36 win. In the one Stanford game seen by more viewers (i.e., Heisman voters) than any other last season, the most exciting player to suit up on Saturdays in a dozen years was merely pedestrian.
Two weeks later, McCaffrey would finish second to Alabama running back Derrick Henry in Heisman voting. For those who had stayed up past midnight watching Stanford games last autumn, marveling at McCaffrey's inimitable style and audacious stats, the balloting seemed a travesty. But then, many voters rationalized, McCaffrey was only a sophomore. He had two more years to win the Heisman, and besides, Stanford (10-2) had failed to make the four-team college playoff.
McCaffrey's bright future as a collegian may already have faded. The Cardinal have lost their last two games, to Washington and Washington State, by 38 and 26 points, respectively. On an offense that features a first-year starter at quarterback and four new offensive linemen—and is without its lone deep threat, Francis Owusu (who suffered a concussion against UCLA on September 24)—McCaffrey has been more overextended than Kellyanne Conway. In those two defeats to the Evergreen State schools, he rushed for just 49 and 35 yards.
"The best thing about Christian, you get the same thing every single game," Shaw told The Jim Rome Show last month. "All he's got, every single play."
This is true. After No. 5 finished as the Heisman runner-up last December, Shaw turned the New Year's Day Rose Bowl into a rebuttal to every voter who had not placed the magnificent McCaffrey atop his or her ballot. By halftime, the Cardinal led Iowa 35-0. McCaffrey would set the Rose Bowl all-purpose yardage record (368 yards) while dazzling viewers by being virtually untouchable. Against one of the nation's stingiest defenses, McCaffrey looked like a teenager playing touch football against a bunch of hapless 8-year-olds.
The son of three-time Super Bowl champion wide receiver Ed McCaffrey (and the grandson of Olympic 100-meter dash silver medalist Dave Sime, who died earlier this year), Christian is an unabashed fan of Reggie Bush. He has frequently said that he wears "5" in honor of the former Trojan, who won the 2005 Heisman Trophy. While his physique and workload is redolent of the erstwhile USC star, McCaffrey's situation is more akin to a more recent Pac-12 standout: former UCLA linebacker Myles Jack.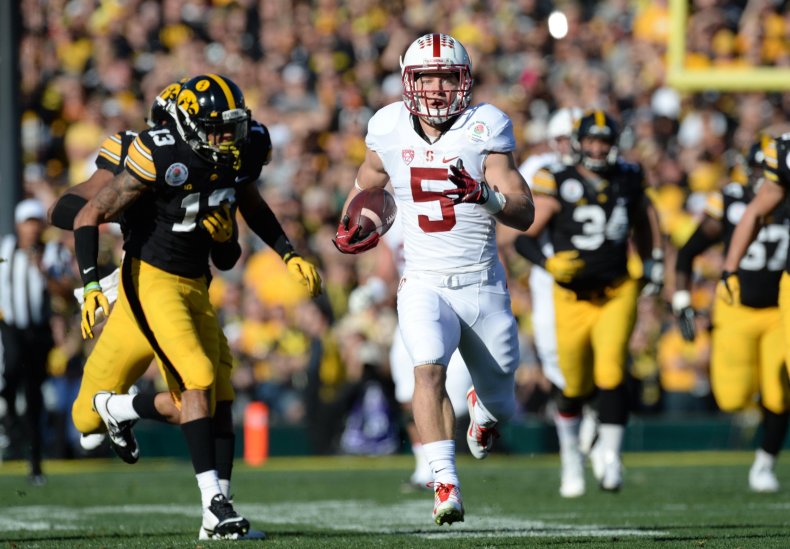 As a UCLA freshman in 2013, Jack excelled at both linebacker and tailback for the Bruins. As McCaffrey would be two years later, Jack was a precocious talent handling the gridiron equivalent of 21 credit hours. His star was ascending, but before it ever reached its zenith against a moonless sky, Jack injured his knee during a practice early last season. Jack abruptly ended his college career, withdrew from UCLA and concentrated on the NFL draft. A once certain first-round, if not top 10, draft pick, he was selected in the second round last April.
As so many defensive backs have learned, anticipating McCaffrey's next step is foolish. He may be cleared to play this Saturday against Notre Dame, which has stumbled to a 2-4 start. He may not be. He may play in prime time in a few days. He could pull a Jack and shut it all down—he'd hardly be the first Stanford dropout, as the founders of Google, Yahoo! and Snapchat would affirm, to go on to a highly lucrative career.
As a sophomore, McCaffrey touched the ball 421 times, or 30 touches per game. Last July, Shaw was asked about tempering his burden this season. "Are you kidding me?" Shaw answered. "I'm going to start giving him some of my responsibilities—the guy has handled everything else. I think when you have a great player, the last thing you want to do is pump the brakes. You want to push the accelerator."
The Cardinal already have two losses in their division: A berth in the Pac-12 championship game, much less the college playoff, is a ruined dream. McCaffrey, despite having achieved legendary status in just one full season, will not be a Heisman Trophy finalist. He could return next season, or he could retrace the steps of his dad, also a Stanford alum, and head to the NFL.
The future is uncertain, but the field is wide open for Christian McCaffrey. The next move is entirely his. Whatever happens, trust him to make the right one.