Dr. Jay Bhattacharya, a professor at Stanford University Medical School, recommended U.S. health officials lift mask restrictions for those who have been fully inoculated against the coronavirus.
"I would recommend the CDC tell vaccinated people, 'Live your life free,'" Bhattacharya told Newsweek on Friday. "I mean there's no reason for vaccinated people—either for themselves or for others—to wear a mask, not really."
The Center for Disease Control and Prevention (CDC) issued a new guidance on April 27 for face coverings, stating that those who have been vaccinated can shed their masks outdoors while walking, running, hiking or biking alone, and when in small gatherings.
But the health protection agency stopped short of telling fully inoculated Americans that they could ditch face masks outdoors altogether. Masks are still recommended for large gatherings, such as sporting events or live performance, and in settings where there is a decreased ability to maintain social distancing.
Wearing a mask in public spaces indoors also remains a must for everyone, regardless of vaccination status.
Bhattacharya said the newest guideline, which sparked some confusion and controversy, is "more conservative than would say the evidence warrants."
"There's very little evidence of outdoor transmission at all except in very crowded situations," he said. "They could have gone further and said, 'If you're outdoors, vaccinated or unvaccinated, you don't have to wear a mask except in crowded situations.' Something like that would be much easier to understand."
Such a move, he argued, would send a pro-vaccination message and act as an incentive for people to become inoculated.
CDC Director Rochelle Walensky said last week that research suggested COVID-19 transmission outdoors is rare, but that indoor settings pose a "20-fold" increased risk. She added that the agency will relax their guidelines as more people become vaccinated and case numbers decline.
Studies have shown the three vaccines available—Moderna, Pfizer and Johnson & Johnson—are very effective at protecting against severe disease. But less is known about whether those who have been vaccinated could still carry the virus and infect others.
"The more people who are vaccinated, the more steps we can take towards spending time with people we love doing the things we love to enjoy," Walensky told reporters on April 27.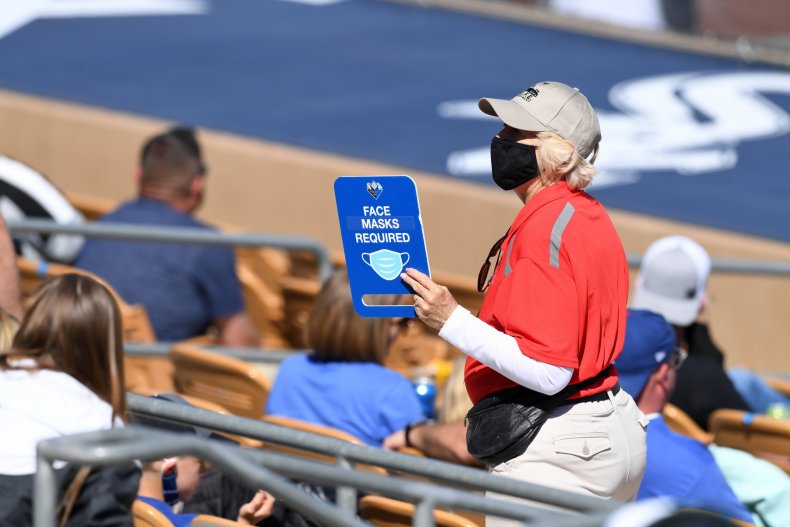 Bhattacharya has been a leading voice against COVID-19 lockdowns throughout the pandemic. Last October, he and two other scientists co-authored a petition titled the Great Barrington Declaration—a call to end lockdowns due to their impacts on physical and mental health.
The Great Barrington Declaration was drafted by the American Institute for Economic Research, a libertarian organization.
As an alternative to lockdowns, the trio suggested a "Focused Protection" plan to protect older populations who are the most vulnerable to the virus. Those who are not vulnerable, they argued, should be allowed to return to life as normal and build up immunity to the virus through natural infection.
The proposal was met with pushback from several public health experts, including Dr. Anthony Fauci. The Infectious Diseases Society of America described the Great Barrington Declaration as "inappropriate, irresponsible and ill-informed."
When it comes to masks, Bhattacharya said it was "very unfortunate" that the issue has become "such a political hot button topic."
"It should not be," he told Newsweek, "and frankly represents the failure of public health messaging how it's turned into a political topic as opposed to just simple scientific advice to the population on how to keep themselves and others safe."