He Can Do More Than Make a Negroni — Other Reasons Stanley Tucci Is A Boss
The internet was in awe of actor Stanley Tucci when he shared a video to his Instagram showing that he can make a perfect Negroni, but there are plenty of other reasons to love the actor.
Tucci gave the recipe in a video, offering quips as he prepared the cocktail. Here's Tucci's recipe for an up Negroni.
Fill a shaker with ice ("Use your hands, cause it's the most hygenic way of getting ice into a shaker")
Double shot of gin (Vodka is fine, if you don't like gin, but put a little gin on the top for flavor)
Shot of good sweet vermouth (Don't use Martini though—it's not good, according to Tucci)
Shot of Campari
Shake it
Strain into a coupe (Or martini glass, "whatever you want," as Tucci put it)
Garnish with slice of orange (If you can get them pre-sliced straight from Florida, even better)
Tucci said that you could serve this recipe on the rocks as well. Throughout the video, Tucci offers some silly commentary about buying oranges pre-sliced and his wife's inability to take the drink from him. "Your wife listening? That will never happen," he says once he places the orange slice in the glass. "You can't grab it while you're filming? Oh my god, how terrible."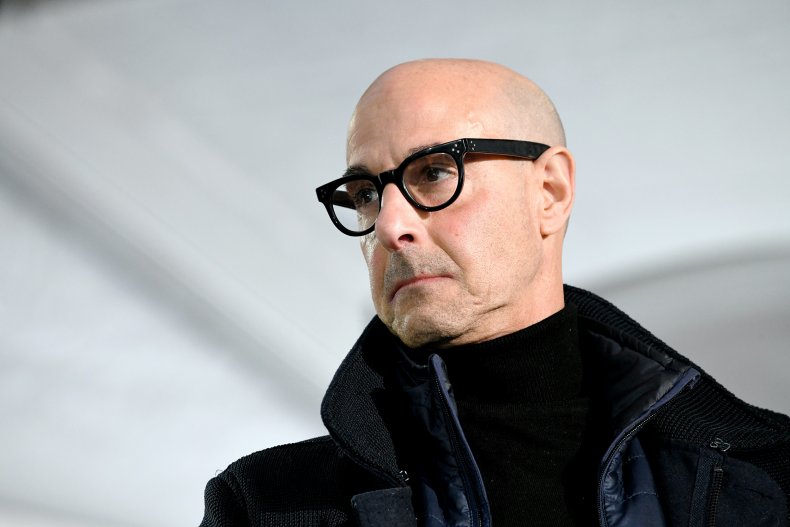 Even though he's shown that his a master Negroni mixologist, here are even more reasons why Tucci is awesome.
A Great Cook
Tucci's Negroni recipe is not the first he's shared to his Instagram. The actor has also shown videos and pictures of him making Pissaladière, quail, Sole meunière and clams with tomato, and more to his social media. He also participated in World Refugee Day by making a video for his recipe for baked lamb ouzi. He's also authored two cookbooks.
Emmy Winner
Tucci has won three Emmy awards for his performances in 1998's Winchell (Outstanding Lead Actor In a Miniseries or Movie), Monk (Outstanding Guest Actor in a Comedy Series), and Park Bench with Steve Buscemi (Outstanding Short Form Variety Series). He's been nominated for five more Emmys including performances in Conspiracy, Murder One, and E.R. He was also nominated for an Academy Award for his performance in The Lovely Bones and a Tony for his role in Frankie and Johnny in the Clair de Lune.
Charitable Work
Tucci has participated in a number of charitable projects. In 2016, he was part of a performance of the poem "What They Took With Them," alongside fellow actors Cate Blanchett, Jesse Eisenberg,, and more to support the UN Refugee Agency. He also contributed a story to the upcoming book Dear NHS, which will benefit the National Health Services.
While Tucci has had many iconic roles, personally, it's hard to top him frustrated saying, "Who told you?" when his son mentions that he's adopted.