'Star Citizen' Devs Go Quiet on 'Squadron 42' to Avoid Another 'Cyberpunk'
Star Citizen backers have waited about eight years for the release of the game's single-player focused Squadron 42 module, and it seems like there's no end in sight. In a "Letter from the Chairman" blog post published Wednesday afternoon, Cloud Imperium Games Founder and CEO Chris Roberts discussed the pitfalls of development in 2020, and why the project will likely take a while to come together.
In conjunction with the reveal of a more detailed content roadmap for Star Citizen and Squadron 42 alike, Roberts admits in the post, "it is too early to discuss release or finish dates on Squadron 42."
He adds, "As I said earlier this year, Squadron 42 will be done when it is done and will not be released just to make a date, but instead only when all the technology and content is finished, the game is polished and it plays great. I am not willing to compromise the development of a game I believe in with all my heart and soul, and I feel it would be a huge disservice to all the team members that have poured so much love and hard work into Squadron 42 if we rushed it out or cut corners to put it in the hands of everyone who is clamoring for it."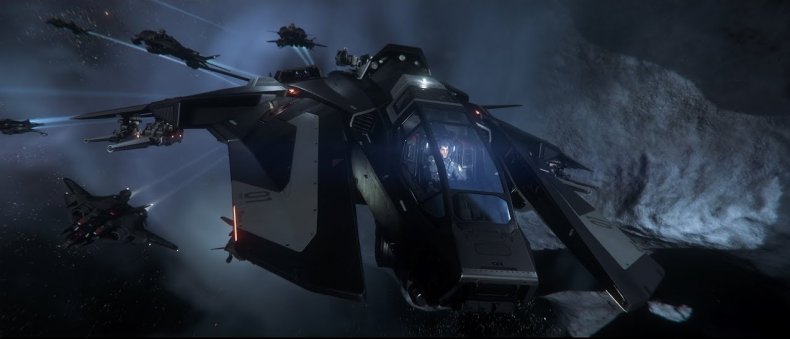 Roberts even reasons that his hesitancy to release Squadron 42 is also tied to negative trends that gamers and those in the industry have witnessed recently. "Over the past few years, I've seen more than a few eagerly awaited titles release before they were bug-free and fully polished," adding that "this holiday season is no exception."
While his comment isn't a direct reference, Roberts is very likely making an allusion to Cyberpunk 2077, from CD Projekt RED. Despite being one of the most highly anticipated games of this console generation, the title launched this month to a fairly mixed reception, in large part due to the unfinished and buggy parts of its presentation.
Even when Cyberpunk 2077 is played on PC, which is considered the best way to enjoy the game, bugs remain a prevalent issue. The experience is significantly worse on base PS4 and Xbox One consoles, where performance shortcomings layer on top of glitches with flying cars, nonsensical police AI and spontaneously removed clothing. The multitude of bugs in Cyberpunk 2077 ultimately forced CDPR to issue mass refunds on all platforms and to even delist the game from the PlayStation Store. Despite its solid gameplay concepts, Cyberpunk 2077 is widely considered to be one of the biggest gaming disappointments of the past few years.
And it's not the only game that falls in this category, either. While the fever pitch of frustration didn't quite lead to the refund fiasco described above, enthusiasts likely remember the botched launches of Marvel's Avengers, Fallout 76 and Anthem. These games were widely regarded as unfinished products on day one, and that's exactly the kind of reputation that Roberts hopes to avoid for Squadron 42. Given that the game has already established itself with a highly professional cast that includes Mark Hamill, Gary Oldman and Gillian Anderson, it needs a Hollywood level of polish to match.
Roberts also shared these sorts of sentiments when he commented on the Anthem controversy in 2019. Speaking to Newsweek, Roberts said, "For situations like Anthem, it's the result of friction between the needs of a public company and development. In development, if you didn't care so much about quarters and stuff, you'd put it off for a year to polish, add more stuff and release it when it's ready." Because Star Citizen and Squadron 42 are entirely funded by backers and not a publisher, CIG has that luxury.
A desire to ship a good product is likely preferred by consumers at this point, but it's difficult to ignore the litany of delays that Squadron 42 has endured in the years since its reveal. At one time, Squadron 42 was projected to release in the second quarter of this year, only for its beta to be delayed for 12 weeks. By October, CIG said there was no projection for when the content would release. Now that there's radio silence on the situation, it seems as though it will remain that way until there is something substantial to show. Fans last saw meaningful footage of Squadron 42 in late 2019, in the form of a visual teaser. A mission vertical slice also debuted two years earlier.
Not all is terrible for the Star Citizen faithful, though. In the blog post, Roberts also reveals that 2020 was a record-setting year for the Persistent Universe in terms of its profits, user engagement and more. Fans of the multiplayer component also enjoyed four major alpha updates that included new locations to explore, updated flight models and the first iteration of a reputation system. Looking ahead to 2021, all eyes are fixed on the debut of the pirate-centric Pyro solar system. In other words, there's plenty to be excited about to in the verse—just don't expect much fanfare from Squadron 42.
Star Citizen is in development on PC.
Are you OK with CIG going quiet on Squadron 42? Have you enjoyed playing Star Citizen this year? Tell us in the comments section!