Original to Enterprise: 50 Years of 'Star Trek' Crews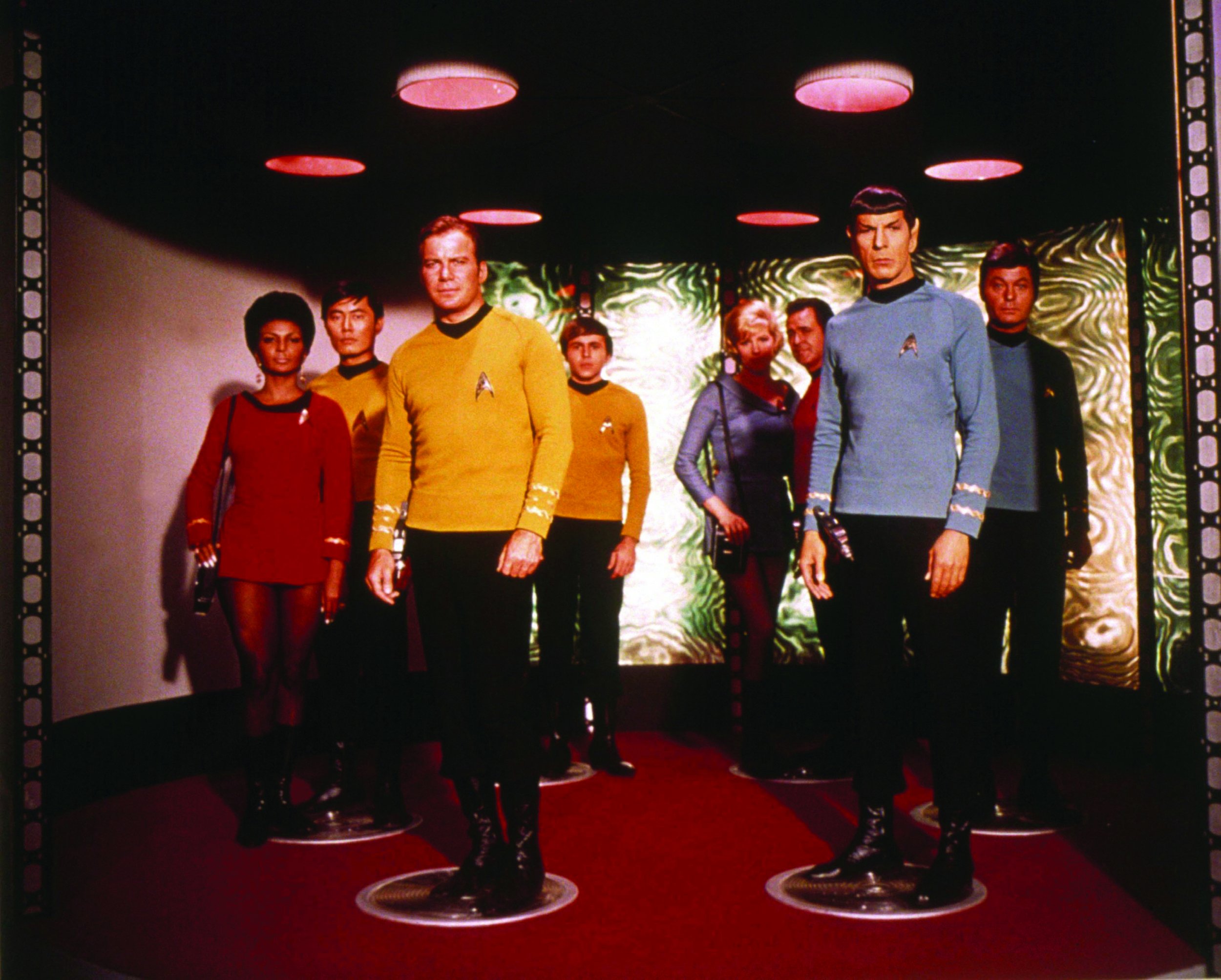 After its original run, Star Trek became far more than a TV show as new generations made marks on the Galaxy. Newsweek looks back on the cast and crew for each TV series and notes their time after the final frontier. This article is featured in Newsweek's Special Issue Star Trek 50 Years: Celebrating America's Original Sci-Fi Phenomenon, by Issue Editor Tim Baker.
THE ORIGINAL SERIES
WILLIAM SHATNER AS CAPTAIN JAMES T. KIRK
Born in Montreal, Canada, William Shatner became famous as Kirk but carved out a lasting place for himself in the spotlight with his many talents, including directing, acting, singing and writing. Since Trek, he has been able to parlay the show's popularity into a spot as one of the most recognizable stars in the world.
LEONARD NIMOY AS SPOCK
Leonard Nimoy gained his stardom when he earned the role of the half-human/half-Vulcan Spock in The Original Series after making
the character one of the few crossovers from Roddenberry's original pilot, "The Cage." His performance earned him four Emmy nominations and a huge fan following. When Nimoy wasn't playing Spock, he spent his time as a director, screenwriter and photographer.
DeFOREST KELLEY AS DR. LEONARD "BONES" McCOY
Originally offered the role of Spock, DeForest Kelley is most famous for playing the role of Bones in Star Trek. Before he took flight on the Enterprise, DeForest appeared in numerous Westerns, where he often relished playing the villain. His defining role, however, would ironically be as a doctor, the dream profession of his childhood.
JAMES DOOHAN AS MONTGOMERY "SCOTTY" SCOTT
James Doohan was a decorated World War II veteran and father of seven. He earned his part as Scotty in the Star Trek series when he impressed Gene Roddenberry with his ability to imitate foreign accents—one of his finest, a Scottish brogue, was eventually chosen for Trek.
NICHELLE NICHOLS AS NYOTA UHURA
Nichelle Nichols became an icon through her role as Uhura in The Original Series. Famously the recipient of the first on-screen interracial kiss on U.S. television, Nichols's Uhura represented the utopian ideal of Trek's universe. Destined for stardom from the beginning, Nichols first appeared onstage at 16 alongside jazz great Duke Ellington.
GEORGE TAKEI AS HIKARU SULU
As a boy, George Takei's family was placed in an internment camp for Japanese Americans, not released until Takei was 8. He has enjoyed a career renaissance in recent years, revelling in elder statesman status thanks to his role as Sulu and lending his distinctive baritone to projects of all kinds.
WALTER KOENIG AS PAVEL CHEKOV
Walter Koenig is a talented actor and screenwriter who was born in Chicago and grew up in New York. Using a Russian accent for the part based partially on his father's speech patterns, he played Ensign Pavel Chekov on The Original Series. Proud of his spaceman past, Koenig has a large collection of Star Trek memorabilia with items such as buttons, comic cards and pins.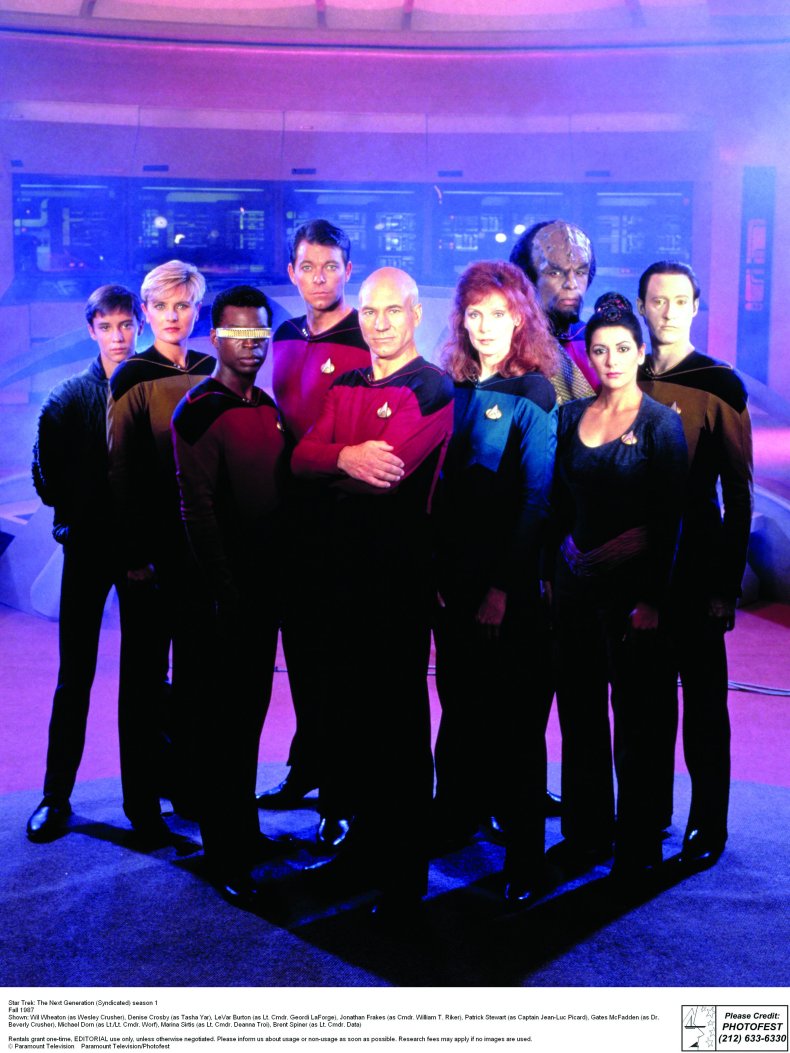 THE NEXT GENERATION
PATRICK STEWART AS CAPTAIN JEAN-LUC PICARD
Patrick Stewart is known for his leading role onStar Trek: The Next Generation. He is a skilled performer who acts, writes, directs and produces for both film and TV. An accomplished Shakespearean also at home in goofball comedies like American Dad, Stewart has avoided the typecasting that sometimes plagues his Trek colleagues.
JONATHAN FRAKES AS COMMANDER WILLIAM RIKER
Jonathan Frakes is well known for portraying Number One in Star Trek: The Next Generation but has also gone behind the camera for several projects, both within and without the Trek universe. An accomplished trombone player who worked the skill into the character of Riker in several episodes, Frakes has performed onstage with jam-rock mainstay Phish.
LeVAR BURTON AS LT. COMMANDER GEORDI LA FORGE
LeVar Burton launched his career with a leading role in the series Roots and became a household name in The Next Generation. Burton also endeared himself to young TV viewers with the educational program Reading Rainbow.
GATES McFADDEN AS DR. BEVERLY CRUSHER
The heir to Bones McCoy's no-nonsense style of medical practice, Dr. Crusher brought at least two things to the Enterprise that Bones couldn't: a gentle touch and a son, who became a beloved character in his own right. Wesley Crusher, played by Wil Wheaton, would make his way up the Starfleet ranks as well.
MICHAEL DORN AS LIEUTENANT WORF
Michael Dorn was told to "create his own" character after being given a synopsis of Worf's backstory. The result is one of the most carefully developed characters in any Trek series. Dorn became such a fan favorite in his role that he became one of two characters to completely cross over from Next Generation to Deep Space Nine.
MARINA SIRTIS AS COUNSELOR DEANNA TROI
Marina Sirtis went against her parents' wishes when she decided she wanted to be an actress, moving from London to Los Angeles to follow her dreams. Just as she was about to give up and move back home, she got the part as Counselor Deanna Troi.
BRENT SPINER AS LT. COMMANDER DATA
Brent Spiner won the hearts of humans everywhere by playing an android, Lt. Commander Data. Offering an updated corollary to Nimoy's calculating Mr. Spock, Data became an instant fan favorite.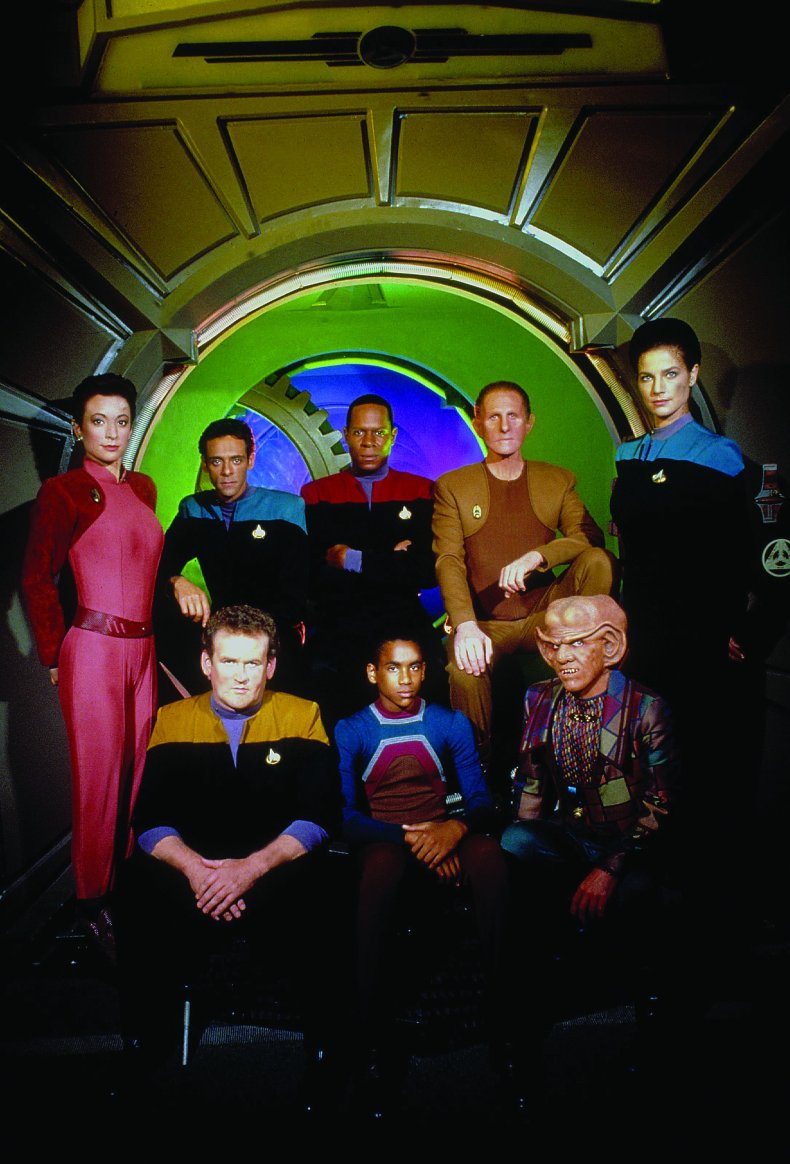 DEEP SPACE NINE
AVERY BROOKS AS CAPTAIN SISKO
Born in Evansville, Indiana, on October 2, 1948, Avery Brooks spent his early life as a jazz pianist, singer and stage actor. He would go on to become the first African-American MFA graduate of Rutgers University. He spent the 1990s as the National Black Arts Festival's artistic director in Atlanta, Georgia, while also playing the beloved Captain Sisko, stalwart Starfleet man and one of the last baseball fans in the galaxy.
RENÉ AUBERJONOIS AS ODO
On June 1, 1940, in New York City, René Auberjonois was born into an arts-embracing family. Prior to making the jump to television, Auberjonois earned a Tony Award for his role in the Broadway musical Coco, in which he played opposite Katharine Hepburn.
CIRROC LOFTON AS JAKE SISKO
Born in Los Angeles in 1978, Cirroc Lofton was still a teenager when he was cast as Captain Sisko's son, Jake, and he grew up on camera. Aside from his work as an actor, Lofton has also dabbled in the culinary industry by opening and running a café in Culver City, California.
ALEXANDER SIDDIG AS DOCTOR BASHIR
After joining the cast ofDeep Space Nine in 1993 Siddig married and had a child with costar Nana Visitor, though the two divorced in 2001. He has recently appeared in Game of Thrones as Prince Doran Martell.
COLM MEANEY AS CHIEF O'BRIEN
Born on May 30, 1953, in Dublin, Ireland, Colm Meaney honed his acting skills at the city's Focus Company in the 1970s. Meaney has appeared in 14 different seasons of Star Trek—a feat no other actor has achieved.
ARMIN SHIMERMAN
On November 5, 1949, Armin Shimerman was born in Lakewood, New Jersey. During filming of Star Trek: Deep Space Nine in Los Angeles, an earthquake struck, causing Shimerman to rush home while still in makeup and scaring passersby in the process.
NANA VISITORAS AS MAJOR KIRA NERYS
Born Nana Tucker in New York City on July 26, 1957, Nana Visitor was raised by dancer parents, her father a choreographer and her mother a ballet instructor. Likely due to her celestial affiliation through Star Trek, Visitoras had an asteroid named after her in 2001, the 26733 Nanavisitor.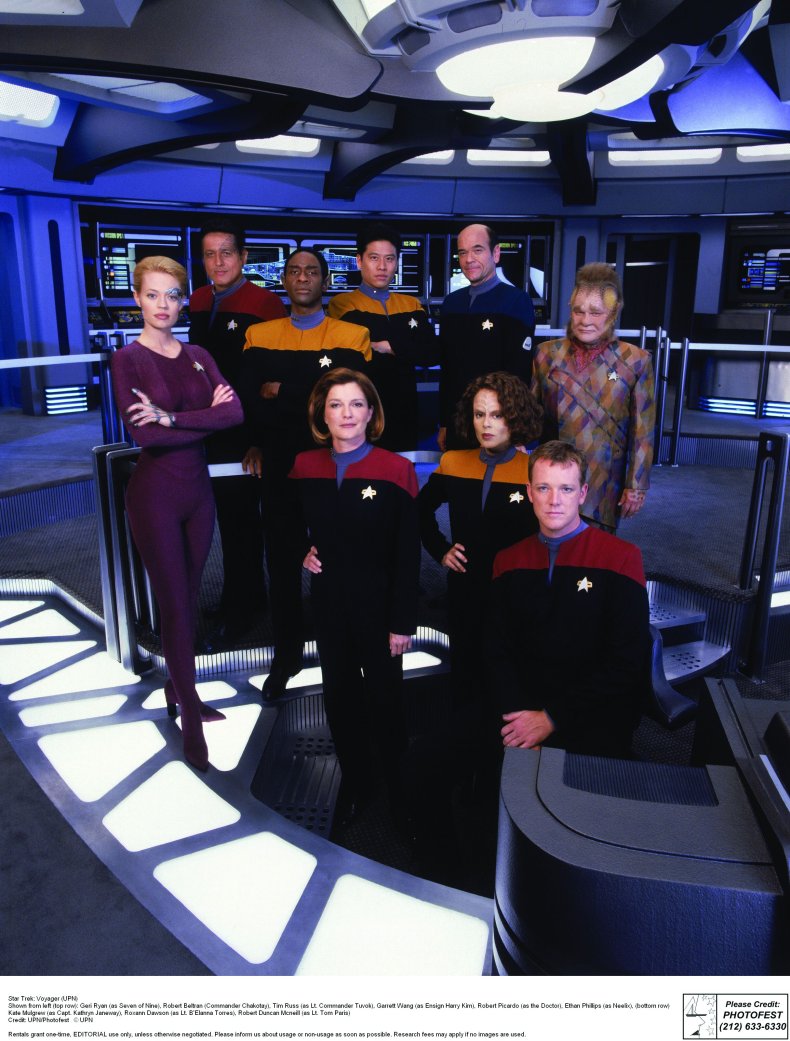 VOYAGER
KATE MULGREW AS CAPTAIN KATHRYN JANEWAY
The oldest girl in an Irish-Catholic family of eight, Kate Mulgrew was born on April 29, 1955, and began attending summer acting classes at the age of 12. Mulgrew is now also known for playing Galina "Red" Reznikov on the hit series Orange is the New Black.
ROBERT BELTRAN AS CHAKOTAY
On November 19, 1953, Robert Beltran was born in Bakersfield, California. He began pursuing acting by studying theater arts at Fresno State University and later displayed his skills, even earning a Nosotros Golden Eagle Award for best actor in a television series for Voyager.
ROXANN DAWSON AS B'ELANNA TORRES
L.A. native Roxann Dawson got her first big acting break with a role in the Broadway production of A Chorus Line. She would eventually take her talents beyond acting by writing and directing.
ROBERT DUNCAN McNEILL AS TOM PARIS
While he would be raised in Washington, D.C., Robert Duncan McNeill was born in Raleigh, North Carolina, on November 9, 1964. After studying at Juilliard, McNeill landed roles in several television shows including All My Children and The Twilight Zone before taking the part of Tom Paris on Star Trek: Voyager.
JERI RYAN AS SEVEN OF NINE
A native of Munich, Germany, Ryan won two Saturn awards for her portrayal of the former Borg drone Seven of Nine, Tertiary Adjunct of Unimatrix 01, whose full Borg distinction was eventually dropped in favor of her still-odd (for a human) nickname.
ETHAN PHILLIPS AS NEELIX
The only boy of six children, Ethan Phillips was born on February 8, 1955, in Garden City, Long Island. With a degree in fine arts from Cornell University, he began his career as an actor in Broadway and off-Broadway productions before coming to Star Trek: Voyager in 1995.
ROBERT PICARDO AS THE DOCTOR
Best known simply as The Doctor, Robert Picardo was born in Philadelphia on October 27, 1953. After graduating with a drama degree from Yale University, Picardo would perfect his craft on Broadway before building an extensive career in television.
TIM RUSS AS TUVO
Born in Washington, D.C. on June 22, 1956, Tim Russ was born to Air Force officer Walt Russ and his wife Josephine. He grew up on several Air Force bases around the world before beginning his acting career, which has included roles in television shows such as The Fresh Prince of Bel-Air and films such as Spaceballs.
GARRETT WANG AS HARRY KIM
The son of Chinese immigrants, Garrett Wang was born on December 15, 1968, in Riverside, California. Only one year after making his TV debut in a guest star spot on the comedy All-American Girl in 1994, Wang landed his breakout out role as Harry Kim on Star Trek: Voyager.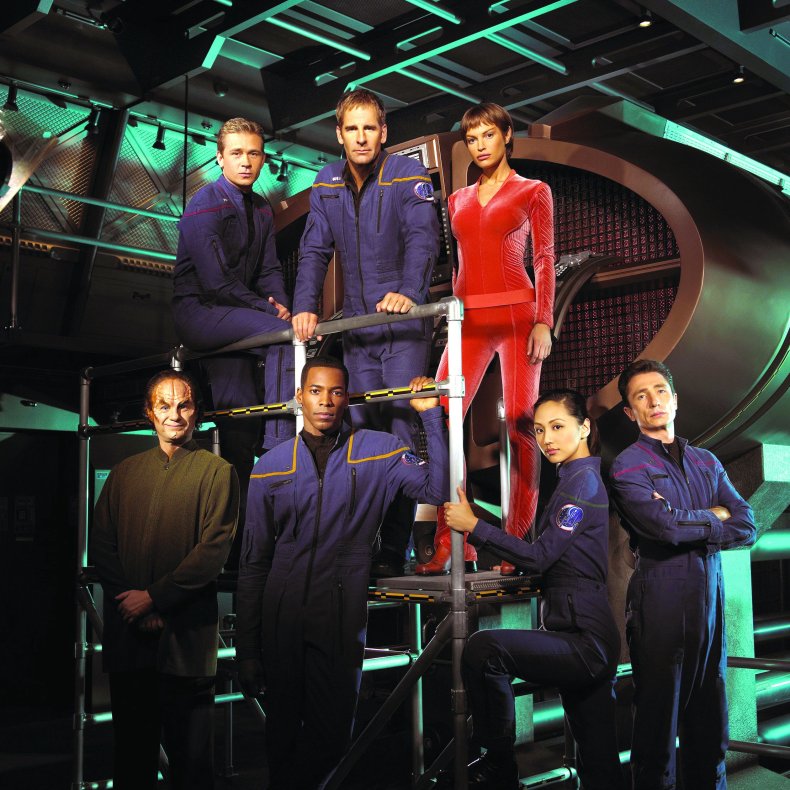 ENTERPRISE
SCOTT BAKULA AS CAPTAIN JONATHAN ARCHER
St. Louis native Scott Bakula was a bit of an oddity for a Trek mainstay in that his voyage on the Enterprise wasn't his first hit science fiction TV show. Bakula endeared himself to audiences as Dr. Sam Beckett on Quantum Leap and continued after Enterprise with an elder-statesman role on Chuck before taking starring duties on NCIS: New Orleans.
JOHN BILLINGSLEY AS DR. PHLOX
Caught by an insatiable desire to act after playing Scrooge in a youth production of A Christmas Carol at 9, Billingsley is a Hollywood journeyman whose credits include Six Feet Under, The West Wing, Prison Break and True Blood. He's also the founder of a Seattle theater company and studio.
JOLENE BLALOCK AS SUB-COMMANDER T'POL
Before she took the sci-fi world by storm as the beguiling Vulcan sub-commander T'Pol, Jolene Blalock was also an experienced world traveler with several big modeling and acting jobs to her credit. After landing Enterprise, she continued her work in the sci-fi genre as part of the third film in the Starship Troopers franchise.
DOMINIC KEATING AS LIEUTENANT MALCOLM REED
A English-born actor who's been working in Hollywood since he made the world unintentionally laugh with his pronunciation
of the word "salon" in Vidal Sassoon ads (SNL parodied his part in the 1980s), Keating found his biggest role as Malcom Reed. An Englishman with strong family naval ties, Reed joins Starfleet thanks to a tendency toward seasickness.
ANTHONY MONTGOMERY AS ENSIGN TRAVIS MAYWEATHER
The third time was the Star Trek charm for Anthony Montgomery, who auditioned for two other Trek parts before landing his regular role as Ensign Mayweather. First, he was overlooked for a regular part in Voyager, and then was again turned away after auditioning to play Tuvok's son in a later episode of the show. Thankfully, he made an impression and was brought back for Enterprise.
LINDA PARK AS ENSIGN HOSHI SATO
A South Korean-born graduate of Boston University, Park was able to turn her role on Star Trek: Enterprise into a role in an Oscar-winning picture. As part of the massive ensemble cast of Crash (2005), Park helped tell a story of inherent prejudice in the lives of Los Angelenos.
CONNOR TRINNEER AS COMMANDER CHARLES 'TRIP' TUCKER III
A veteran of the Huntington Theater Company in Boston, Connor Trinneer was a rare combination of BFA recipient in acting and starting member of the football team at Pacific Lutheran College in Tacoma, Washington. After Enterprise, he returned to stage work.
This article was excerpted from Newsweek's Special Edition—Star Trek 50 Years: Celebrating America's Original Sci-Fi Phenomenon, by Issue Editor Tim Baker. For more about the history of the federation and the upcoming movie—Star Trek Beyond, pick up a copy today.