'Star Trek: Deep Space Nine' Season 8 Starship Possible Glimpse at Future of the Enterprise
Could Picard Pilot Something Like the USS Emmett Till?
The new Star Trek: Deep Space Nine documentary What We Left Behind is more than a look back at the series, but also includes a glimpse of what could have been—debuting a starship design which could have appeared in an eighth season of the show (the series only went seven seasons). Is it also an indication of what might yet be?
Included in What We Left Behind, which premiered at Destination Star Trek in Birmingham, U.K., is a segment which reunites showrunner Ira Steven Behr with four series' writers—Robert Hewitt Wolfe, Hans Beimler, R ené Eschevierra and Ronald D. Moore (currently showrunner for Outlander)—to map out a theoretical eighth season.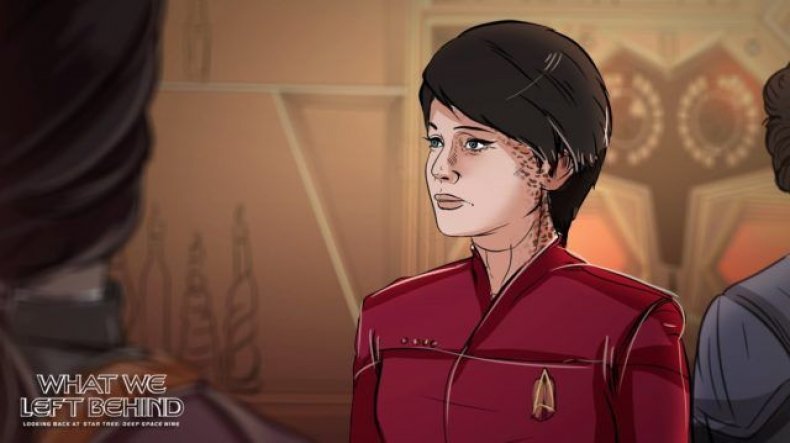 TrekMovie not only provided a look at the DS9 dream team in action, but also the first image from an animated segment of the documentary offering a glimpse into one possible future for Star Trek. The animated segment for Deep Space Nine Season 8 features Captain Ezri Dax, seemingly jumping forward in time to an era with similar uniforms to those seen in the future segments of Star Trek: The Next Generation finale "All Good Things…"
The documentary also debuts a new Season 8 starship: the U.S.S. Emmett Till.
Named for an icon of the Civil Rights movement, Till was beaten, mutilated and murdered by Roy Bryant and J.W. Milam after Bryant's wife Carolyn lied about Emmett grabbing her waist at a grocery store.
Till's mother insisted on an open casket and public funeral service. "I wanted the world to see what they did to my baby," she said. Tens of thousands attended his funeral and photographs of mutilated body were published nationwide. In Sept. of 1955, Till's killers were acquitted by an all-white jury (a year later, protected from prosecution by double jeopardy, they would brag about the murder in a magazine interview).
The murder of Till motivated Civil Rights activists like Medgar Evers (who was himself assassinated in 1963 by a white supremacist who, again, avoided prosecution thanks to an all-white jury, but was finally prosecuted and imprisoned in 1994), Martin Luther King Jr. and Rosa Parks, catalyzing the Montgomery bus boycott.
The U.S.S. Emmett Till isn't just a new ship for an imagined eighth season of Star Trek: Deep Space Nine, but also part of that series' long history of honoring black lives, most famously in Season 6 episode "Far Beyond the Stars." In the landmark episode, Benjamin Sisko (Avery Brooks), commander of space station Deep Space Nine, has a vision of himself as science fiction author Benny Russell, who faces police brutality and prejudice in 1950s Harlem as he fights to publish his short story about a black man captaining a space station.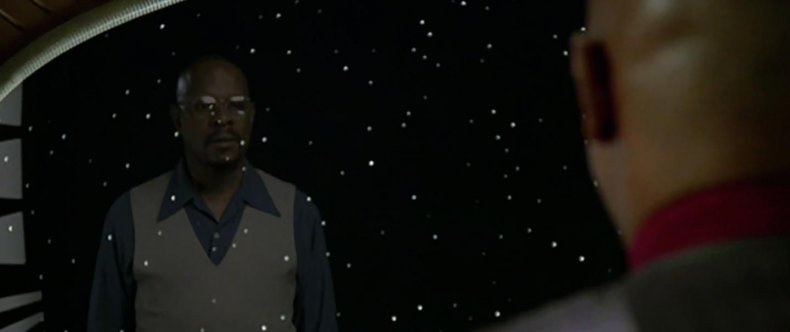 Created by John Eaves, a veteran of multiple Star Trek shows and movies who designed the U.S.S. Enterprise NCC-1701-E introduced in Star Trek: First Contact, the new ship features split, quad nacelles and a large saucer section. It looks like a natural evolution of the Enterprise.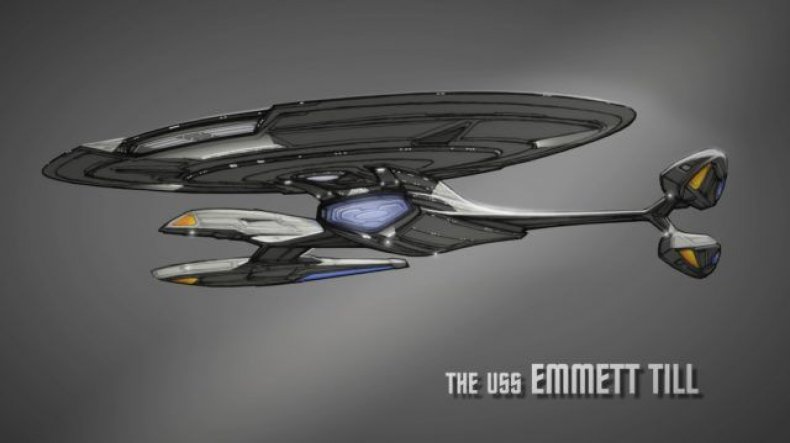 While the Emmett Till was created specifically for What We Left Behind, it may also be our best indication of the kind of design aesthetic that might go into future Star Trek stories like the untitled, in-development Captain Picard series. Piloted by Ezri Dax in a theoretical Star Trek future, the Emmett Till is likely to be in service around the year 2395 (the year "All Good Things…" is set), which is further into the future of Star Trek than has been depicted. The Picard series is set in 2399. The Emmett Till is only a theoretical future, created for a documentary, but it's our best look yet at what the next century of Star Trek might look like.
While What We Left Behind had its world premiere in Birmingham, there's not yet an official release date. A Blu-ray / DVD of What We Left Behind is available now for preorder.