'Star Trek: Discovery' Season 2 Review: Episode 1 'Brother' Promising, But Leaves Burnham Stuck in the Past
By the end of the Star Trek: Discovery pilot, "The Vulcan Hello," the stakes for the rest of the season are clear—open warfare between the Klingon Empire and the United Federation of Planets. The premiere of Discovery Season 2 leaves a murkier impression, establishing a galaxy-wide mystery accompanied by a brief, blurry vision of a red angelic being. But while the season's first episode, "Brother," doesn't yet clue us into the season's thematic preoccupations, promising tweaks to the ensemble have me optimistic for the season ahead.
"Brother" begins where the first season of Discovery ended, with the U.S.S. Discovery's rendezvous with the U.S.S. Enterprise, dead in space after suffering a catastrophic power outage. Captain Christopher Pike (Anson Mount) wastes little time commandeering the Discovery for his urgent mission—investigating one of seven red signals that flared simultaneously around the galaxy. They find no beacon, but instead a mysterious meteoroid field, littered with "non-baryonic" matter deemed impossible under our current understanding of physics. The mystery deepens.
The premiere's central action scene is stunning, demonstrating that Trek doesn't need phaser fire and battle scenes to be viscerally exciting. Unable to beam crew down to the meteoroid's surface, Michael Burnham (Sonequa Martin-Green), Captain Pike and two crewmembers from the Enterprise (dressed in the "new uniforms" in The Original Series style) fly spinning bottle rocket ships through the debris field. Similar to movie sequences like the free fall drop in 2009's Star Trek, "Brothers" big action moment is additionally enlivened by the bridge crew, who desperately coordinate from afar.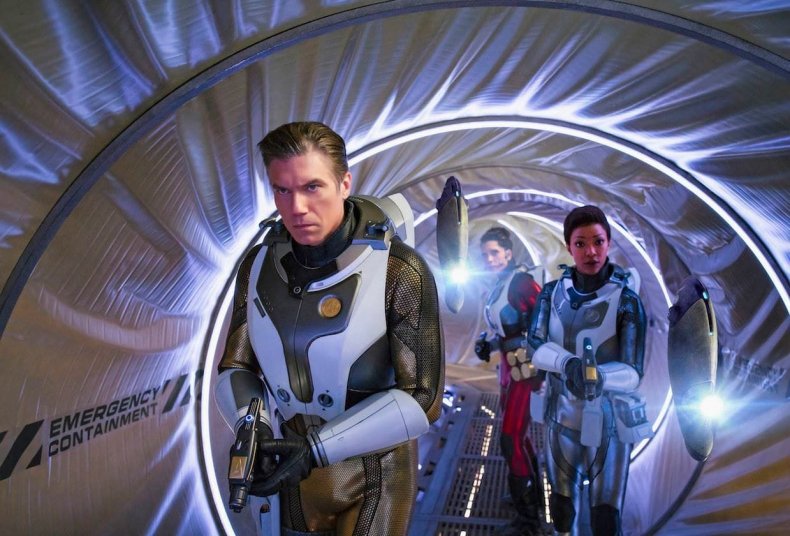 The serial nature of Discovery's storytelling doesn't always allow for clear episodic takeaways, so this season's themes remain a mystery. It's still too early to say how much Season 2 will get away from the action-focused war footing of the first season—a sticking point for Trekkers hoping for exploration and utopianism instead of alien-torturing and genocide.
But hints like the Enterprise's mysterious power outage and the piling "coincidences" linking the red angel, the signals, Spock and the non-baryonic meteoroid field point to the type of god-like forces that have been a Star Trek staple since the beginning, in episodes like "Where No Man Has Gone Before," which gave god-like powers to crew member Gary Mitchell. The Next Generation introduced Q, a capricious god-guy who has declared himself humanity's judge. Even if Discovery doesn't grapple as intelligently as The Next Generation with questions of absolute power (and whether Star Trek 's ideals can stand tall when confronted with other moral systems) or as Deep Space Nine did with the concept of faith, the premiere of Season 2 at least places the series on the same game board.
Star Trek: Discovery's ensemble is still a strong point and "Brother" demonstrates how the show's creators polished tweaks in light of the public's reaction to the first season. The relationship between Saru (Doug Jones) and Burnham remains a highlight, even as it transforms from the adversarial stance they had in the wake of Burnham's mutiny.
But without Klingon sleeper agent—now defector—Ash Tyler (Shazad Latif), who doesn't appear in this first episode, Burnham lacks a mature counterpoint. Tyler's experience of suffering and tangled romantic feelings provided Burnham an outlet for her own conflicts between her human and Vulcan aspects (though human, Burnham was raised on Vulcan), even if their romance sometimes sagged under dialogue with too many florid metaphors. Burnham and Saru are a fun duo, especially when their competing intellects produce the kind of snappy, science-ish back and forths that remains one of the series' strengths, but Saru often fails to dig Burnham out of herself.
Instead, "Brother" falls back on the same childhood fixation found in weaker episodes of the first season. Since adult Spock (Ethan Peck) doesn't appear in this premiere, Burnham is instead left with remembrances, particularly of first meeting her adoptive brother, who slams the door in her face. As in first season episode "Lethe," in which Burnham digs up painful memories of Sarek denying her entry to the Vulcan Science Academy, "Brother" explores Burnham through painful childhood moments, premising her emotional development as a character on inert, non-interactive memory.
It remains a poor choice. While it allows for us to see inside the typically taciturn Burnham, it also makes her seem stunted. How much did we see into the childhoods of other Trek protagonists like Kirk, Picard, Sisko and Janeway? Discovery constantly transports us to Burnham's childhood to try to convince us of the deep well of emotions underscoring her precise behavior. It's not something we required to empathize with Spock, instead serving mostly to make the character seem fixated on childhood slights and minor events. With Tyler likely up to his own adventures in the Klingon Empire, we have to cross our fingers Spock will be the emotional foil Burnham needs.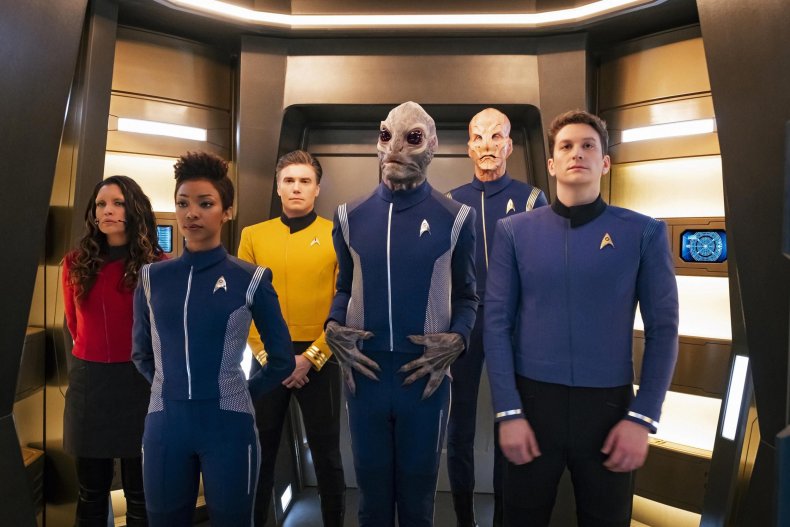 Beyond Burnham, the Season 2 premiere makes a commitment to both a larger ensemble presence and a cheerier one, signaled most by Captain Pike, whose jocular leadership style is open and utterly unlike Lorca's. He even has the bridge crew introduce themselves by name, suggesting we'll see and hear more from augmented human Airiam (Sara Mitich), ops officer Joan Owosekun (Oyin Oladejo), conn officer Keyla Detmer (Emily Coutts) and tactical officer Rhys (Patrick Kwok-Choon). Comedian Tig Notaro also pops up in "Brother," playing stranded engineer Jet Reno, balanced somewhere between the brash genius of Montgomery Scott and the gallows humor of Dr. "Bones" McCoy. Another good add.
Outside of a few hiccups (Mary Wiseman as Sylvia Tilly is still the best Star Trek precocious kid ever, but "Brother" keeps larding her awkward foibles with reactions from crewmembers charmed by her adorkability), the Discovery ensemble is better than ever in Season 2.
Star Trek: Discovery Season 2 returns with its premiere episode "Brother," available to stream on CBS All Access beginning 8:30 p.m. EST on Thursday.