Watch: 'Star Trek Discovery' Season 2 Trailer Shows Off Smirking Spock, Clandestine Georgiou and 'Trek's Own Thanos
2019 is shaping up to be a big year for omni-genocidal maniacs. On April 26, Thanos will return in Avengers: Endgame, but a new trailer for Star Trek: Discovery Season 2 suggests the space adventure series has beat him to the punch. Not only does the new trailer for Discovery 's second season shed some light on the mysterious "Red Angel"—which foretells doom for the galaxy—but it also introduces stakes just as high as the first season.
Though this season has become described as more exploration-focused than the war-like inaugural season, it seems all life in the galaxy is at risk once again. When seven mysterious red beacons, or "bursts," pop up around the galaxy, Michael Burnham (Sonequa Martin-Green) and the Discovery crew teams up with Captain Pike (Anson Mount) of the U.S.S. Enterprise and his science officer, Shaggy Hot Spock (Ethan Peck), who smirks sometimes. A being somehow connected to the beacons, the Red Angel, has provided Shaggy Hot Spock with an apocalyptic vision.
"There's a great responsibility at hand, this could be the defining moment for multiple civilizations—millions of lives," Shaggy Hot Spock says in the trailer. "Someone, or something, is going to end all sentient life in the galaxy," presumably not by snapping its fingers.
Judging from the new footage, this 14-episode season has a lot going on. This trailer shows off Klingon combat, zero-G rescues, mad science and weird The Thing-like blob aliens—there's almost an undercurrent of body horror. Thanks to previous reveals, we also know to expect Talosians and Saru's homeworld.
The Mirror Universe evil Empress version of Philippa Georgiou (Michelle Yeoh) also plays a central role in Season 2. As a member of Section 31—a hush-hush black-ops outfit that plays fast and loose with Starfleet's staunch ethical code—she seems to be along for the ride with the intent of destroying the Red Angel. Is the Red Angel the cause of the coming apocalypse, or an ally warning the Federation? Either way, it seems Section 31 has already made up its mind.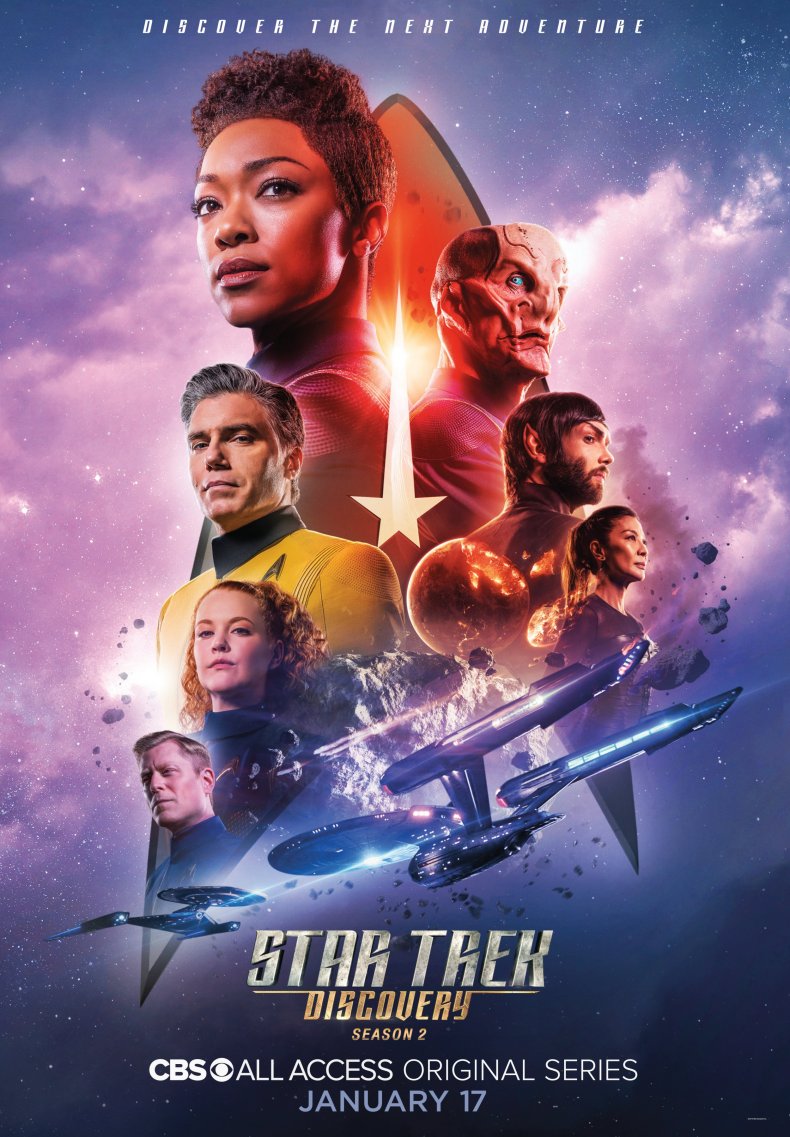 While there's a lot to like in this trailer, there are also indications that, in some ways, Star Trek: Discovery hasn't outgrown some of the shortcomings of its debut season. In Season 1, the Federation decides to blow up the Klingon homeworld, killing millions of civilians and dooming the empire. Burnham averts the catastrophe and reasserts the Federation values they had forgotten. (Remember how easily the Discovery crew was convinced by a Mirror Universe captain to literally power their ship with an animal-torturing engine?) Is this a lesson they're going to have to learn all over again, or will they push back against Section 31's presumably nefarious agenda?
Plus, there's still the hackneyed Alice in Wonderland references.
But this new trailer has us pumped for Discovery 's return anyway. Star Trek: Discovery Season 2 premieres on streaming service CBS All Access on January 17 at 8:30 p.m. EST.