Star Trek has welcomed some high-profile celebrity guest stars over the years, from Dwayne "The Rock" Johnson to Stephen Hawking. The latest celebrity to join their ranks was Stacey Abrams, the voting rights activist and past and current Georgia gubernatorial candidate.
Abrams is seen by many as being the woman whose voting rights work helped swing the 2020 election to the Democrats, so she was a canny piece of stunt casting to play the 32nd-century president of Earth in the Season 4 finale of Star Trek: Discovery.
Her role bring to a close the two-season arc about rebuilding the Federation. Towards the end of the episode (titled "Coming Home,") we hear her say: "United Earth is ready right now to rejoin the Federation, and nothing could make me happier than to say those words."
Abrams herself has not yet commented publicly on her Star Trek cameo, which was kept top secret until it aired on Paramount+.
However, lead actor Sonequa Martin-Green and episode writer and series co-showrunner Michelle Paradise have revealed in interviews exactly how they persuaded her to appear on the show, what she was like to work with, and have hinted at whether the character will return in the future.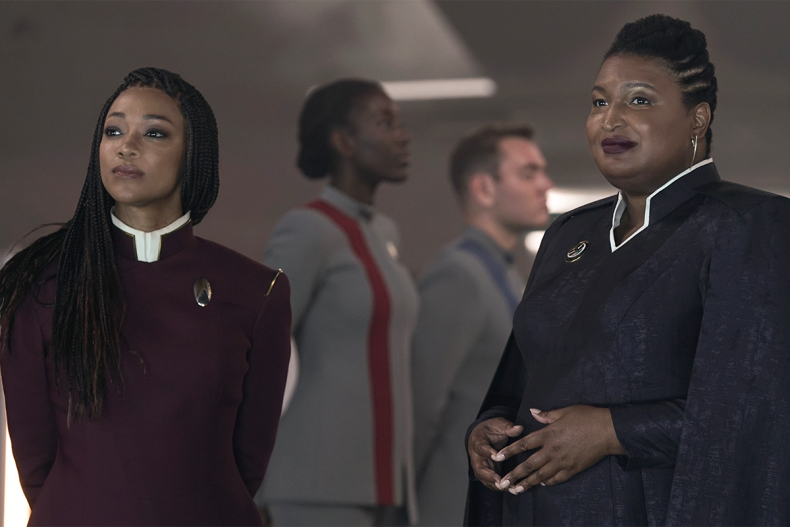 Why is Stacey Abrams in Star Trek: Discovery?
Abrams has never been quiet about her love of certain genre TV shows. Asked by a fan about her favorite pop culture in 2017, she tweeted: "Oh, yes! I adore good television. Buffy, Star Trek (esp Voyager & TNG). I'm a new devotee of Supernatural."
In an interview with Now This Nerd, she discussed how the show helped inform her political philosophy. She said: "What has been so interesting to me about The Next Generation, about Voyager, about the later iterations is that you can address those core fundamental economic and socio-economic issues but conflict remains and the challenge is how willing are we to find solutions when we think we have the answers."
She added that the core message of the later Star Treks chimed with her: "It still acknowledges the Utopia that is Earth, but it also notes that we still have a lot of work to do, that humanity in its multiple iterations finds reasons to disagree, and our responsibility is to find a way to integrate that diversity and still tackle those challenges."
How did the Star Trek: Discovery convince Stacey Abrams to appear?
Unsurprisingly, she did not need much convincing. As Paradise told IndieWire: "As we got into Season 4 and got halfway through breaking it, we realized: We need a person to represent Earth. And then the question became: who should that person be? I don't remember where the idea came from, honestly. But I texted Alex to say, 'What do you think of Stacey Abrams?'
"Immediately, [he sent] exclamation points. And he said, 'Let's set up a meeting. Let's talk to her. Let's see.' So we did. And she was so kind. And we got on Zoom with her, and we pitched her where we were for the season and who this character was and what this character would represent. And asked if she would be a part of this with us. Honestly, I can't think of anyone better to represent the president of Earth in all of that."
Even in this process, she remained a Star Trek fangirl – Paradise revealed to Deadline that when she was pitching the character to Abrams, she asked them not to reveal any plot spoilers to her.
This is not the first acting work Abrams has done. The politician is a SAG-AFTRA member (hence why she was able to deliver lines of dialogue on the show), and received an Emmy nomination for her voiceover role in Black-ish's animated election special.
Asked what it was like to work with Abrams on the show, Martin-Green told Deadline: "She wowed us with her charm, humility, and generosity, and she whipped out some acting chops too! It was an honor for me as a Black woman to stand with her in the story. It's an experience I'll cherish for the rest of my life."
Will Stacey Abrams return for Star Trek: Discovery Season 5?
Though Abrams could soon be busy with Georgian state politics, Paradise did not rule out a return for the character. Asked whether the character would return, the co-showrunner told IndieWire: ​​"Oh my gosh, I would love that. I mean, I have no idea. She's certainly busy doing other things."
Star Trek: Discovery Seasons 1 to 4 are streaming now on Paramount+. Season 5 is coming soon.