'Star Trek: Lower Decks' Clip Reveals Latest Starfleet Transporter Accident
In the next episode of animated series Star Trek: Lower Decks, premiering on CBS All Access on Thursday, Starfleet junior officer Bradward Boimler (Jack Quaid) falls victim to one of the most common hazards of life aboard a starship: the transporter accident.
An exclusive clipfrom the upcoming episode "Much Ado About Boimler" (up above), provided to Newsweek, follows the ambitious but bungling young officer as he drops in on engineering ensign Sam Rutherford (Eugene Cordero), eager for advice on how to "look more promotable" in front of a visiting crew. But Rutherford is distracted with his efforts to slightly improve the efficiency of the ship's teleporting transporters. Luckily, Boimler, always angling for a new item on his resume, is happy to serve as a guinea pig.
At first, the tweaked transporter works even better than expected, cutting half a second off of the standard transporter time. But a second test transforms Boimler into a shimmering, ghostly version of himself, who struggles to be heard over a cosmic resonance emanating from his body.
"Am I going to die?" Boimler asks.
"No, no, you're just off by like one millicochrane," Rutherford responds. "It's just cosmetic."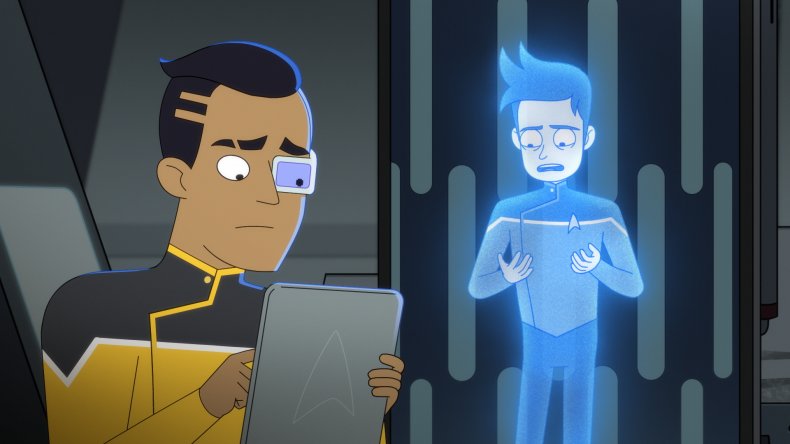 According to a logline for the episode provided by CBS All Access, the episode will follow Boimler to a Starfleet medical ship for treatment. But while Boimler's condition is going to make it hard for him to brown-nose in front of Starfleet captains, it sounds a lot less dangerous than transporter accidents suffered by other crews.
Transporter accidents have been a Star Trek staple since the fifth episode of the series, "The Enemy Within," premiered in October 1966. In that episode, a transporter malfunction caused by magnetic dust splits Captain James T. Kirk (William Shatner) into two versions of himself, one good and one evil.
Though rare in the wider context of the United Federation of Planets, other transporter accidents have had even more grotesque effects, sometimes turning people into misshapen blobs of flesh. Some effects are psychological, like the "transporter psychosis" seen in The Next Generation episode "Realm of Fear."
The potential for danger has made transporter sabotage a viable avenue for assassinations and espionage as well. Knowing Star Trek: Lower Deck's penchant for deep-cut references, it's a fair bet that the upcoming episode will contain multiple in-jokes alluding to at least a few of these past incidents.
The Star Trek: Lower Decks episode "Much Ado About Boimler" will be available for streaming on CBS All Access beginning Thursday, September 17.