'Star Trek: Lower Decks' Series From 'Rick and Morty' Writer Takes After 'The Next Generation' Episode
A Star Trek animated series will join Star Trek: Discovery and the as-yet-untitled Picard series on CBS All Access.
Titled Star Trek: Lower Decks, the series will take us away from the flagships exploring where no one has gone before, instead following the service personnel working on the bottom rungs of Starfleet. The half-hour animated comedy comes from Rick and Morty writer and producer Mike McMahan, who also wrote one of the four Star Trek: Short Treks mini-episodes, featuring the return of Rainn Wilson's galactic grifter Harry Mudd.
"Mike won our hearts with his first sentence: 'I want to do a show about the people who put the yellow cartridge in the food replicator so a banana can come out the other end.' His cat's name is Riker. His son's name is Sagan. The man is committed," executive producer Alex Kurtzman said. "He's brilliantly funny and knows every inch of every Trek episode, and that's his secret sauce: he writes with the pure, joyful heart of a true fan. As we broaden the world of 'Trek' to fans of all ages, we're so excited to include Mike's extraordinary voice."
That title, Lower Decks, should be familiar to dedicated Trekkers, as it shares a name with a Star Trek: The Next Generation episode that deals with many of the same themes. In " Lower Decks," TNG got away from the bridge crew to follow lower-ranking crewmembers, Ensigns Sam Lavelle, Sito Jaxa, Taurik and Nurse Alyssa Ogawa.
Each has conflicts and anxieties not typically seen on Star Trek, as they try to impress their higher-ups and work on opaque orders from above. In "Lower Decks," we get to see the more mundane side of life aboard a starship, from shift changes to time off-duty.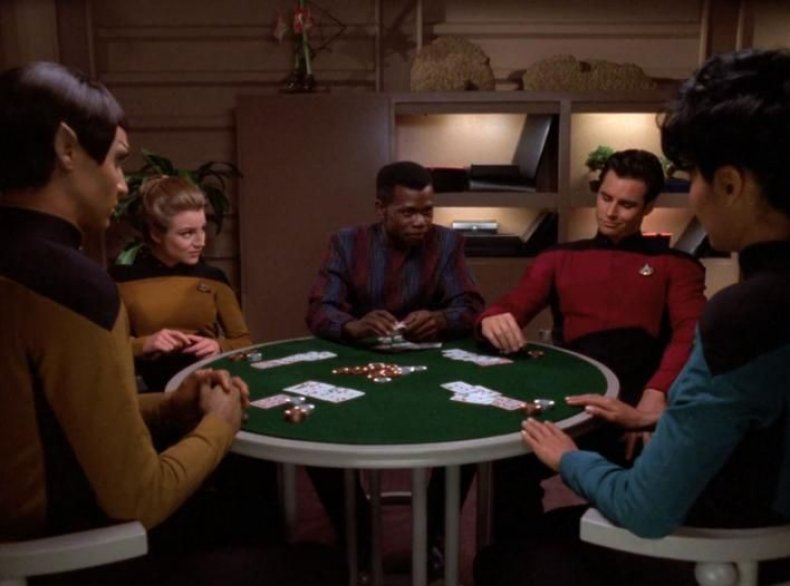 While there's no indication that Star Trek: Lower Decks is directly related to the TNG episode (or even what Star Trek era the show will be set in), McMahan's familiarity with the series suggests the episode is at least a partial inspiration to the new series.
Star Trek: Lower Decks doesn't yet have a premiere date, but CBS All Access has already ordered two seasons.