How 'Lower Decks' Fits In The 'Star Trek' Timeline and Canon
The adult animated comedy series Star Trek: Lower Decks, in development for CBS All Access, is set aboard the USS Cerritos, an inconsequential "California-class" ship (a designation new to Star Trek), in the year 2380. This places the series late in the Star Trek timeline, years after The Next Generation and Deep Space Nine, but still of that era — a core part of that show's identity, according to creator Mike McMahan, who outlined how the series will fit into the larger Star Trek landscape.
McMahan described choosing 2380 because of its untouched place on the timeline and proximity to The Next Generation years. "When I grew up, that was the Star Trek I really loved," McMahan told ComicBook.com. "I like all Star Trek, but that's the one that feels most like home to me. I wanted to choose a year that was kind of untouched, was kind of a blank slate, that didn't touch on anything that they might be doing for whenever Picard takes place. I didn't want to have to do anything that was like, 'Oh, this was happening during the Dominion War' or, 'This would be happening during [Star Trek: First Contact],' or whatever."
Set a year after the events of 2002's Star Trek: Nemesis, Lower Decks takes place in the wake of consequential events on the Star Trek timeline, including an invasion from the shapeshifting rulers of the Gamma Quadrant, which ended in 2375, and Deanna Troi's marriage to William T. Riker, end date unknown. The only entry on Star Trek wiki Memory Alpha for 2380 is an episode of Star Trek: Voyager, a series set 70,000 light-years apart from happenings in the United Federation of Planets.
"I didn't want anybody to feel like I was trying to subvert their favorite show by what we were doing," McMahan said, while also emphasizing that Lower Decks will hew to existing Star Trek canon."The trick with Lower Decks is that our stories and our characters are definitely in canon. Ours, they're just a little bit more aware and self-referential. Our guys might talk about the characters from the other shows that they've heard about, because they are as big a fan of Star Trek as I and my writers are. They don't get to do as important stuff. It's almost like our characters are aware that they're in canon, and some of them are geeking out over it."
The series will follow ensigns working the dirty jobs, while more famous ships are grabbing all the glory, and shares a name with TNG episode "Lower Decks," which explored life and work away from the starship bridge and its leadership decisions.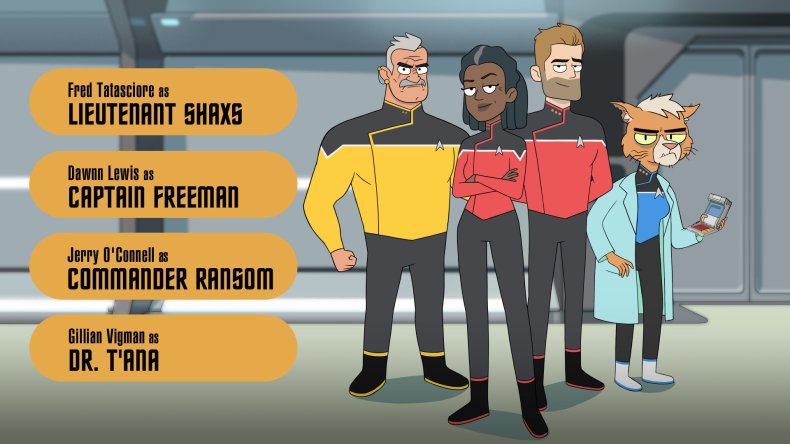 The main characters in Lower Decks were revealed at San Diego Comic Con and included a Caitian character — a cat-like Federation species introduced in the original Star Trek: The Animated Series — a declaration of Lower Decks' commitment to series lore.
While McMahan is known for writing for Rick and Morty — setting an obvious sci-fi precedent for the tone of the Star Trek animated comedy — he emphasized Lower Decks isn't a freewheeling deconstruction of Star Trek or replicating the pessimism of the Adult Swim hit. "When it comes to the existential kind of, 'the universe is chaotic and dark,' sort of nihilistic vibe of Rick and Morty, that is not in the DNA of Lower Decks at all," McMahan told ComicBook.com.
Instead, the only element Lower Decks borrows from Rick and Morty is that show's frenetic pace. "We do have the accelerated pace of a Rick and Morty. I'd say that Star Trek: Lower Decks is going to feel like the one act of another Star Trek show where everything is happening and stuff is really moving. That's like us from the first scene until the last scene," McMahan said. "We're trying to fit a whole Star Trek episode into a 20 to 23 minute format."