'Star Trek Picard' Cast: Meet All the New Characters and Who Plays Them
Star Trek: Picard's first episode is streaming now on CBS All Access and Amazon Prime Video, and viewers who have watched it have now met most of the main cast for this Star Trek sequel. We have even had one main cast member die in the first episode⁠—though they quickly introduced a twin. The coming episodes of Picard, however, will introduce more characters as Jean-Luc Picard (played by Patrick Stewart) embarks on a mission.
Who is in the main cast of Star Trek: Picard?
WARNING: The following contains spoilers for the first episode of Star Trek: Picard
Dahj/Soji - Isa Briones
In the debut episode of Picard, we meet a mysterious young woman who comes to ask Picard for help. This search for aid, however, leads to her death. However, as Picard searches for answers about who this woman was, he discovers she is an android with a link to Data (Brent Spiner), and was made in a pair. We then meet her identical sister Soji, who is working as a doctor on a Romulation Reclamation ship, made out of a wrecked Borg cube.
The actress who plays both Dahj and Soji is Isa Briones. She is appearing in her second onscreen role after starring in The Assassination of Gianni Versace: American Crime Story as Elena Cunanan, the sister of central murderer Andrew (Darren Criss).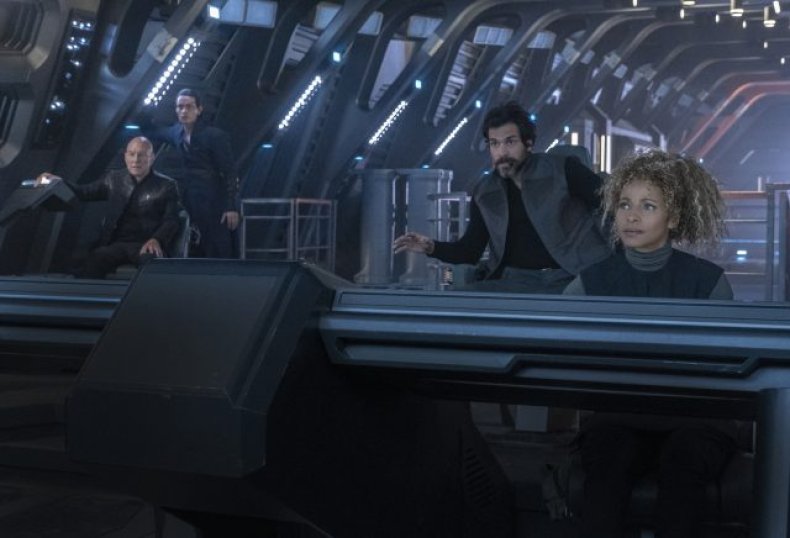 Agnes Jurati - Alison Pill
Episode 1 of Star Trek: Picard also introduced Agnes Jurati, a former Starfleet officer now working in android research who Picard will bring along with him as he embarks on his mission. She is portrayed by Alison Pill, star of American Horror Story, Milk and Scott Pilgrim Vs. The World.
Cris Rios - Santiago Cabrera
On Picard's mission, his pilot will be Cris, a talented pilot formerly of Starfleet, but with a criminal past as a thief. The actor bringing the character to life is Santiago Cabrera of Salvation, Big Little Lies and The Musketeers.
Raffi Musiker - Michelle Hurd
Deadine described Raffi as, "a former intelligence officer who is a brilliant analyst with a terrific memory that has not been affected by her drug and alcohol abuse." She is also the wife of Cris.
Michelle Hurd, who stars as Raffi after roles in Law and Order: SVU and Blindspot, said of her character to Flickering Myth that she, "has a very complicated relationship with the Federation. Very strained. She worked with Picard back in the day after Next Generation, and they had a bit of a falling out."
Narek - Harry Treadaway
When we meet the Romulan Narek in Star Trek: Picard Episode 1, he offers to tell his troubled history to Soji, and the two start striking up a relationship. However, things might not be as they seem with the character. Despite his new pointy ears, Harry Treadaway may be familiar from his parts in Penny Dreadful and Mr. Mercedes.
In an interview with The Hollywood News, Briones said of her character's relationship with Narek: "What I can say is that it's a relationship that is very strong, very passionate, but one based in secrets and mistrust and deception. And that's a tease enough, have fun with that!"
Elnor - Evan Evagora
Orphan and Romulan refugee Elnor is described by Evagora as: "a young Romulan boy who's an expert in hand to hand combat. He's pretty good with a sword as well, and he was raised in an all-female sect of warrior nuns." The character is played by newcomer Evan Evagora, who is soon to appear in the movie reboot of Fantasy Island.
Star Trek: Picard is streaming now on CBS All Access and Amazon Prime Video.