How the 'Star Trek: Picard' Props Team Traveled the Globe to Put Data Back Together Again
After his death in 2002's Star Trek: Nemesis the individual parts that together form the synthetic life form Data (Brent Spiner) were sold to collectors, prompting a real-life global search when Star Trek: Picard decided to include the disassembled android.
In a new video posted to the official Star Trek site, prop master Jeff Lombardi described how he brought back together Data's far-flung body parts—or, more precisely, the body parts of B-4, a prototype android that Data uploaded all of his memories into before his death.
"We're the people who manage and build the materials that an actor uses, physically, on the set," Lombardi says in the video, describing a prop master's role on set, which nearly as often involves finding items the actor may never touch. "The prop is anything that any other department in the film doesn't want to deal with, and it's up to us to figure it out and deliver it on set."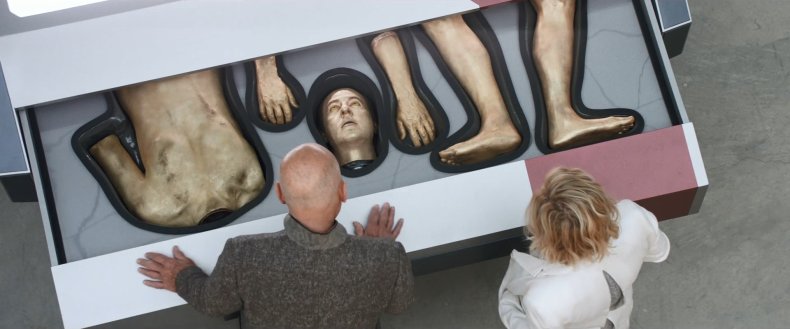 Lombardi described tracking down Data's bits—including disembodied limbs, his torso and B-4's head—as a "hurdle" early on in the preparations for the new series.
"It was difficult, if only because a lot of the old Star Trek prop assets were auctioned off and scattered across the world," Lombardi said. "We didn't want to build a new Data, I wanted to use the old Data parts that we'd seen before, despite what shape they may be in."
John Van Citters, vice president of Star Trek brand development at ViacomCBS and a longtime Trek archivist, proved invaluable in the subsequent hunt.
"He got me in contact with a couple people who he knew had Data parts around the world," Lombardi said. "John was actually the one who was instrumental in finding Data's head—which was in a crate in Calgary—and Data's torso, which was in a crate that was in Hong Kong."
In Star Trek: Picard—set twenty years after Data's death—United Federation of Planets technology still hasn't caught up to the highly advanced Data, at least until Picard ran into a young woman (played by Isa Briones) who appeared to be Data's daughter. While Picard and the other Enterprise crew members had hoped Data might live on in the prototype (after sacrificing himself in a battle against the Reman warbird Scimitar), B-4's more rudimentary positronic brain ultimately proved unable to duplicate Data's consciousness.
Hoping to learn more, Jean-Luc visited the Daystrom Institute in the Picard premiere and surveyed the disassembled B-4 in its storage unit. The many years B-4's parts spent in archived collections proved perfect for their place in the new Trek series, since the condition of the props mirrored the long-term storage seen in Picard. According to Lombardi, the parts had developed something like a patina over the years.
"When we got them, they had aged in a certain way that we didn't even touch them. We didn't even want to touch them, because they had been aging in crate, like we wanted them to be, in the show, for the last four or five years," Lombardi said. "No makeup or special effects did anything to them, really. We just left them as they were."
The behind the scenes video also delves into the backstory of other Star Trek: Picard props, including the Federation phaser rifle, uniform pips and the insignia combadge used by Starfleet in 2399.
Patrick Stewart took an early role in shaping the objects in Jean-Luc Picard's life with the prop master, personally picking tea cups, watches, luggage and other props from what Lombardi showed him. Stewart particularly loved a unique telescope cane Lombardi discovered, which he soon incorporated into how he imagined Picard's day-to-day life on the Chateau Picard vineyard in France.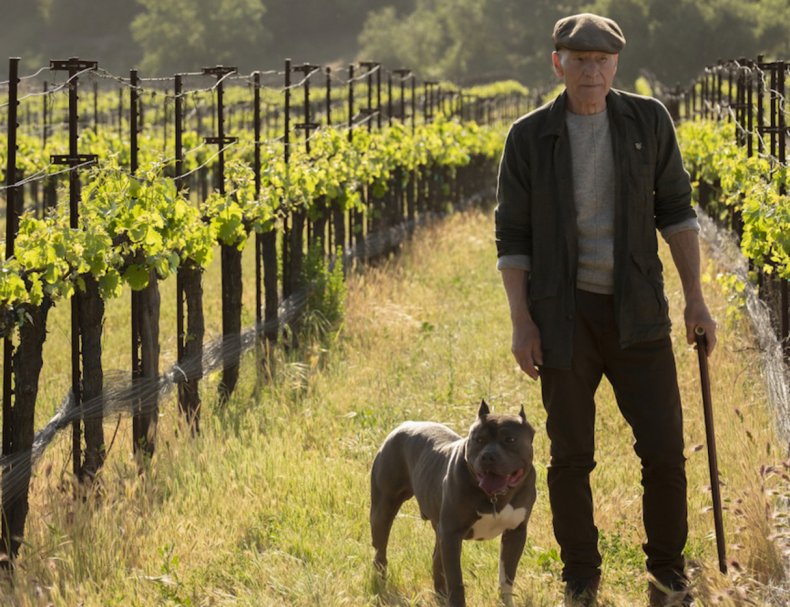 "That's what I really love about props and working with actors, is when you can find something that they can absorb into their character and ignites a fire inside of their imagination and they start feeling more and more in the world themselves," Lombardi said.
While Spiner also returns as Data in Star Trek: Picard—appearing in Jean-Luc's tormented dreams—the prop android parts serve as one of the most moving memorials to the iconic Next Generation character. After many years and even more miles apart, Data's prototype B-4 body is once again together.
"Now we know where Data's parts are," Lombardi said. "And they're going to stay there."