The first episode of Star Trek: Picard has now been released on CBS All Access (with the international release coming to Amazon Prime Video on January 24). It saw the first former Next Generation cast members (sort of) join Jean-Luc Picard (played by Patrick Stewart).
A number of other Star Trek characters from the past are also lined up for the remaining nine episodes of Picard, with even more promised for Season 2 including Whoopi Goldberg, who accepted Stewart's invitation to appear when he visited the set of The View.
Which Star Trek stars will cameo in Star Trek: Picard?
WARNING: The following contains spoilers for the first episode of Star Trek: Picard specifically, and the rest of the season in general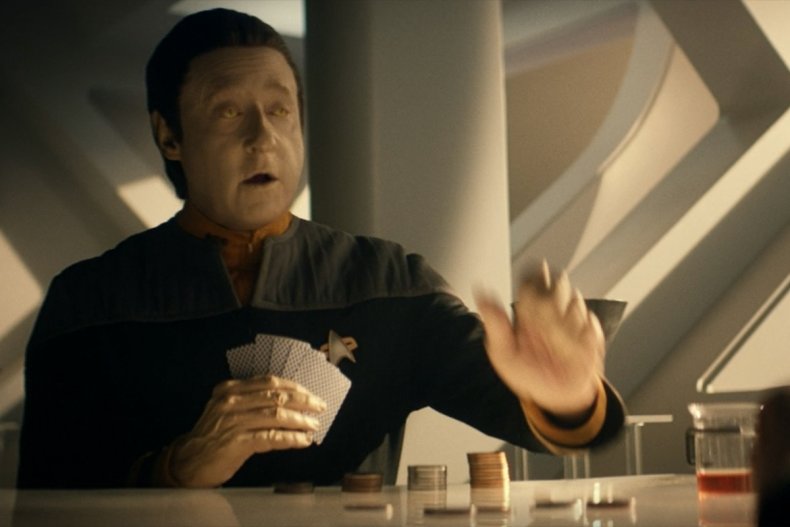 Data—Brent Spiner
First up in the roster of cameos in Picard is Data, the Enterprise's beloved android in The Next Generation. However, as Star Trek fans will know, he died at the end of Star Trek: Nemesis saving the life of Picard, leaving many wondering how he was returning in the CBS All Access series.
The answer was given right at the start of the premiere of Star Trek: Picard. This version of Data currently only exists in Picard's dreams, where he features as a sort of conscience to Picard when meets a woman who has some links to the creation of Data. According to the trailer, the death of Data continues to haunt Picard, who we hear saying: "Nearly two decades ago, Commander Data sacrificed his life for me. These past few years, I truly tried to belong here, but it never truly felt like home."
Since his role on The Next Generation, Spiner cameoed on Enterprise several times, has also starred in Ray Donovan, Outcast and Independence Day: Resurgence and provided a voice for Star Wars: Rebels.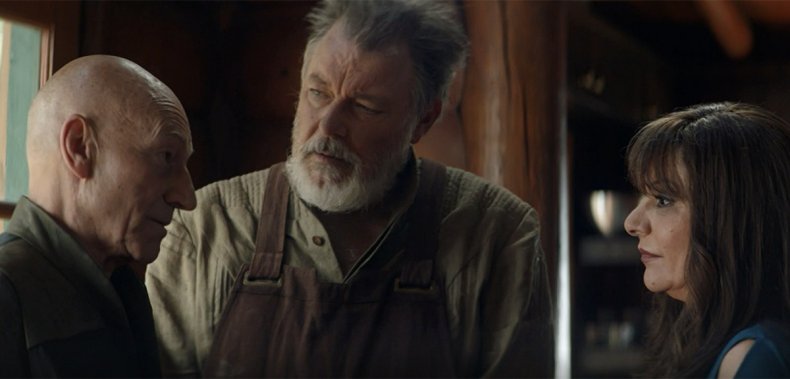 William Riker and Deanna Troi—Jonathan Frakes and Marina Sirtis
Some other characters who faced a big change in Nemesis were counselor Deanna Troi and first officer William Riker, who got married in the 2002 movie. In the Picard trailer we got after the end of the first episode, we saw the pair come to their former boss' vineyard to offer some advice about his upcoming quest. In the promo, we hear Deanna tell him, "you're in trouble," while Riker advises him, "sounds like you need a new plan."
Speaking at the Star Trek Las Vegas convention (per Trek Movie), Frakes, who also directs a number of episodes of the show, said of Troi and Riker's relationship: "I can't obviously tell you, but Marina and I... Well, you'll see where we are. We're together, and it's quite... it's non-military. I'll say that." At the same convention (reported by ComicBook.com), he also admitted: "I hadn't acted in a long, long, long time. I hadn't played Riker in 18 years, and...I forgot how to act. I was not a pretty picture for a few hours. I got my shit together and ended up doing fine."
Frakes has been busy directing since leaving TNG, with episodes of Star Trek shows Enterprise, TNG, Deep Space Nine, Voyager and Discovery under his belt, as well as movie Star Trek: Insurrection and NCIS: LA, Castle and Burn Notice.
As for Sirtis, the English actor has recently appeared in The Last Sharknado, NCIS and Grey's Anatomy.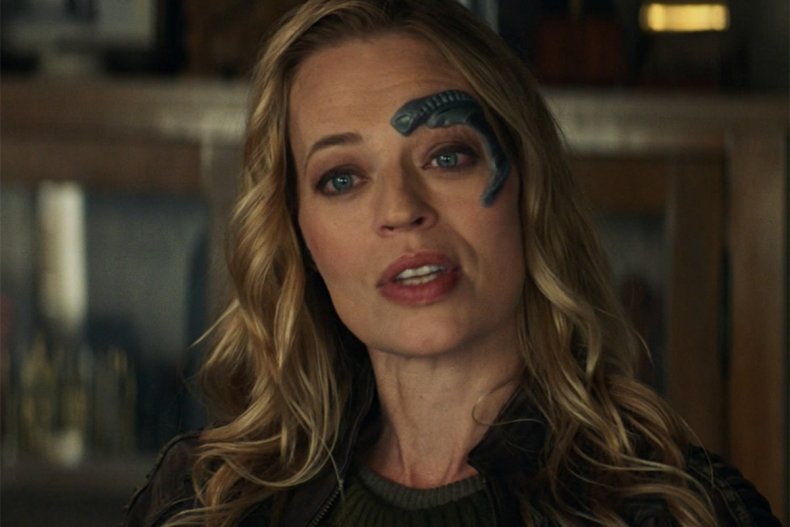 Seven of Nine—Jeri Ryan
Although only introduced to the Star Trek world in Voyager, Seven of Nine is another ex-Borg who ended up on the side of Starfleet, and who returns to take on the Borg in Picard—in the preview, for example, we see her brandishing two big guns and seeing off some enemies.
Speaking to IGN, Ryan, who has also appeared in Bosch, Body of Proof and Boston Public, teased that Seven has seen some "dark crap" since we last saw her and she "holds Starfleet and the Federation in large part responsible for much of it.
"The universe is a mess and I think she initially sees Picard as a representation of that. She's been working ... with sort of a group of freedom fighters called the Fenris Rangers who are trying to keep some semblance of order in the mess that is the galaxy."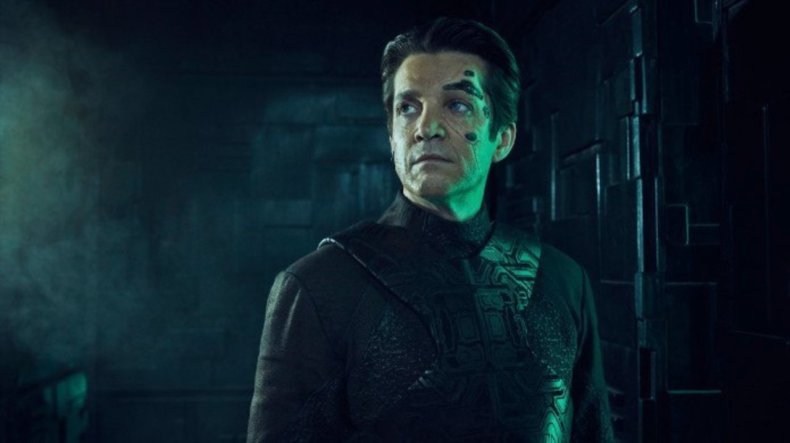 Hugh—Jonathan Del Arco
Nearly 30 years after appearing in The Next Generation episode "I Borg," rescued Borg drone Hugh is making a return for Picard. How this character returns has not been revealed yet, though with the reveal of the Borg ship at the end of Episode 1 of Picard, he may be back to fight with Picard against his former masters. The actor who played Hugh, Jonathan Del Arco, is probably now better known for his major roles on Major Crimes and The Closer.
Speaking at San Diego Comic-Con, Del Arco said of the role: "The Borg have changed before, right? The last time you saw the Borg that were with me we had disconnected from the Collective; when you saw Jeri's character, she was in Starfleet. So it's kind of an obvious progress: if you disconnect them from the Collective, what then becomes of them, right?"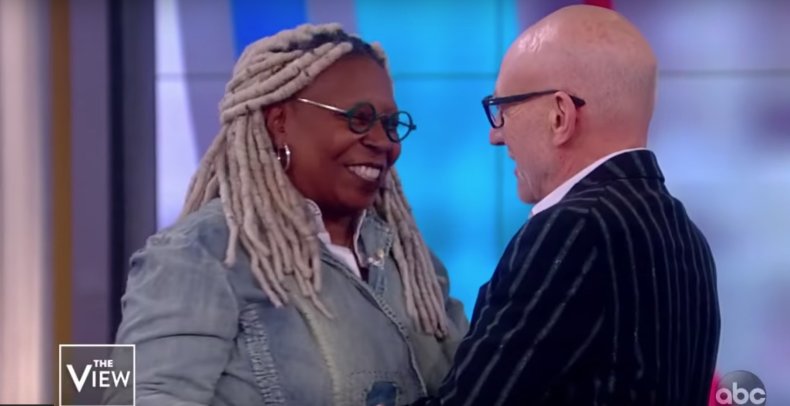 Who else could return in Star Trek: Picard?
With the series already confirmed for Season 2, other Star Trek icons could be appearing alongside Patrick Stewart in the next set of episodes. Chief among them may be Oscar winner Whoopi Goldberg, who appeared in nearly 30 episodes of TNG as bartender Guinan.
When Stewart visited The View, he said to his former co-star, "I'm here with a formal invitation and it's for you, Whoopi. Alex Kurtzman, who is the senior executive producer of Star Trek: Picard, and all his colleagues, of which I am one, want to invite you into the second season," to which she replied, "yes."
As for other characters from TNG like Wesley Crusher (Will Wheaton), Worf (Michael Doen) or Geordie La Forge (LeVar Burton), Picard's executive producer Heather Kadin said it was important not to have too many people return in Season 1. "We made a point not to bring back any legacy characters that didn't organically tell this story," she said to TVLine, "which is why, unfortunately, you don't have Michael Dorn as Worf, and you don't have Geordi. Otherwise, we keep joking it'd be The Next Next Generation." However, Stewart added, "I hope we will meet all of the principal characters from Next Generation eventually."
Star Trek: Picard is streaming now on CBS All Access.