Star Trek: Picard's first three episodes of Season 2 might have more action in them than the whole of the first 10 episodes combined. Q (played by John de Lancie) and the Borg Queen (Annie Wersching) are wreaking havoc, and the cast has found themselves in a strange parallel world where everyone has very different lives.
Most dramatic of all, however, was what looked like the death of Elnor (Evan Evagora). It is this death that sparks off the drama of the rest of the season, with the cast heading to a present-day Earth in order to change back the altered time line.
But will this be enough to bring Elnor back to life? To find out, Newsweek spoke to Evagora, who dropped some juicy hints about the future (or lack of a future) for his character of the Paramount+ and Prime Video show.
Is Elnor Dead on 'Star Trek: Picard'?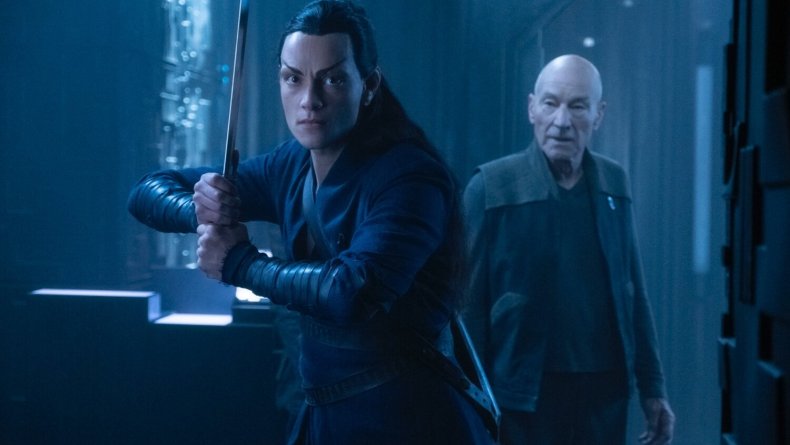 Asked where we find his character at the start of Season 2, the Australian actor told Newsweek: "For me, I got to tick off a lifetime dream of mine was to wear a Starfleet uniform. [And for Elnor] a lot of time has passed. We see Elnor in a very different environment, an environment that he's not used to. He's also a symbol and representation of newly formed alliances between Romulans and the Federation. So I guess I see him more as a symbol of progress and hope."
Already, this is a good sign that we will see Elnor come back in some form: Picard can be a downbeat show occasionally, but murdering its symbol of progress and hope in Episode 3 would be too bleak.
Asked about his character's future on the show, he hinted: "All I will say is I got a very big surprise, reading the script. And as soon as I got a call from the showrunners, and I got told what my character's journey will be.… I'll try and be as vague as possible.… I was left feeling very reassured."
Speaking to Den of Geek, an entertainment news site, about reading his death scene, he said: "I freaked out and sat there in silence for a really, really long time…[but after speaking to producers] ​​I was left feeling a lot less stressed and a lot more reassured."
Though he was unable to give any details away, the actor also hinted that the events of his death (and the identity of his killer) are something the show returns to in later episodes.
Fellow Picard star Isa Briones, meanwhile, added: "I think the only thing to be really certain of is that what's coming is not at all what you expected."
Star Trek: Picard Season 2 airs weekly on Thursdays on Paramount+ and Prime Video.