Remembering 'It's a Trap!,' the Greatest 'Star Wars' Meme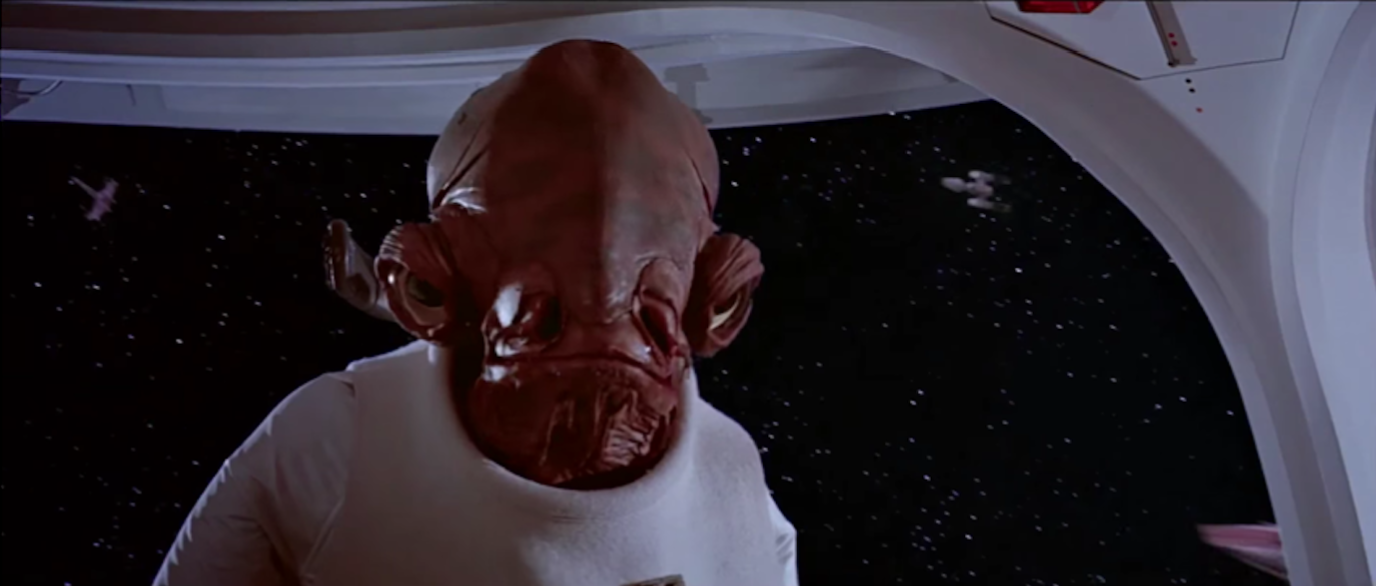 Most everyone outside of his family and friends knew Erik Bauersfeld not as a Brooklyn-born voice actor who led what was surely a full and vibrant life, but as a panicked catfish in an all-white space garment. On Sunday, Bauersfeld died at the age of 93, and with him the voice—but not the face—behind one of the most memorable lines in Star Wars history.
Admiral Ackbar doesn't get a lot of screen time in Return of the Jedi, the only original-trilogy film in which he appeared. He is the leader of the rebellion's fleet in the battle of the second Death Star, gurgling orders in his best human voice despite a cumbersome pair of gills. He looks weird, like a character you mind find in the Cantina in A New Hope. He's basically a catfish, but a catfish in a position of power, which makes his presence even funnier. Ackbar's enduring legacy, and the reason he has lived on in the hearts of Star Wars fans for decades, is one three-word exclamation:
Like plenty of other odd but endearing cultural touchstones that weren't notable enough to garner popular attention through TV or print media, Ackbar and "It's a trap!" has taken on a new life with the internet. A quick Google Image search for the famous phrase yields an endless page of resuts. There are "It's a trap!" Obama campaign posters, "It's a Frappe!" puns, references in pop culture, T-shirts and more—particularly memes, memes upon memes upon memes.
The resurgence of Ackbar's cultish popularity perhaps contributed to his inclusion in 2015's The Force Awakens. Just like in Return of the Jedi, in the franchise's latest installment he appears surrounded by fellow rebel leaders. Also just like in Return of the Jedi, he is voiced by Bauersfield.
"Actor Erik Bauersfeld, known by Star Wars fans around the globe as the voice of Admiral Ackbar, has passed away," read a statement from his management office, Coolwaters Productions. "His passing comes at the age of 93, and the cause was natural causes. Erik will be deeply missed by his family here at Coolwaters and our thoughts and prayers are with his family and friends."
Rest in peace, Admiral Ackbar. May nothing take you by surprise in whatever galaxy you end up in next.