'Star Wars: The Bad Batch' Season 2: Will There Be Another Season of the Disney+ Show?
The first season of Star Wars show The Bad Batch concluded on Disney+ on Friday, August 13.
Created by Dave Filoni, The Bad Batch acts as a sequel to, and spinoff of, his animated series The Clone Wars.
The animation follows its eponymous squad of elite clone troopers, which is made up of Hunter, Wrecker, Tech, Crosshair, and Echo, and young female clone Omega.
The Bad Batch were first introduced in the seventh season of The Clone Wars, revealed to be a group of clones with enhanced skills that made them key figures in the war, and useful fighters to the Galactic Republic.
In The Bad Batch the squad, also known as Clone Force 99, and Omega go on the run from the Empire after refusing to follow orders from Admiral Tarkin, who turns Crosshair against his fellow clones.
While on the run, they decide to take on a variety of daring mercenary missions following the events of the Clone Wars.
The first season of the animated series has 16 episodes in total, and sees Dee Bradley Baker reprise his role as the Bad Batch after first voicing them in The Clone Wars.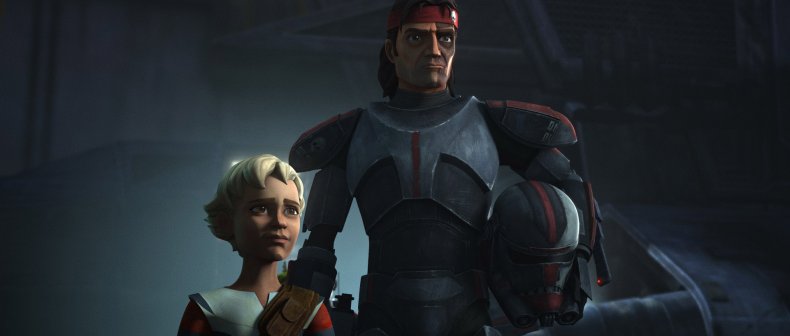 Will 'The Bad Batch' Have a Second Season?
On August 5, before the first of the two-part season finale aired, Lucasfilm confirmed that the animated series would be back.
In an announcement shared with fans on Twitter, the company wrote: "Star Wars: #TheBadBatch will return for a second season in 2022."
While the show has been renewed, Lucasfilm has not shared when exactly it might be expected to return to the streaming service.
The first season began airing on May 4, 2021, the day Star Wars fans celebrate the franchise as a whole, so it may well be released around the same in 2022.
Alongside The Bad Batch, Lucasfilm have plans to release live-action series Andor and Obi-Wan Kenobi in 2022.
Other Star Wars Disney+ show The Book of Boba Fett will be released in 2021, and The Mandalorian season 3 is currently in pre-production.
What Will 'The Bad Batch' Season 2 Be About?
No details have been given yet about The Bad Batch's second season, but the two-part finale saw the Bad Batch and Omega escape the remains of Tipoca City on Kamino after the Empire destroyed it.
They manage to escape with the help of estranged clone Crosshair, who reveals he is working willingly with the Empire and decides to part ways with the squad.
Kaminoan scientist Nala Se, who helped create the clones, is also seen being taken to an Imperial facility, teasing a dramatic future for the character.
All episodes of Star Wars: The Bad Batch season 1 are available to stream now on Disney+.